Every summer, you need to protect your skin from deadly ultraviolet rays of the sun and how? Sunscreen lotions are universally revered for their ability to fight UVA and UVB rays. They can cause all kinds of nuisances for your tender skin, from sunburns to skin cancer. Despite increasing awareness about the same, skin cancer has reached an alarming stage in many parts of the world. Are you also still skeptical about using a sunscreen? Well, here we ae discussing the 6 common sunscreen myths that you should be aware of.
Sunscreen is an obvious protection from burgeoning summer heat of the sun. But not every sunscreen lotion in the market is safe to use. Also, you need to understand the 'SPF thing' first. So, there's lot to know about sunscreen by debunking its related myths.
These are mistakes that you often make while choosing or applying sunscreen. What are they and are they real? Let us find out –
Myth 1: You Can Use Any Sunscreen Lotion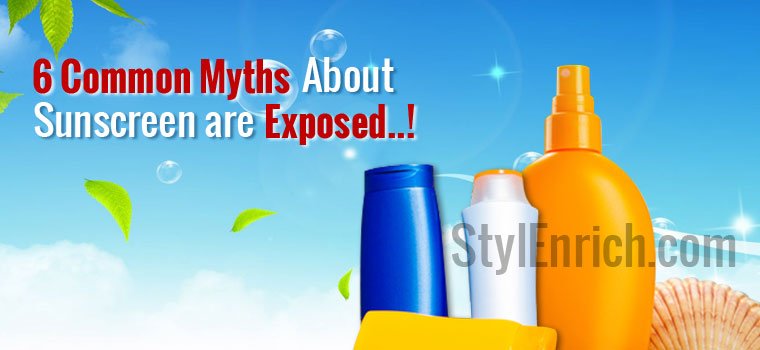 This sunscreen myth is very common. Because we are not too choosy or selective about the sunscreen we use we opt for literally ANY brand. You can find different sunscreen formula's in the market. Read the label carefully for that. There are different opinions regarding the sunscreen you should buy. While most of the people vote in favor of high SPF, preferably above 30, there are others vouching for broad spectrum. Always prefer to use sunscreen products that have SPF 15 or even higher coupled with the broad spectrum. But at the same time, you should consider your skin type before zeroing in on a product. Instead of delving into all ingredients closely, you should prefer lotions based on mineral zinc oxide.
Myth 2: Sunscreen and Dark Skin Have No Relation
It is the biggest misconception about sunscreen products. The colored skin may be less vulnerable to sun burns or tanning, but the risks of skin cancer are intense. An alarming report states that skin cancer gets worse with people of color as they are mostly ignorant about over exposure to sun. So, your susceptibility never depends upon skin color. Sunscreen and dark skin should also go hand in hand!
Myth 3: Sunscreen for Face is All That You Need
Till now, if you're happy to use sunscreen for face only, think again! For forever young skin, don't leave it immune to harsh sun rays. If any part of your body is exposed to sun for long, you are surely at risk of premature ageing and skin cancer. So, shield your body completely before going out.
Myth 4: Applying Sunscreen On Face Once is Enough
No, it's not. You need to reapply it throughout the day. One more myth correlated here says that waterproof sunscreen lotions are safer even with the single application. It is high time to move on from these age old beliefs. Reapply your sunscreen at least after every 3-4 hours for sustainable results. It's better if you make a habit to carry your bottle of sunscreen in your bag!
Myth 5: You Don't Need Sunscreen in Winter or When Skies are Hazy Outside
And this can be called as the biggest Sunscreen Myth! Even when it's overcast, you are not safe from UVB and UVA factor. Studies substantiate this fact that sun rays can penetrate through thick clouds to cause you all the damage. The same applies to winter. Sunscreen in winter is essential to prevent ultraviolet rays giving you sun burns. It is true that snow deflects up to 80% of these harmful rays, but risks are still involved for exposed parts of the skin. Also, remember that tanning is worst at peak hours of noontime but it is possible at any time throughout the day.
Myth 6: You Can Use Tanning Beds Safely If You Use Sunscreen On Skin
With or without sunscreen, tanning beds are always avoidable for preventing serious damage being caused to your skin. Sunscreen is not entirely capable of preventing UV A1 rays emitted from tanning beds. Remember, these rays are the real culprits causing skin cancer. So, avoid these beds to avoid skin cancer, that's the simplest rule!
These are the six common myths surrounding the usage of sunscreen since long times. Ponder over them for a while and you will be geared enough to protect your skin from any probable sun-caused damage.
If you loved this article, please share it in Facebook, Twitter and Google+.
Related Posts