The varicose vein is a common condition in legs which is often painful. It is essential to know how to get rid of varicose veins as they are painful in nature. These veins appear bluish in color and are very close to the skin. Moreover, the veins are twisted which results in improper blood circulation in the legs. It mostly occurs in the calf muscles and thighs.
The common conditions observed are a pain in legs, excessive fatigue, heaviness felt in legs and sometimes even bulging veins. It is believed that varicose veins are hereditary in nature but most of the times it may be due to long hours of standing or improper standing and sitting posture.
Varicose veins are painful in nature. However, in extreme situation, doctors usually recommend surgery. There are certain natural treatments which if followed for a specific period of time will cure varicose veins pain in the legs naturally.
How to Get Rid of Varicose Veins?
1. Massage to get rid of Varicose veins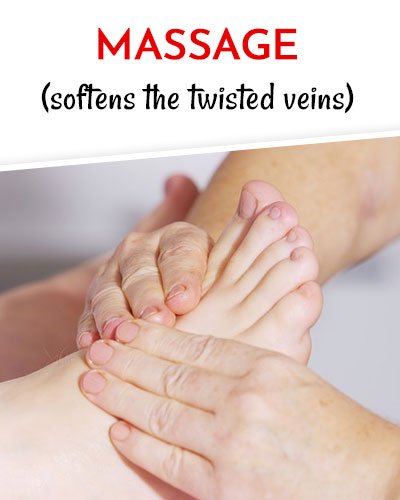 Massage is one of the effective remedies to get rid of pain and bulging veins. Take mustard oil or coconut oil and gently massage the affected area of the leg in upward strokes. The oil acts as a lubricant, as an alternative you can also use olive oil.
The main advantage of massage is that it softens the twisted veins and in turn allows blood circulation. With continuous massage every day, the varicose veins will be cured.
It is one of the common remedies which suggest how to get rid of varicose veins naturally.
Caution-
Do not pressure massage on the bulging veins as it can aggravate the condition further.
2. Apple Cider Vinegar to get rid of Varicose veins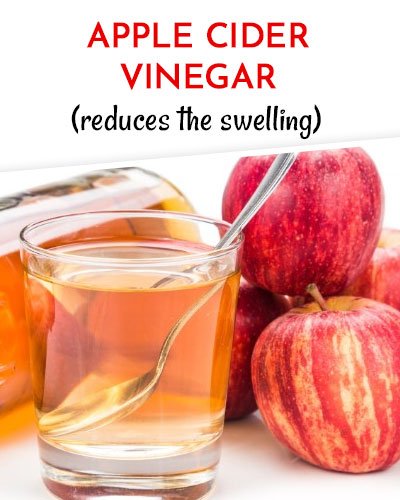 Apple cider vinegar is known for its anti-inflammatory properties and can reduce the swelling and bulge to a great extent. Moreover, it can either be applied on the surface or can be consumed to get rid of the pain.
Method 1-
Soak a cotton ball in Apple cider vinegar and apply it on the swelling areas.
Massage gently in upward and outward strokes for few minutes.
Leave it overnight and wash the area with cold water the next day.
Method 2-
Take 2 teaspoons of Apple cider vinegar and add to a glass of warm water.
Drink it regularly once every day to relax the varicose veins and reduce its symptoms.
3. Garlic to get rid of Varicose veins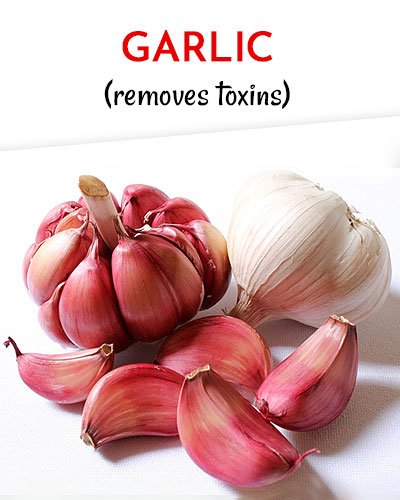 Garlic works very well on inflammation and is very effective to remove toxins from the body which in turn helps in blood circulation. Sometimes, the varicose vein pain is unbearable and garlic is definitely a solution for how to get rid of varicose veins and its symptoms.
It is also advisable to include garlic in your diet regularly.
Ingredients-
Procedure-
Crush 5-6 garlic cloves.
Heat the mustard oil on low flame.
Add the crushed garlic to the warm mustard oil.
Allow the mix to stand for the whole night.
Next morning, soak a cotton ball in the mix and apply it on the affected parts.
Massage gently for few minutes.
Repeat this process 2-3 times in a day.
The warmth of oil and garlic relaxes the veins and allows blood circulation in the body. This process is very effective to reduce the pain and symptoms of varicose vein. Over a period of time, it can be completely healed.
4. Hot Compression to get rid of Varicose veins
Hot compression not only relaxes the veins but also prevents blood clots and stagnation. Hot compression also provides temporary relief from pain and inflammation.
Procedure-
Boil water in a container.
Soak a towel in the hot water.
Wrap the towel around the legs and thighs where varicose veins are present.
Repeat this process several times, once the towel becomes cold.
It is always advisable to consult a doctor before going in for any form of compression.
5. Parsley is effective against Varicose veins.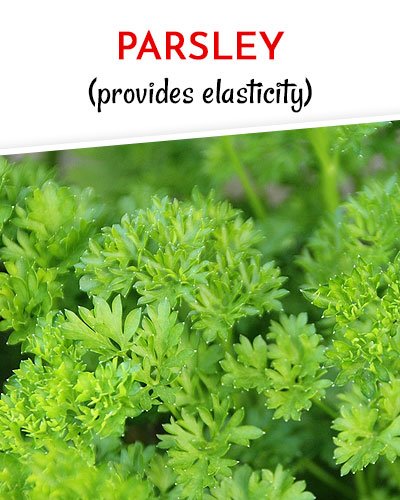 Parsley herb helps to reduce varicose veins as it is a rich source of flavonoids which helps in collagen formation in the body. Collagen provides elasticity and hence is good for the veins.
Procedure-
Take few parsley leaves and add it to boiling water.
Let it steep for some time and then strain the liquid.
Add few drops of olive oil to the liquid.
Apply the solution on the affected parts of the leg.
Repeat this process every day to get rid of varicose veins.
6. Cabbage is effective against Varicose veins.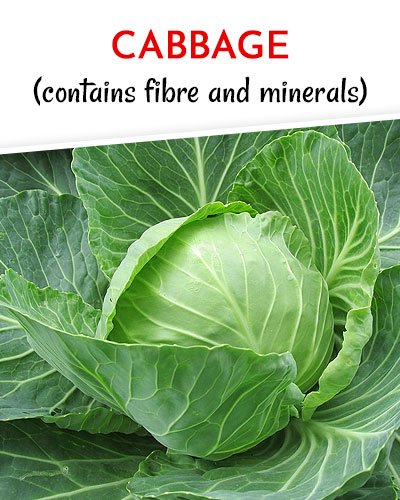 Cabbage leaves are full of vitamins, fiber, and minerals which are excellent for varicose veins. You can either apply it by preparing a cabbage poultice or consume it regularly in your diet. Cabbage leaves are an answer as to how to get rid of varicose veins pain naturally.
Cabbage Poultice is effective against Varicose veins.
Method 1 –
Finely chop cabbage leaves and add them to boiling water.
Once the leaf softens, strain them and put it in a blender.
Blend the leaves to form a fine paste.
Transfer the hot paste to a muslin cloth and seal its ends.
Apply the hot poultice on the affected areas.
Repeat several times in a day to reduce the symptoms of varicose vein.
Method 2 –
Chop cabbage leaves and blend them in a blender.
Add sufficient quantity of water to form a smooth paste.
Apply this paste on the legs and affected areas.
Tie a thin cloth around it.
Leave it for an hour or so.
Wipe off the paste with a cloth.
Wash off with normal water and pat dry.
Cabbage really helps to reduce varicose pain. Moreover, it reduces pain and inflammation and allows blood flow through the veins. Follow this method till you feel the effectiveness.
If you want to know how to get rid of stretch marks, you can click here to find some amazing home remedies…
7. Marigold is effective against Varicose veins.
Marigold flower for varicose veins is astonishing yet true!! It is rich in flavonoids which help in the production of collagen for elasticity. Also, it helps in cell regeneration and repair.
Method –
Pluck few marigold flowers and extract the petals from it.
Add at least 1 cup of marigold petals to boiling water.
Let it steep for some time till the flower decolorizes and the pigments are mixed in water.
Soak a cloth in this solution and squeeze the excess liquid.
Apply it on the affected areas multiple times.
Following this process regularly can help to get rid of varicose veins.
If possible, you can also eat few petals of a marigold flower to see visible differences in the symptoms of varicose veins.
All the above natural remedies are very useful to treat varicose veins. Apart from these remedies, it is always better to exercise daily like running, jogging or walking. Physical activity helps in proper circulation of the blood and it is always better to prevent the disease than curing it.
A varicose vein is an extreme condition. The above methods show how to get rid of varicose veins without surgery, however, if the symptoms still persist then it is always better to see a doctor and be on prescribed medication.
Hope you have found this article useful. In case of any suggestion or feedback, please feel free to share the same in the comments section below.
Read more- Effective Home Remedies for Minor Cuts and Grazes!
Related Posts