Looking sharp and composed is every man's desire when it comes to dressing up for an occasion. However, achieving that perfect look requires attention to detail, and one crucial aspect is your 'hairstyle'. The right hairstyle can add a touch of charm to your overall appearance. But with so many options available, selecting the best hairstyles for men can be a daunting task, especially if you are unsure about your personal style.
Your hair can play a crucial role in boosting your confidence. If you're someone who prefers sporting facial hair, it can be a very important defining factor for you. In fact, a recent survey of 2,000 Americans found that 75% of male respondents felt significantly more confident with some form of facial hair. Whether it's a beard or a stylish haircut, you can personalize your look to suit your unique face shape and personal style. So why not experiment with different hairstyles and find the one that makes you feel your best?
Hairstyles, like fashion, are ever-evolving. Trends come and go, making it essential to stay updated on the latest looks. A recent study shows that majority of men are interested in flaunting the haircuts of 80's time. It is understood that retro haircuts still hold a special place in the hearts of many men.
So in this article we are discussing about the popular, trendy and stylish hairstyles for men. This collection of haircut ideas will help you choose the right look for yourself and will give you that stylish look you always longed for!
Best Hairstyles for Men
1. A Caeser Cut Hairstyle for Men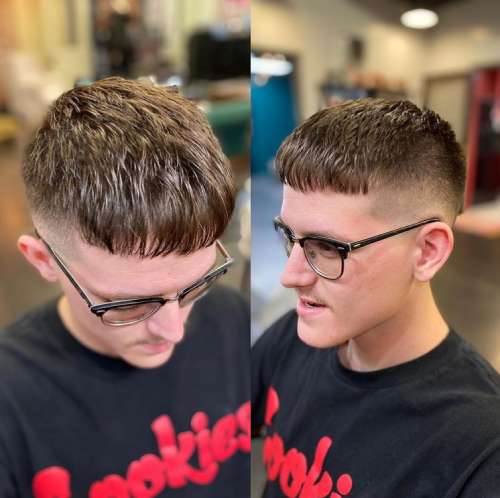 Image Credit – Instagram @Hairbyrilee
This hairstyle is characterized by its uniform length all around, including the top, back, and sides. It also features a short fringe, which adds a touch of contrast. However, it's a versatile style that can be customized to suit your hair texture, and you can experiment with different lengths and fringes. For a low-maintenance option, you can opt for a shorter cut. If you're a man looking to give a classic cut a modern twist, consider adding a taper fade or undercut.
Looking for a low-maintenance yet powerful hairstyle? Look no further than the Caesar cut, named after the legendary Julius Caesar himself. This cut exudes dominance while also projecting a carefree attitude, making it a highly attractive option for men. Plus, it's easy to care for and style – most barbers are well-versed in this classic look. Unlike other trendy hairstyles, the Caesar cut requires little to no touch-ups, making it a hassle-free choice for the modern man.
Meanwhile, you can learn more about Wick Dreads in this article.
Long Hairstyles For Curly-Haired Men
Related Posts