For those looking to perfect their hairstyle, a hairdress can provide the ultimate control and conditioning. Hairdress products are designed to be applied to a finished style, providing a slight oiliness to the hair and adding a beautiful sheen and softness, perfect for those with curly and tightly coiled hair. Suitable for men, women, and children alike, hairdress products are the perfect finishing touch to any hairstyle.
How to Find the best Hairdress product?
Finding a hairdress among products marketed toward people with naturally curly hair can be easier than you think. Not only is it best suited for thick and/or coarse hair, but it can also be beneficial for those with fine or thin hair as it can help to add body and volume. People with frizzy hair will find it particularly helpful as it helps to control the frizziness and gives curls more definition.
Experimenting with different products is often the best way to find the perfect product for your hair type and texture. For example, a thinner, more water-based hairdress is ideal for summer, while a thicker, pomade-like product may be better suited to winter when hair tends to be dryer due to indoor heating. A light application of hairdress can also act as a softener for dry, frizzy curls, providing much-needed hydration during the colder months of the year.
While hairdress can provide a smoother and shinier look to curly hair, it can be challenging to thoroughly wash out certain hairdress products from hair. Utilizing a clarifying shampoo may be beneficial for those who use hairdressing products frequently.
A hairdress can provide sheen and a natural shine to hair that doesn't already have a high degree of luster. It's also a great way to moisturize and make hair softer and smoother. For a slight texturizing effect, it can help to smooth out curly hair into more manageable waves, especially if you have shorter hair that already has a wave pattern. Men with afro-textured hair can use this product along with a brushing routine to create deep waves in a close-cropped hairstyle. Even children can benefit from it, as it adds sheen and softness to a short haircut and makes combing through tangles easier.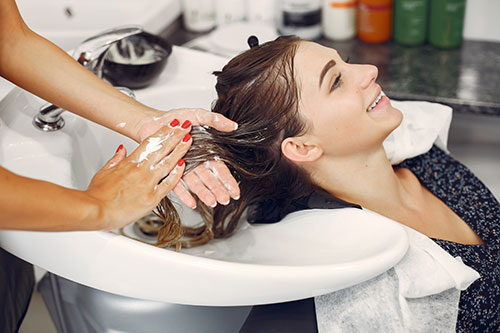 Using a hairspray after styling your hair can give it a lasting hold and finish. It's important to start with a small amount and increase as needed – too much can make the hair look greasy and sticky.
To apply, simply rub a small amount of product between your palms and then smooth it over your hair, from the roots to the ends. This will help to keep your style in place and give it a polished look.
When shopping for a suitable hair product, look for one that contains natural oils instead of petroleum-based ingredients like petrolatum. Natural oils are better for your hair and scalp as they won't clog the pores or coat the hair shaft, making it difficult to properly shampoo out. Opting for natural oils instead of artificial products will help you maintain healthy and nourished hair.
Hope you loved this useful article on hairdress. Please share this piece of information on social media with your friends. We have many other hair care and hair style related articles in our site that you will find useful.
So stay tuned with us!
Related Posts