Our hair plays a very important role in presenting a personality of any individual and that is the reason why men and women both take extra care to manage and keep their hair healthy. One of the basic yet important routines is to oil your hair. Here, the question arises how to choose hair oils for different hair types?
Because we all have the different texture of hair, the different type of scalp and requirements which is not fulfilled by just any hair oil. Oiling makes the roots of your hair stronger and also thicker strands. There are various natural oils to choose from and sometimes more you experiment more overwhelming it gets.
Television, magazines and the internet are full of many hair products and hair oils and most of us like to try new products from time to time to find out which product suits the best. However, instead of getting caught up in the cycle of trying and moving on, it is important to understand the requirement of your hair to choose suitable hair oil for better results.  Natural oils are known for the multitude of amazing benefits and can be added to your regular hair regime.
There are many different types of hair oils such as olive oil, lavender oil, castle oil, almond oil and coconut oil. Before you decide which hair oil should be added to your hair care routine, there are some important things to be considered like what type of scalp you have, is it dry, oily or flaky. So, let us find out how to choose the best hair oils for different hair type.
How To Choose The Hair Oils for Different Hair Type
1. Normal Hair and Scalp
People with normal hair do not have face issues like excessive oil or dry scalp. If your hair is normal then you can include hair oils like amla oil, jojoba oil, almond oil in your oiling routine. Since you font has dry or oily scalp, these oils are perfect to provide enough moisture and also benefits in many ways.
2. Oily Hair and Scalp
People with oily hair are prone to the greasy scalp and require frequent head wash before the oil start affecting the face skin. Therefore, when the scalp is too oily then you can apply oils such as Argan oil, Lavender oil, Jojoba oil which are lighter than olive oil and coconut oil. These oils provide sufficient moisturization without being greasy and heavy in nature. People with oily hair can also try hair serum with morocco oil former hydrating benefits.
3. Dry Hair and Scalp
People with dry hair are more prone to split ends and frizzy hair. Mostly due to the frequent use of straightening and curling rods, hair can get really dry and rough. For such hair and scalp type castor oil, coconut oil and olive oil are the excellent source of providing moisture. Coconut is known as the best oil for the split end remedy and olive oil is known to give deep conditioning to the hair strands preventing the frizziness. There is also another oil which many of you may not like for its strong smell "Mustard Oil" but this oil provides massive hydration for drying hair and dry scalp.
Have you ever tried home remedies for dry hair? Just read this article for home remedies for healthy hair…
4. Dandruff-Prone Hair Scalp
People with dandruff prone hair scalp looks very flaky and ugly. If your scalp has issues with dandruff, you can try to use almond oil, lavender oil, castor oil etc. For deeper hydration effect, add 10 to 12 drops of neem oil or tea tree oil in any of the previously mentioned oils. Tea tree and neem oil both have major anti-fungal properties and they help in eliminating fungal infection of dandruff.
Once you are aware of hair oils for different hair type but another important aspect of oiling is to know how to oil your hair the right way? To know more about it, here are few simple hair oils for different hair type & oiling tips that you can follow.
Warm the oil little bit. Using your fingers divide your hair into sections.
Take little amount of oil and using your fingers again, apply it on the scalp
Repeat the process of applying hair oil on the entire scalp and gently massage the scalp upwards to activate the blow flow. You can massage your scalp for almost 4 to 5 minutes
Once you are done, hold up your hair in a bun in case you have long hair. For short hair, you can tie your hair in a small ponytail.
Leave the oil for approximately 3 to 4 hours in case of oily hair.
For dry hair and dandruff prone hair, keep it overnight.
Wash it with shampoo and apply a good conditioner to get the best results
There are many hair oil products available in the market and you can choose as per the availability and the budget. We would also like to add a little side note that natural oils have an amazing effect on your hair. They have exceptional properties of fatty acids and smoothening effects are exceptional, but with many different types, it is really difficult to decide. By now at least you are close to understanding the nature of your scalp, oiling tips and how to choose hair oils for different hair type?
To save the further confusion, we have prepared the list of hair oils for different hair type and the important information related to them. Below are nine different and fabulous natural oils are known to be super affordable and super effective at the same time. Take your pick ladies.
Fabulous Natural Oils
1. Olive Oil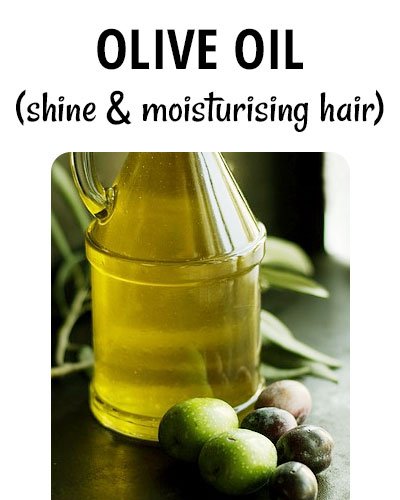 Olive oil is known as the king of all the natural oils. It is a penetrative hair oil with heavier consistency than any other oil. Highly rich in fatty acids to cover the hair shaft and gives a perfect seal to keep the moisture intact. Olive oil is widely used to help frizz, dandruff, shine and moisturising hair.
2. Coconut Oil
It is rich in Vitamin E and Lauric Acid and has the ability to go deep and penetrate into the roots. The oil is also known for reducing frizziness, add shine and also reduce the damage and roughness caused by frequent shampooing.
3. Jojoba Oil
Jojoba is quite similar to natural sebum secreted by hair follicles. Jojoba oil is high in Vitamin A, B2, B1, B6, E and monounsaturated fatty acids. Due to the oil's similar properties to hair sebum, it does not interrupt with the natural balance of the scalp. The oil is also used for the treating dandruff issues due to the anti-bacterial properties. The high content of fat helps in strengthening of hair follicles.
4. Grape-Seed Oil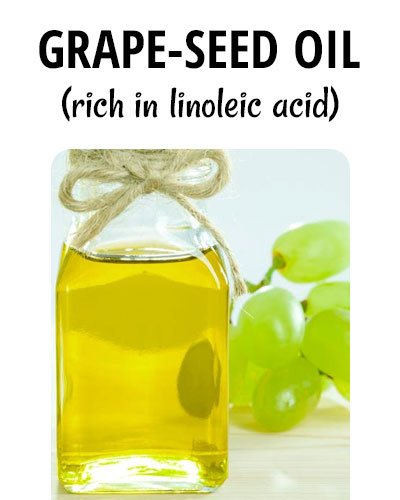 Grape seed oil is a non-greasy and light oil with the similar consistency like jojoba oil. The oil is rich in linoleic acid and Vitamin E for the strengthening of hair follicles. The oil is also used for reducing dermatitis and has a high smoking point between 400 to 450 degrees. The oil is odourless and can be mixed with hair serum and be used as hair concoctions. The oil is easily available at any of the local grocery stores.
5. Avocado Oil
Talking about avocado oil, it is a highly penetrative oil with the similar content of high fatty acids. The oil is rich in Vitamin A,E,D,B6, Lecithin and Amino Acids. Due to its richness in nutrients, the hair oil has the ability to protect and nourish hair.
6. Castor Oil
One of the dense oil with the composition of triglyceride fatty acids and ribonucleic acid. The castor oil is used for both scalp and tip of hair. It is used for improving blood circulation in the scalp and helps in regrowth of hair. Castor oil is also used as a heavy sealant on the ends and prevents split ends and breakage.
7. Sunflower Oil
Sunflower is a light oil which consists of an omega fatty acid and linolenic acid. The oil has emollient properties and also has the ability to soften and deep-conditioning of the hair. It also helps in preventing breakage but it is also important to make a note that that the oil do not penetrate into scalp like other natural oils. It is also available at your local grocery store.
8. Canola Oil
Canola oil is one of the most inexpensive oil and consist of mono-unsaturated fats. The hair has been praised for its hot oil treatment which is very useful for reducing breakage and frizziness. If you want to go less on the budget, canola oil is one of the cheap oil which you can add to your arsenal.
9. Almond Oil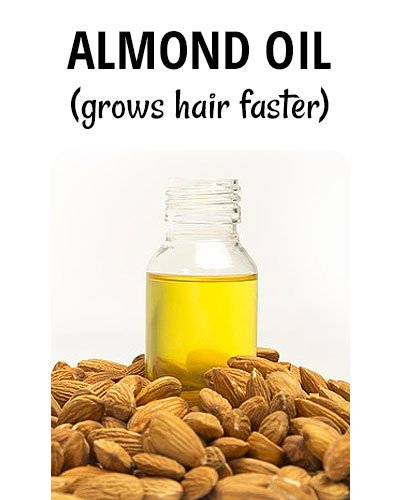 Almond oil is known for its heavier and dense property. The oil is famous for sealing and protecting hair from breakage and split ends. The oil holds special benefits for damaged and dry ends and also used for growing hair at a faster rate.
When you chose to apply the above-mentioned hair oil, look for the density of oil. Olive oil and coconut would be suitable for dry scalp and damaged hair while the light density oils such as jojoba are perfect for oily scalp and will give sufficient amount of moisture to the roots and overall health of the hair.
Let's see here the reasons for hair fall and amazing benefits of rosemary oil for hair growth.
Food Allergies If Any?
As we all know most of the oils are nut based and this could be a disaster situation for those people who are allergic to the nuts. To be sure about the effect of the oil, take a simple test on your arm. Apply a little amount of oil on your arm and check your skin's reaction before oiling your hair. In case your observe any discoloration, swelling, itching or burning sensation, this is the sign of the adverse reaction of that particular oil on your skin. Such natural oils should be avoided.
Know Your Hair Texture
Apart from how to choose hair oils for different hair type, another question pops up  how to choose hair oils for different hair texture? Your hair texture also plays an important role in deciding the correct hair oil. If your hair is thick, you would need thick and rich hair oil to keep your coarse strands under control. The best choice would be grape-seed oil and coconut oil for deep nourishment. For thinner hair, try an oil that is lighter on the scalp and also it not should weigh down your hair to make your locks look limp. The best option is avocado oil and virgin olive oil as they will offer perfect nourishment to each strand.
Your Budget
Oils are available in both pure as well as mixed form. The price for pure natural oil will vary vastly than their mixed forms. Always take the price into consideration when choosing a suitable oil. Oils are avocado and argan will surely be on the little expensive side than olive oil and sunflower oil. Look for the components needs as per the hair type. You can always go for the alternate choice of oil with similar properties if you cannot spend a lot for pure extracts of avocado oil.
Conclusion
Finally taking the limelight from the hair oils for different hair type and their properties to suit different hair types, we all dream of keeping the kind of hair that gives you the feeling of soft, shiny and gorgeous locks. Finding yourself the right hair oil is a step to turn that dream into something real. Either you believe it or not, hair oils have a tendency to completely transform your hair from drab and dry to fab.
So, if you have been complaining about oiling your hair or if you are one of the oiling haters, you may want to think once again because this will surely change your mind. In this article, we took you through different types of hair, and hair oils for different hair type and their properties. Based on the information shared, you can easily take your pick and solve all your hair problems and give deep nourishment to hair follicles. With this article for how to choose hair oils for different hair type? We are sure your confusions, dilemmas and many unanswered thoughts regarding the effect of oiling have been put to rest.
Read Next – The best essential oils for hair growth and all other hair problems…
Related Posts