Growing stress, hectic schedules, lack of proper dietary intake in today's time has resulted in some serious concerns of hair fall among both men and women. In such case, looking for how to stop your hair fall with Natural Hair Masks that really work? on the internet is fair enough. Isn't it?
If you are worried about losing your hair lately, it could be due to lack of important nutrients such as proteins or Vitamins in your body. There are many reasons such as combing too roughly, dry scalp, change in the weather, place or water or simply due to washing it frequently. To bring back the lost shine and falling hair, here are few effective natural hair masks to put a full stop to hair loss issues.
Effective Natural Hair Masks for Hair Loss
1. Castor Hair Mask
Castor oil is well known for its protein contents and due to its protein-rich property, it is widely used in preventing the drying and high nourishment of hair shafts. Castor oil also helps in treating the damaged hair follicles and also encourage the hair regrowth.
Ingredients
2 Tbsp Castor Oil
2 Tbsp Brandy
1 Egg white
Procedure
Mix all three ingredients in a bowl and apply it on your scalp and gently massage. Leave the mixture to dry for thirty minutes.
Rinse off the mixture with water.
Benefits
Castor Oil prevents the greying of hair.
It improves the regrowth of hair.
The oil is absorbed deep into the scalp and moisturize.
2. Banana Mask
Banana is rich in natural oils, potassium, vitamins, and antioxidants which are highly used for the treatment of hair fall. Banana is available throughout the year and hence, it makes easy and amazing natural hair masks for the hair loss.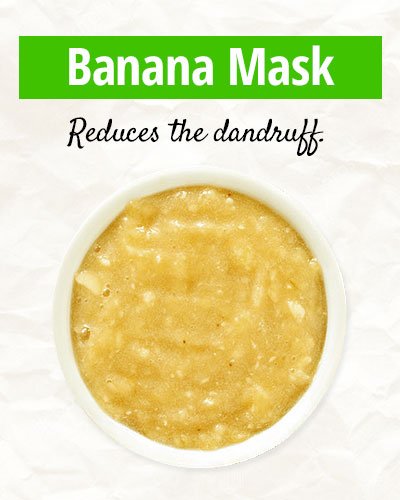 Method 1
Ingredients
Procedure
Put all the ingredients in the bowl and mix them together to a smooth consistency.
Allow the mixture to settle down.
Apply it on your scalp covering the entire portion and allow it to dry for ten minutes.
Rinse off the mixture with the lukewarm water.
Method 2
Ingredients
2 well ripe bananas
1 Tbsp Almond Oil
Procedure
Mash two bananas and add 6-8 almond oil drops into the mashed bananas.
Mix well and apply the mixture to your hair.
Tie up your hair and cover your head with a show cap for almost an hour.
Rinse off the mixture with lukewarm water and wash your head with a mild shampoo.
Apply a lot of conditioners and let it sit for a while before rinsing off.
Benefits Of Banana Hair Mask
This mask helps in making hair shine.
It also helps in making your hair soft and reduces the damage.
It helps in reducing dandruff.
Banana also helps in moisturizing your hair deeply.
3. Coconut Oil and Curry Leaves Hair Mask
The combination of coconut oil and curry leaves contains beta-carotene and proteins which are essentially good for fighting the hair loss. Coconut has penetrative properties and the chain of fatty acids also make it a perfect combination of tackling thin hair.
Ingredients
10-12 curry leaves
2 Tbsp Coconut Oil
Procedure
Heat up the curry leaves in coconut oil until it pops up.
Allow the oil to come down to the normal temperature.
Apply the solution to the scalp and your hair. Leave it for almost 30 minutes and wash it off with shampoo.
Apply conditioner and rinse off.
Benefits This Natural Hair Masks
This has mask is good for reducing the hair fall.
It provides deep nourishment and moisturizes your hair to the max.
4. Yogurt Mask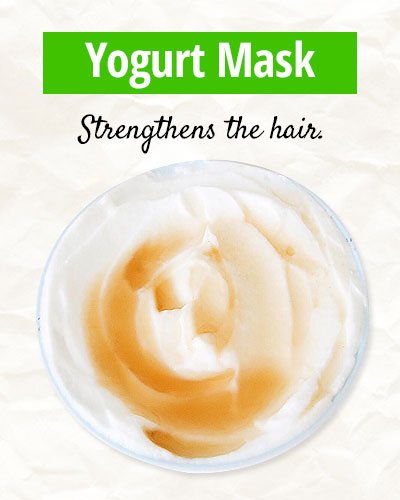 To answer the question of how to stop your hair fall with natural hair masks that really work? Yogurt mask is one of the most effective and easy to use product for hair fall and make best natural hair masks for a strengthening of the hair. While Yogurt has always been famous for fulfilling the appetite of deliciousness, it also consists of proteins, Vitamin B, Vitamin D and other essential ingredients for quick and healthy hair growth.
Ingredients
Procedure
Mix all the above-mentioned ingredients in a bowl and apply the solution all over your hair from scalp to the tip of a hair.
Leave the mixture for 15 minutes and rinse off with the cold water.
Benefits
Helps in moisturizing the hair.
Deeply nourishes the hair.
Helps in reducing the breakage and also increase the strength of the hair.
5. Egg Hair Mask
Eggs are known for their high proteins and power packed nutrients that are very good for maintaining the overall health of your hair. Eggs are suitable for all types of hair and provide amazing results in terms of nourishment and growth. Due to the presence of Vitamin B, eggs for essential hair growth and reduce the extensive hair fall.
Ingredients
2 Eggs
1 full cup of milk
2 Tbsp Olive Oil
2 Tbsp Lemon Juice
Procedure
Whisk both the eggs and mix all the ingredients into it.
Apply the egg mixture on your scalp and cover the head with a shower cap.
Allow it to sit and dry for almost 20 minutes
Wash off the mixture with lukewarm water. Remember, it would do little difficult to remove dry egg mixture with cold water so use lukewarm water.
Alternative Egg Mask
Simply beat two eggs and massage it on your scalp and leave it for nearly 20 minutes. Wash off your head with lukewarm water again.
Benefits
Amino acids and Proteins present in hair nourish your hair deep.
Egg also bring shine.
It helps in reducing the hair fall.
It also encourages the hair growth.
You can use this mask at least once a week.
6. Vitamin E Hair Mask
Vitamin E is very rich in antioxidants and also has anti-inflammatory properties. Vitamin E is well known for its anti-fungal properties which help in reducing the hair fall and maintains the healthy scalp. Vitamin E can be used in the form of oil or easily available capsules with the pharmacy.
Ingredients
3 Vitamin E Capsule
1 Tbsp Coconut Oil
1 Tbsp Almond Oil
1 Tbsp Castor Oil
Few drops of Lavender Oil
Procedure
Mix all the oils together in a bowl. Apply it all on your scalp and let it stay for the night. Wash off with the shampoo in the morning.
You can prepare the bigger portion and store it for the next time.
Benefits
Presence of antioxidants helps in fighting the free radicals. It also helps in strengthening the roots.
Antifungal and antimicrobial properties help in keeping the scalp healthy.
It also reduces the hair fall.
Homemade Natural Hair Masks For Different Type of Hair
1. Homemade Mask for Dry Hair
Dry hair is caused due to excessive chemical use or use of iron rods for styling purpose that rips off all the moisture of your hair leaving your hair brittle and damaged.
Ingredients
4 Tbsp of honey
1 Teaspoon Almond Paste
2 Tbsp of cream
Procedure
Combine all the ingredients and mix in a bowl.
Beat the mixture until cream is little fluffy and has a smooth consistency.
Apply the hair mask from scalp to the end of tips. Let the mixture it for atlas 30 minutes.
Wash your hair with lukewarm water and mild shampoo.
Benefits
This mask will give you super soft and super manageable hair. It works as a perfect deep conditioning mask that doesn't let your hair weigh down.
This mask is also very useful for moisturizing your hair.
It also helps in soothing the scalp and improves the hair growth.
2. Homemade Mask for Normal Hair
Even though the safest and easily managed hair has normal hair type but it does not mean that people with normal hair type do not suffer from hair fall condition. Here is an easy home remedy that you can follow.
Ingredients
2 Eggs
1 Tbsp Lemon juice
1 Tbsp Almond Oil
1 Tbsp honey
4 Tbsp beer
Procedure
Use egg yolk and mix with rest of the ingredients except beer. Apply the mixture into the scalp.
In a different bowl, use egg white and beer and beat until the mixture is fluffy.
Apply it all over your head from tips to the roots. Cover the head with the shower cap and allow the mixture to sit for next 30 minutes.
Wash your head with cold water and a mild shampoo.
Benefits
This mask is very easy and can last for few weeks if you store it in the refrigerator. The mask replenishes the health of your hair and recovers the nutrition lost due to excessive use of chemical products if any. The mask also restores the luster and softness of your hair texture.
Improve the voluminous and silkiness.
Nourishes and add shine.
Visibly great improvement of the scalp health.
You will love to read Natural homemade aloe vera recipes for complete hair care.
3. Homemade Mask for Oily Hair
Many people avoid experimenting on oily hair with a fear that their hair would get more oily. But with the help few simple steps at home, you can flush away the excess hair and let your hair breath.
Ingredients
1 Tbsp Water
1 pinch of salt (fruit salt)
1 Egg white and paste of two Amlas
Procedure
Whisk egg until fluffy and gradually add rest of the ingredients.
Apply the mixture on your scalp.
Leave it on your head for 30 minutes and wash it off until there is no residue remaining.
Rinse off with a mild shampoo and make sure you clean thoroughly.
Benefits
The aim of this mask if to reduce the excessive secretion of oil and control it further. The mask does not hamper the nutrition present in your hair. This mask is especially for the oily hair and has worked perfectly. If you don't know try it today and feel the difference by yourself.
It helps in removing grease.
Reduce the excess hair fall and unclog the pores.
Tips To Maximize The Effect of These Homemade Natural Hair Masks
Whenever you want to apply the hair mask, make sure you apply it on clean and shampooed hair because the nutrients would be absorbed better by the clean hair than greasy or dirty hair.
While applying the natural hair masks, separate the hair into different small sections. Remember to apply it from roots to the tip of the strands and once done, you can cover your head with the shower cap or put up in a bun.
Using a shower cap is effective because it will create a warm atmosphere and will allow maximum absorption of the nutrients.
Pulling your hair into a bun will make sure that your hair mask does not drip.
Before washing your hair, cover your head with a hot towel for around five minutes. This process will again let your hair absorb the essential nutrients with the warm environment.
Do not ever wash your hair with warm water. Always use cold or lukewarm water to rinse your mask. Press the towel to remove extra water. Allow your hair to dry naturally.
Conclusion
In this article, we described all the possible homemade natural hair masks that are totally natural and effective for the hair loss. You can use these masks to give a new life to your hair into more healthy and beautiful. In addition to these hair masks, always remember to include vitamins, proteins, and minerals into your diet because your skin and your hair also depends on your diet. Avoid eating oily and junk food because they are majorly responsible for dry and frizzy hair.
Eat more fruits, vegetables, and protein related diet to give the boost to the hair growth and this way you can stop the hair fall without investing a lot of time into finding solutions and medical treatments for your hair fall. If you are aware of any natural solutions that worked for you and if you want to share your experience on how to stop your hair fall with homemade hair masks that really work? leave us a comment in the comment box to help all the reader find the solution for hair loss.
Read more – Effective Hair Masks for Silky, Conditioned and Nourished Hair!
Related Posts