Curry leaves or kadi patta, as it is commonly called in Hindi, are added to our food to enhance the flavor. But the majority of us normally throw away these curry leaves from the food rather than eating it. Ever wondered why are curry leaves added to our food preparation? That's because curry leaves benefits are just amazing..! These green leaves are packed with essential nutrients that will help us in many ways as in improving the functioning of the heart to enhancing the beauty of the hair.
Flavor and taste may be one of the advantages of incorporating curry leaves but apart from these adding curry leaves from the health point of view is like an icing on the cake. Now Curry Leaves Benefits makes it important to incorporate them properly. How do we do this?
If you want to know the Amazing Holy Basil Benefits, then you must click here to see the detailed view!
Uses of Curry Leaves : How to Include Curry Leaves in Our Diet?
Always buy curry leaves that are green, aromatic and crisp from your trusted vegetable vendor. I would suggest growing a curry leaf plant in your backyard or balcony. This plant is medium sized, doesn't need much of space or manure. In this way, you can get a regular supply of curry leaves.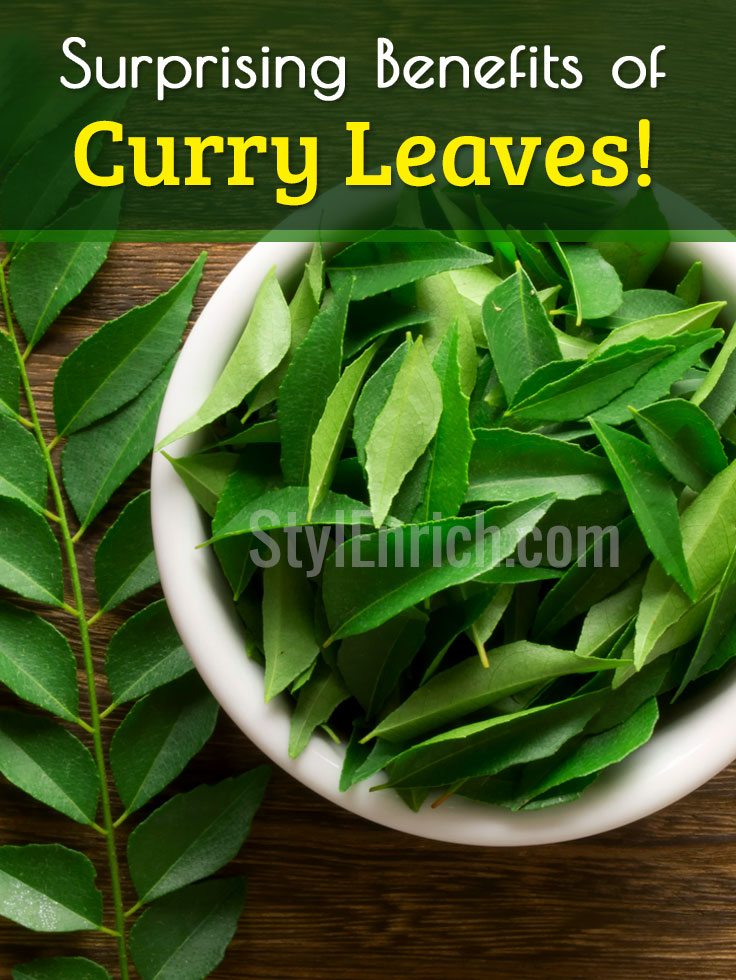 There is the immense number of beauty and health benefits of fenugreek seeds, let's click here to see some of them…
Once you buy curry leaves, remove the leaves from the stem and wipe the leaves if it is moist. Keep the leaves in an airtight container to improve the shelf life. This practice is favorable if you are using curry leaves immediately and within a shorter duration of time.However, according to me, I prefer not to pluck these leaves from the stalk as it can lose flavor after a certain span of time.
I personally add curry leaves along with other ingredients in a blender while preparing coconut chutney or sambar. By this method, the leaves will go inside and the flavor of chutney and sambar will be enhanced. You can also prepare curry leaf powder at home. Add curry leaf powder into the dals, veggies, rice items or chutneys.
You will love to read Amazing Cumin Health Benefits and Beauty Benefits…
How to Make Curry Leaf Powder?
Place a pan on low heat. Add the curry leaves on the pan and roast these leaves until it becomes slightly brown in color.
Make sure you don't burn them. Switch off the gas.
Grind the curry leaves in the processor along with salt till it becomes powder form. Store this powder in an air tight container and use this powder as much as you want.
Consciously make efforts to consume curry leaves in your diet. Apart from adding curry leaves while tempering the dals or chutneys, chew about 4 to 5 curry leaves daily in the morning, preferably on the empty stomach.
Since so much of efforts are being said and done to add curry leaves in our diet regularly, this proves that there may be curry leaves benefits which we should consider. Before knowing the curry leaves benefits, we should know what it contains.
Nutritional Composition of Curry Leaves
Curry leaves contain carbohydrates, energy, and fiber. The minerals that are present are calcium, phosphorus, magnesium, copper, and iron.
Curry leaves also contain vitamins like Vitamin A, Vitamin B, Vitamin C, Vitamin E and nicotinic acid.
Plant sterols, glycosides, and flavonoids are also present in curry leaves. The fat content in curry leaves is almost negligible.
However, the chemical constituents that are present in Curry leaves which are of great importance are carbazole alkaloids. The alkaloids found in curry leaves have antioxidant properties. The chemicals of these alkaloids also have antimicrobial and insecticidal properties.
The composition of curry leaves will give an insight of how beneficial it is to consume curry leaves.
To know the health benefits of garlic, that you did not know before, please click here to read more…
Curry Leaves Benefits For Health
Curry leaves help to control anemia – Anemia is a condition that occurs due to the lack of iron in the body or the inability of the body to absorb iron and utilize it.
Curry leaves contain iron. It also contains folic acid that is responsible for the iron absorption. Hence having few leaves of curry leaves early in the morning along with dates every day is a natural solution to keeping anemia at bay.
These leaves also have laxative properties that help in removing the wastes or unwanted toxins from the body. Because of its anti-inflammatory properties, it also aids in digestion.
Curry leaves is an answer for gastrointestinal issues. Whenever we suffer from indigestion, we drink a glass of low-fat buttermilk with loads of curry leaves and ginger added to it. This gives a soothing effect in our stomach. Curry leaves are carminative in nature, thus preventing the formation of gas and combating flatulence.
Whenever there is a gastrointestinal issue in my house, I prefer to make curd rice which is the mixture of low-fat yogurt with mashed cooked rice that has been tempered with mustard seeds, finely chopped ginger and loads of curry leaves. Always a soothing relief from stomach upset.
Curry leaves help in controlling diabetes. The mineral reserves that are present in curry leaves help in maintaining a normal glucose level. These minerals help to activate the beta cells of pancreas thus influencing the insulin production. The presence of fiber in these leaves helps in lowering the blood glucose level.
Curry leaves are especially useful for people suffering from diabetes due to obesity. Chew 8 to 10 curry leaves daily early in the morning. Also add curry leaves luxuriously in the daily diet like soups, sauces, gravies and dips.
Curry leaves help in lowering the cholesterol level. The antioxidant property of curry leaves helps in preventing the oxidation of cholesterol that forms LDL cholesterol. The lowering of LDL cholesterol levels protects our body from conditions like heart disease and
Curry Leaves Benefits for Hair
You won't believe that curry leaves also help in treating premature graying of the hair. The presence of B vitamins in curry leaves helps in strengthening and nourishing the roots and restoring the natural color of the hair.
 Pollution, excessive usage of artificial hair products or stress can damage the hair leading to hair fall. The presence of important nutrients in curry leaves help in restoring the damage to the hair.
A combination of curry leaves with coconut oil has been good for hair growth as well to prevent graying. 

Mix fresh curry leaves with coconut oil and boils the oil till a black residue is formed. Apply this on your scalp and allow it to remain for one hour. Wash thoroughly with a mild shampoo. It's a great hair mask for hair growth!
Love to have long lovely and smooth tresses? You must read the Amazing Use of Aloe vera for Hair Treatment…
Few Facts About Curry Leaves
The scientific name for this plant is Murraya koneigii spreng and it belongs to the Rutaceae family. This plant is found extensively in India and grows in the tropical and subtropical regions. However, this plant also grows in the various other countries like Ceylon, China, Nigeria and Australia.
I, being a South Indian, add loads of curry leaves into sambhar, rasam, chutneys or curd rice for the taste and flavor. As curry leaves have a resemblance to neem or Indian lilac, these are also called as "sweet neem."These leaves are believed to have many medicinal and health benefits in Ayurveda. These leaves are dark green, aromatic and give a strong and earthy taste to your diet.
Apart from these numerous curry leaves benefits, curry leaves can also be beneficial for good eyesight, functioning of the liver, fighting against cancer and skin care. Thus let us make efforts to consume curry leaves in the leaf form or powder form to achieve the beneficial effects of curry leaves.
Don't miss to read here 10 Amazing Beauty Benefits of Mint Leaves That You Won't Believe!
If you know anything interesting about curry leaves benefits, please share them in the comments section below.
Related Posts