Health Foods are the latest fad and to prepare healthy food is a time investing task! We bring you a little cheat of the traditional patience demanding fermented rice and lentil dhokla and give you quick tricks to make a clever and uber simple Rava or Semolina Dhokla.
Rava Dhokla is a classic dish of the Gujaratis, it is now relished everywhere. It's a favourite of Kids and keeps Moms happy as it, gets ready in a few minutes, is hassle free of fermenting, It's steamed and easily digestible making it healthy, and a treat for your taste buds.
So don't worry if some unexpected guests drop in at tea time! Impress them with this sumptuous instant rava dhokla snack and grab some compliments! So let's learn how to make instant rava dhokla…
Recommended read: [Yummy Healthy Snacks Ideas that You will Love it!]
You just need a few things handy! They are:
Ingredients
Rava or Semolina/-1 big bowl
Besan (Chickpea Flour)- 2tsp
Citric acid-1/2 tsp
Baking soda-1tsp
Sugar-2tsp
Sour Curd-2tsp
Salt-1tsp
Oil-3 1/2 tsp
Green Chillies- 4
Mustard Seeds-1tsp
Coriander Leaves- a few fresh stocks
1 small sized baking dish
Recommended read: [5 Simple & Healthy Snacks for Kids]
Requirements for Making the Steamer
Thick bottomed deep dish
Metallic Sieve
Procedure to Make Rava Dhokla
Before you begin to make the suji dhokla, get the steamer on the flame, so that while you make Rava Dhokla, meanwhile, the steamer gets heated up.
Take a thick bottomed deep dish and fill it with water up to 1/4th of its capacity.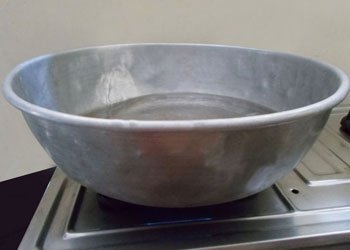 Let the water come to a complete boil, as the water reaches a boil, place a medium size metallic sieve that perfectly fits the base of deep dish pot.
Place the Sieve upside down on top of the boiling water in the deep dish.
Recommended read: [Pina Colada Recipe: How to Make a Pina Colada]
Your Steamer to make the dhokla is ready!
To make the Rava Dhokla
Take a bowl and put in Rawa, Besan, Curd, Sugar, Citric acid, 1 1/2 tsp oil, and Salt. Whisk and beat the mix until you get a smooth batter.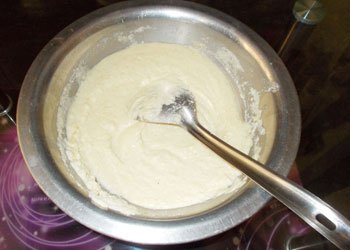 Take some hot water in a bowl and add baking soda to it and mix well.
Pour this mix of Baking Soda and water to the whisked batter made earlier. Mix well until bubbles begin to appear.
Pour this mixture in an oil greased baking dish. Remember to fill the dish to only half of its capacity as the dhokla will rise while steaming and will need space to do so.
Recommended read: [Homemade Pancakes: Healthy and Easy Pancake Recipes]
Place the batter-filled baking dish in the steamer on top of the metallic sieve.
Cover the deep dish with a lid that fits it perfectly so as to avoid escape of the steam.
Let it steam it for 3 minutes over medium flame and 7min over a high flame.
Recommended read: [6 Quick and Healthy Breakfast Ideas For Refreshed Mornings]
Take out tray from steamer and give it a standing time. Let it cool for 2 minutes.
Cut the dhokla into small square shaped pieces.

For Tadka/Tempering
Heat 2tsp oil in a small pan. Add mustard seeds in it.
When they begin to pop and crackle, add 2 green chillies slit into halves.
After a few seconds turn off the flame.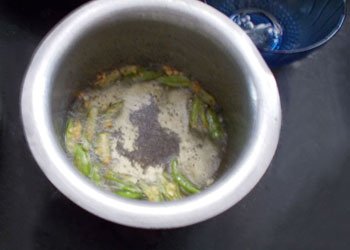 Pour them evenly over the Dhokla pieces.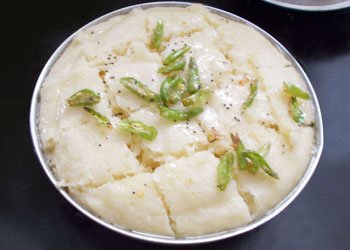 Finally, garnish with freshly chopped coriander leaves.
And there you have it! A super simple, fluffy, spongy and delicious Instant Rava Dhokla that is a perfect appetizer and a healthy snack you can indulge yourself in without loading calories!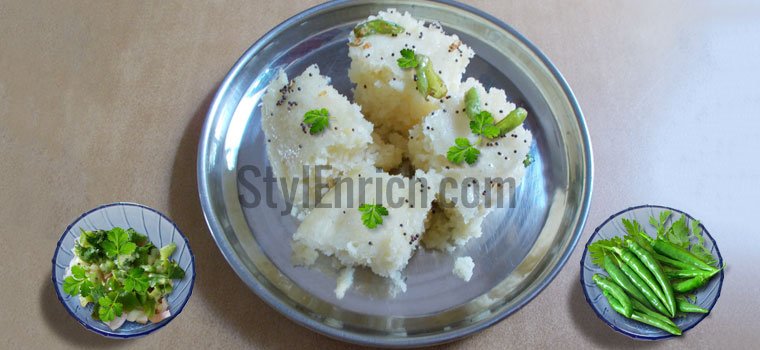 Recommended read: [How to Make Pizza: Homemade Yummy Pizzas With Different Toppings]
It makes for a substantial and filling item for your breakfast, absolutely perfect snack for your terrace party too!
Related Posts