Today's lifestyle demands an instant breakfast idea and when a healthy breakfast  comes to mind, Vegetable Ragi Dosa fits the bill of Weight loss recipes perfectly. Vegetable Ragi Dosa is not only one of the lightest breakfast that you can savour but also packs a big punch in the nutrition sack with the vegetables, and this also makes it a healthy breakfast for kids. Vegetable Ragi Dosa also helps weight watchers and those on the lookout for shedding those extra pounds.
Ragi, Millet or Naachni, as known, in Hindi is a highly nutritive food especially for diabetic patients and for growing babies. The best part about this healthy breakfast idea is the Vegetable Ragi Dosa sides that come free with it.  From chutneys to Sambhar, you can explore the different tastes that Vegetable Ragi Dosa gives along with different side dishes.
Click here to learn 6 quick breakfast ideas for refreshed mornings…
Thus, we bring for you a sumptuous to eat zero oil recipes an easy breakfast idea quick to make Vegetable Ragi Dosa minus the hassle of grinding and fermenting. Vegetable Ragi Dosa is smashing healthy breakfast idea that gets ready in a jiffy!
Ingredients to Make The Vegetable Healthy Breakfast
2 cups Ragi Flour
4 tablespoons Rice Flour
6 tablespoons Rava/Semolina
1 cup cabbage (julienned)
1 cup carrot (shredded)
¼ cup Red, Yellow and Green Peppers
½ cup of Spinach (Finely Chopped)
1 medium Onion (Finely chopped)
2 teaspoon Ginger (Finely Chopped)
2-3 Green Chillies (Finely Chopped)
½ teaspoon Mustard Seed
1 teaspoon Cumin Seeds
1 sprig Curry leaves
Oil to make Dosa
Salt as per taste
Water to make the Batter
A pinch of Baking Soda
If you are thinking how to make a healthy smoothie for Breakfast, Click here for the procedure…
Procedure to Make The Vegetable Ragi Dosa
In a bowl take the rava, ragi flour and rice flour, baking soda and enough salt to taste. Mix well and add water to make a smooth Dosa batter-like consistency. Keep this mixture aside for 30–40 minutes.
In the meantime let us prepare the vegetables. Chop the onion, finely shred some cabbage, thinly slice a carrot, and deseed and finely chop red, green and yellow bell peppers.
Take a handful of fresh spinach and after cleaning it wash the leaves under running water and finely chop it.
Heat a pan and add 2 tablespoons of Oil in it.
Are you searching for sumptuous dishes recipes? So, click here for easy pancake recipes that can be made at home.
Add the finely chopped green chilies, mustard seeds, cumin seeds, Curry leaves and onions and sauté for 5 minutes or until the onions become translucent.
Add all the vegetables and salt to taste, to the pan and cover for two minutes for the vegetables to cook.
Once all the vegetables are cooked, add the vegetable mix to the batter and mix the batter well.
Now heat a flat griddle and add a few drops of oil to moisten it.
Pour a ladle full of the vegetable batter and spread it like a dosa.
Meanwhile, we are presenting some snack recipes for kids that you can try to surprise your toddler.
Pour oil in and around the dosa and cook on a low flame to ensure cooking on all sides.
Once cooked, flip the Dosa and cook it on the other side too.
Finally, your Vegetable Ragi Dosa is all ready, cooked to perfection and crisp on both the sides.
Serve it hot with a side of your favourite Chutney and some piping hot sambhar.
Adding some grated cheese is a great idea for making the Vegetable Ragi Dosa a yummy and healthy snack for kids.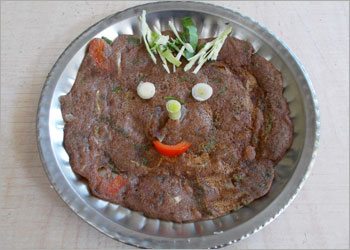 Why is Vegetable Ragi Dosa Healthy For You?
Ragi, when used as a healthy breakfast Idea is known to be rich in Calcium and Vitamin D thus; it is extremely beneficial for pregnant women and young children too.
Being a storehouse of fibre, and a natural source of Trytophan – an amino acid that supports weight loss, Vegetable Ragi Dosa being a Zero oil recipe, helps to shed those pounds off. So do not forget to keep the Vegetable Ragi Dosa as an Instant Breakfast for Weight loss.
High in nutrients like iron and Minerals, Vegetable Ragi Dosa is the most apt healthy breakfast idea and works best as a Diabetes-friendly food.
Let's learn how to make instant rava dhokla…
So friends, before you leave your home, getting late for office, or to catch a bus or a train, stop for a minute and relish a few bites of this healthy breakfast Idea called the Vegetable Ragi Dosa. No doubt that among all the recipes for weight loss, the Vegetable Ragi Dosa is the most loved one.
So the next time you make an attempt to make a healthy breakfast for kids the easy and instant breakfast idea of Vegetable Rava Dosa would be the first idea to pop in your head!
Did you try making the Vegetable Ragi Dosa? Let us know your experience!
Related Posts