Love Italian food? Got a basket full of fresh ripe tomatoes from your backyard? Thought about trying out homemade spaghetti sauce with them?  No matter how unbelievable it may sound, but if you are struggling with how to make spaghetti sauce at home from scratch, it is no rocket science. Whether you have a rush of uninvited guests at home or a bonfire night, a platter of spaghetti tossed in a warm and luscious easy homemade spaghetti sauce with a generous garnish of Parmesan cheese is the ultimate comfort food all you need!
To make the best ever instant, homemade Spaghetti Sauce comes in a variety of variants.  For a quick fix, spaghetti sauce grabs canned tomatoes from your pantry, but nothing matches the flavour of spaghetti sauce from fresh tomatoes.
Do you want to know how to prepare homemade pancakes? Click here to know some delicious pancake recipes!
Things You Needed to Make an Easy Spaghetti Sauce From Scratch
5 pounds of fresh, ripe and juicy tomatoes (opt for canned tomatoes as per your need)
1/4th cup of olive oil
3-4 medium Onions chopped
½ cup of onions, celery, and carrot finely chopped
8-10 cloves of Garlic, minced or crushed
½ cup of fresh basil
2 teaspoon of fresh thyme
2 teaspoon of oregano
4-5 sprigs of Italian Parsley
1 teaspoon of black pepper or chili flakes.
Salt to taste
1 carrot
1 teaspoon of Honey/Maple syrup/dark brown sugar
1 cup of red wine(optional)
2 anchovies or 1 teaspoon anchovy paste(skip if vegetarian)
If you want to know how to make pizza dough from scratch at home, please click here for easy pizza dough recipes…
Let's see a step by step guide on how to make quick and easy spaghetti sauce.
How to Make Quick and Easy Homemade Spaghetti Sauce?
Step 1: First and foremost, to make the homemade spaghetti sauce from scratch, you need to blanch the tomatoes. Make the mark of an "X" on the skin of the tomato gently with a sharp knife and toss the tomatoes in boiling water for 1 minute. Take them out and immediately give them an ice bath. See the "X" mark on the tomato and pull the peel off the skin of the tomato easily. Chop them into rough chunks. If you are using canned tomatoes to make homemade spaghetti sauce, begin with step 2.
Step 2: Now take a heavy bottom or cast iron pan and add Olive oil to it. Once the Olive Oil heats up add garlic. Make sure, that the Oil is not too hot and you do not burn the garlic. Just get the garlic to infuse its flavour in the oil.
Step 3:  After the Garlic has flavoured the Olive oil, the next step to make the Arrabbiata sauce is to add in the chopped onions, celery, chopped carrot and peppers mix. Stir well and let the vegetables sauté till they appear to be translucent and lightly brown from the edges.
Step 4: Add your chunks of blanched tomatoes to the pan of the garlic infused Olive oil with vegetables. With the help of a wooden spoon, mash the tomatoes to get a saucy consistency to your fresh tomato homemade spaghetti sauce. This will be easy as the tomatoes are half cooked while they were blanched.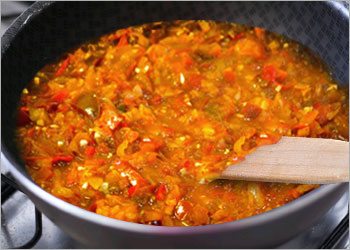 Step 5: Add the herbs and seasoning in this stage of the spaghetti sauce. Toss in the thyme, oregano, basil, parsley and bay leaves to the tomato sauce.
 Click here for step by step procedure on how to make pizza at home…
Step 6:  Now cover the pan and let the fresh tomato spaghetti sauce, simmer for a good 15-20 minutes. With the help of a wooden spoon, keep mashing the tomatoes and stirring it at short intervals, helping the tomatoes to break down.
Step 7: Add the red wine at this stage, if you wish to, and cook for another 15 minutes to help the alcohol evaporate and leave behind the stunning flavour of the wine. Add salt and pepper as the final seasoning. Remove the bay leaves as it has completed inducing its flavour to the simple spaghetti sauce.
If you are looking for a chunkier and rustic homemade spaghetti sauce, it is absolutely ready, and if you want more sophisticated and smoother versions let the sauce cool down and then blitz it in a food processor to achieve that refined consistency.
Your very own simple homemade spaghetti sauce is ready. The sauce fills the air with aromatics, likely to that of a beautiful Italian restaurant, gratifying your sense. You can get spoilt for choices when it comes to additives with this lovely Arrabbiata sauce.
Have Fun and Pair Up Variety of Homemade Spaghetti Sauce Recipes With-
Garlic bread
Lasagna
Bruschetta
Pasta like penne or spaghetti
Meat balls
Beef
Minced Meat
Ground Italian Sausage
Base sauce for Pizza
Dip with fritters
Click here to learn snack recipes for kids that you can try to surprise your toddler….
Vegetarians can toss in vegetables like bell peppers, mushroom and broccoli along with Parmesan Cheese and create a whole lot of varieties of pasta using different homemade spaghetti sauce recipes.
So, are you ready to get your hands on the homemade spaghetti sauce recipe? Treat your guests to an authentic Italian meal and us your very own creation of homemade spaghetti sauce made from scratch to their dinner table.
Let us know what new ideas you incorporated, to make the homemade spaghetti sauce more interesting!
Loved this video? Why not share this recipe with your friends and family in social media? Please leave your valuable feedback in the comments section below too.
Have a nice day!
Related Posts