Beauty comes from within. Haven't we all heard of this adage time and again? Achieving a flawless and porcelain skin is difficult keeping in mind today's jam packed schedules. This lack of skin care leads to premature ageing, wrinkles, and blemishes. Lack of care and not following the regime of CTM leads to pimples, acne, blackheads and whiteheads. If you want solution for these skin problems, you must go for the face masks diy.
Homemade facial masks make it very easy to give just the right care to your skin within the comfort of your home. Using products available right in your kitchen is always a much safer bet than going in for chemical laden treatments at an expensive salon.
You will love to read amazing homemade DIY honey face masks for your glowing skin…
We all are aware of the benefits of vegetables for our skin. But do we ever think that the peels of the vegetables that we always discard are power packed with the same benefit as the vegetables. You heard it right! Before you hit those peels into the trash can think! A homemade face mask using vegetable peels can do wonders for your skin.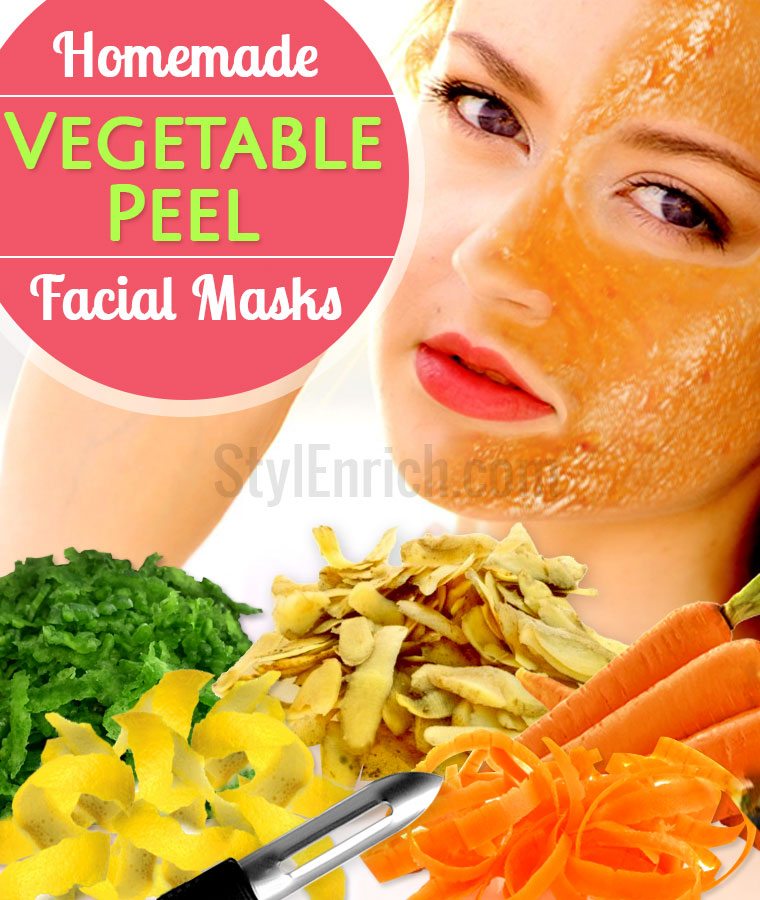 We bring you top 8 super clever cheats of uber simple homemade face masks made from vegetable peels that will help you deal with the weird and difficult to handle problems that your skin brings up time and again.
Don't miss to read top DIY face masks that you can try and make your skin glow with radiance…
Time to dig into your vegetable basket to unravel beauty secrets and all possible Face Masks DIY.
Face Masks DIY Using Veggie Peels
1. Cucumber Peels
Cucumber is known to freshen up tired skin. Its cooling properties soothe and relax the skin and help you get rid of patchy skin and under eye dark circles. Make a paste of cucumber peels in a mixer.
Add some rose water to the paste and apply on your face. It will soothe your skin from the harsh pollution, dust, dirt and grime.
2. Potato Peels
Unknown for its goodness and natural properties for skin, potato peels are the best and safest natural products that help in de-tanning of skin and when used regularly, can help you give a natural bleached look to your skin.
Say a goodbye to your under eye dark circles, as Potato peels when mixed with rose water help you in giving a uniform color to uneven skin tone.
Please click here to get easy to make Natural Face Masks that will help you in getting radiant skin…
3. Tomato Slices
Tomato is known for being the most natural and safest toner. It helps you to minimize or close open pores that make the skin look dull and give an unpleasant look to your face.
Rub a slice of a red and ripe juicy tomato on your face and watch those open pores close giving you smooth skin.
Tomato also works as a fantastic astringent and aids in power cleaning the face in a safe and natural way, without being chemically harsh.
4. Bitter Gourd Peels
Yes! We know! It is one vegetable that many of you run away from. But it's a bet that this bitter to taste vegetable, gives you sweet results. Those bad and ugly scars of acne and pimple left behind flee away with the juice of the peels of the bitter gourd.
Let's have a look on amazing homemade face masks made using Orange Peel!
5. Beetroot Peels
Want to give your cheeks a natural rosy blush? Get your hands on the gorgeously deep maroon beetroot. Eat a bowlful as your salad but do not think of the trashcan for the powerful peels.
Just take the beetroot peels and rub them on your cheeks. Listen to some music while the beetroot peels work; wash your face with cold water.
See the mirror loving you for your pink and naturally rosy cheeks.
6. Lemon Peels
The most commonly used scar remover and one of the most effective results yielding ingredient is the powerful lemon. Loaded with Vitamin C and Citric Acid, the Lemon Rind or the outer covering when grated and added to homemade facial masks gives excellent results.
 The peels of the Lemon also contain essential oil that soothe your senses and give your skin the needed nutrition, reduce blemishes, bleaches your skin, gets rid of suntan, pimple and acne marks and even reduces facial hair.
Looking for face masks diy for winter? Read here in detail about 5 easy homemade face masks…
7. Radish Peels
You heard it right! Often a part of your salads, high n Vitamin B6 the radish is a humble vegetable that possess magical skin whitening powers.
The peels of radish when topically scrubbed on your skin helps to soften blackheads and help their easy removal.
Couple it up with Olive Oil and it becomes the best remedy for treating dry skin and rashes.
Available in a host of colors like White, Red, Pink, and Purple, it is a multifaceted vegetable that helps the skin deal effectively with a variety of skin problems.
8. Carrot Peels
Carrots are widely acknowledged as the best fighter against premature ageing and wrinkles. High in Beta Carotene and a host of other skin beneficial nutrients, carrot peels are loaded with goodness that enriches your skin and removes blemishes, fine lines and wrinkles.
Are you looking for a face masks diy to get perfect glow on your face? Let's see skin care regimen with some homemade face masks recipes that you will find handy for you…
Application Tips to Help You
Make a paste of the peels of the vegetables in a clean mixer.
To alter the consistency you can add plain water or rose water.
Apply the facial mask as soon as you prepare it. Delaying the use of the mask may give it a chance to react with the oxygen in the air.
Always ensure the peels you use come from a crisp and fresh vegetable.
Keep the masks applied for a good 20-30 minutes and then follow with plain water wash. Give the skin some time to absorb the goodness of the facial masks.
Does not use soap or any face cleanser for the next 4-5 hours after application?
Vegetables and their nutritive values always give them a well deserved win in the race for providing benefits to the skin. Likewise the peels of these vegetables provide a remedy and solution for every skin problem.
So friends, get going to your green groceries store and remember now onwards no dumping of the peels of your veggies!
Related Posts