Diwali is among the much awaited and most colourful festivals in India. Often called the festival of lights, Diwali brings a smile on the faces of the rich and poor alike. It is a time for celebrating with family and friends, and millions of people get a scope to reunite with old friends during Diwali. Apart from the fun and mirth of the festival, Diwali also gives people a chance to satiate their taste buds by gorging on some delicious foods. The type of foods and tasty snacks made during Diwali is varied and people in different corners of India make a wide range of dishes serve the friends and relatives at this time.
Have you been thinking of giving your kids some tasty snacks? Click here to get Sumptuous Lasagna Recipes…
Below listed are top 10 tasty snacks that can be made and served in Diwali. These Diwali snacks are compiled from various part of India and they taste delicious and are easy to make.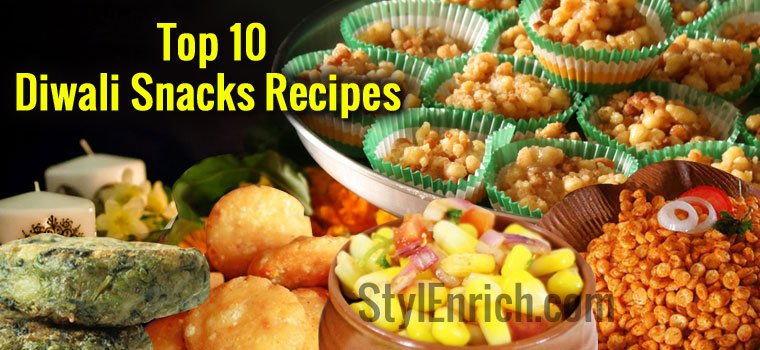 Top 10 Tasty Snacks Recipes
1. Papdi Chat
A popular North Indian recipe, papdi chat is found in the menu card of Restaurants in Delhi and NCR. However, it also makes for a fitting Diwali recipe. To make this healthier, you may use baked papdi or flour crispies.
You will require ingredients like flour crispies/papdis, boiled chickpeas, and boiled potatoes. You will also need curd, green mint coriander chutney, sweet tamarind dates chutney. Besides, you may buy papdi chat powder which saves time and get some fresh pomegranate. Some people also use sliced onion rings and tomatoes.
At first, place the papdis on a plate. Then top these with mashed potatoes and chickpeas.
Pour a good amount of curd on this.
Top this with green mint coriander chutney and sweet tamarind dates chutney.
Now, sprinkle the chat powder atop and drop in a few onion rings to add to the texture.
Serve it just after making.
2. Corn Chaat/Masala Corn
This is a hit with a health conscious lot who want to savour delicious snacks that have low-calorie value. It does not involve cooking as such.
You will need a cup of boiled corn, chopped onion, chopped tomato, coriander leaves. You will also need to use lemon juice, chat masala, rock salt and finely chopped green chillies.
How to Make?
First of all, you need to take the boiled corn in a bowl.
Then, mix it well with other vegetables using a spoon.
Add the salt and lemon juice and stir again.
Serve after sprinkling chilli on top. The coriander leaves can be used for garnishing.
3. Aloo Tuk
This is a popular Sindhi recipe and can also be used as one of the top Deepawali snacks. It is perfect for vegetarians.
You will need to take boiled potatoes, black salt, and oil. The required spices are red chilly powder, coriander powder, turmeric, dry mango powder.
How to Make?
You will need to peel off the boiled potatoes and then cut them into thick rounds using knife.
Then sprinkle some salt on the potato pieces.
Now, fry the potato pieces in oil till they turn tender and brownish on both sides.
Put the fried potato pieces aside on a tissue paper.
Now, mix all spices together and rub the mix on potato pieces.
Serve the aloo tuk with tomato sauce while it is still hot.
Love experiment the things,Click here to make pizza at home…
4. Crispy Buttons
This is one amazing tasty snack made with coconut and rice flours that can be served with tea or you may gorge on this anytime. It makes for an excellent dish in Diwali.
You will need to use ingredients like Rice Flour, Bengal Gram dal, Urdal, Moong dal, Grated Coconut, salt, oil and spices like hing and red chili powder. The daals should be 1 spoonful each.
How to Make?
Mix the daals and rinse them in water.
Pressure cook and mash them well using ladles.
Now take a bowl and mix mashed daal, rice flour well.
Mix it with all other ingredients.
Add a little water to make a stiff dough.
Now, take a large white paper and spread on the floor. Cut small balls with a knife and then flatten them like button using palms.
Let the buttons dry for some time.
Heat oil in a deep pan and then fry the buttons on low flame.
They should turn out to be golden brown.
Drain them on paper towels and store in an airtight jar. Serve them with tea.
5. Chana Dal Namkeen
This is unarguably one of the easy tasty snacks recipes for Diwali you can try. It is ideal to serve to a multitude of guests including the finicky eaters!
You will need to use ingredients like Chana Dal, oil and salt along with spices like Dry Mango powder and red chilli powder.
How to Make?
At first, wash the daal and soak it overnight.
Rinse a few more times and dry it well.
Heat up oil in a deep pan and fry the dal till it becomes golden brown.
After the daal is well fried, mix with all other ingredients.
Let it cool and the store in an airtight container. It can be stored for a few months without problems.
6. Tandoori Aloo
This dish serves extremely well as Diwali snacks and you may also serve it with roti in dinner. You may not even feel like having any meat or fish dish if it is there!
You will need a dozen baby potatoes, cashew curd, garlic ginger paste, salt and oil to cook this. Spices required to make this dish are garam masala powder, coriander powder, red chili powder, kasuri methi leaves.
Let's have a look at simple snack recipes for kids that you can try to surprise your toddler…
How to Make?
After washing the baby potatoes, pressure cook them and half into two pieces each.
Mix all ingredients well with curd barring the oil.
Then marinate baby potatoes in curd and keep in the fridge.
Now, bake the potatoes in the microwave for 20 minutes or so.
Sprinkle black salt and chat powder atop.
Serve the Aloo hot with mint chutney.
7. Sindhi Aloo Tikki
This Sindhi dish is ideal to be included in your list of tasty snacks for diwali this year. Try this any time of the year to offer to family and guests.
You will need ingredients like 3 boiled potatoes, chopped mint leaves, chopped coriander leaves, bread slices. You will also need to use chopped chilli, red chilli powder, salt, oil and cumin seeds.
How to Make?
Mash the potatoes and add the chopped leaves and chilli to it.
Now add the cumin seeds and chilli powder.
Soak the bread and squeeze out water. Then mash it with mashed potato pulp.
Add salt to the mix.
Now form tennis ball sized balls from the mix. Flatten them with your palms to form tikkis.
Then, deep fry the tikkis in oil in a pan.
Use low flame to make tikkis golden brown and evade burning them.
Make both sides of the tikkis crisp and brown.
Serve them hot with curd or chutney.
Do you want to make sumptuous & tasty Snacks for your kids? Just have a look at delicious pancake recipes…
8. Aloo Paneer Tikki
This is among the top kids snacks in North India, but you may use it for Diwali as well. It is among those Diwali snacks that require little time for preparing and involve fewer ingredients too.
You will need ingredients like 4 potatoes, a cup of cottage cheese, corn flour, pepper powder, oil and salt.
How to Make?
At first, boil the potatoes in water using microwave or pressure cooker.
Mash the potatoes and add paneer and mash again.
Add the other ingredients to the mashed mix.
The mixture should be lump free and use a ladle if required.
Now make round balls and flatten these using your palms.
Heat oil in a deep pan and fry the tikkis on low heat. They should be golden brown on both sides.
Serve it with tomato sauce.
9. Hara Bhara Kabab
This is among popular kids snacks that not only taste awesome but also look great. It is not much spicy as well.
You will need a cup of spinach, 1 potatoes, and fresh peas. The spices required are chat masala, amchur powder, besan, ginger-green chilli paste and oil. Add salt as per your need.
How to Make?
Wash the spinach in water and drain well. Chop it and keep aside.
Now roast the besan a little and set aside.
Boil the pea and potatoes.
Mix the potatoes with peas, green-chilli paste and chopped spinach.
Mash the mixture well.
Add the dry spices to the mashed mixture. Then add salt and roasted besan.
Make balls and flatten them with your palms.
Deep fry the kebab pieces until they are golden brown.
Serve hara bhara Kabab with chutneys.
If you are thinking how to make a healthy smoothie, Read Here the quick recipe…
10. Namak Pare
Made with wheat flour and few spices this is a popular snack in India. You may use it as one of your Deepawali snacks to treat guests and friends during the festive season.
The main ingredients are wheat flour, white flour, baking soda, ghee, and salt. The flours should be a cup each. The required spices are carom seeds, crushed black pepper.
How to Make?
At first, you need to mix the wheat flour with salt, baking powder and white flour. Then sieve the mix well.
Add the carom seeds to it.
Then add the ghee and water.
Make the dough firm.
Now take mid-sized dough balls and roll these on palms to flatten.
Using a knife, make diamond shaped pieces from the dough balls.
Deep fry diamond shaped pieces in oil till they are uniformly brown.
Drain oil on paper towels.
After they turn cool, place them in air tight jar.
So, since now you know how to make these asty and delicious sweets and snacks, why not give them a try this festive season. Diwali is arriving and you can surprise your friends and family with these Diwali Special Snacks made by yourself.
Hope you loved our recipe tips. If you really did, then please share this article with your friends and family on social media. Also please leave your valuable comment in the comment section below.
Happy cooking and a Very Happy Diwali!
Related Posts