Targeting quick weight loss? Worried about how to lose weight fast? Wish to shed those pounds off and burn that stored fat? Time to stop fretting and start gulping drinks that help you lose weight. Weight loss drinks are the latest fad in the world of weight watchers, and the answer you have been looking for knowing how to lose weight fast.
Thanks to the lack of time for exercise and the ever increasing stress, that today obesity and the upward moving graph of our waistline is dangerously alarming. This is what is making natural weight loss difficult and thus, everybody today is finding tricks on how to lose weight fast and looking for ways that answer the common query-"how to lose weight fast".
Weight loss drinks that help you to race up your metabolism, and get rid of that good for nothing fat, are very extensively being used nowadays.
Take a Look at Quick and Super Healthy Recipes for Weight Loss…
Here are a few Weight loss drinks that will definitely help you with losing weight faster and effectively.
5 Weight Loss Drinks Recipes to Lose Weight Fast
1. Lemon, Honey, Ginger, Cumin and Cinnamon Drink to Lose Weight Fast
It is not easy to target weight loss and this drink definitely, will aid you in losing a lot of that stubborn weight specially belly fat which is a major concern amongst many.
To Make This Drink, You Need-
1 lemon
1 tablespoon honey
A small piece of Ginger
1 teaspoon of Cumin seeds
A small stick of Cinnamon
Method to Make This Drink-
Take a saucepan and put it on a high flame.
Add 2 cups of water and bring it to a boil.
Crush a small piece if ginger and add the ginger to the boiling water.
Slightly crush the cinnamon and ginger and toss it in the pot of boiling water.
Let the ingredients infuse their flavour in the water and release their goodness into the water.
Simmer this liquid and when half of it remains back to turn the gas off and let it cool.
After it is normal in temperature drink a glass of it after adding a few drops of lemon drops.
Take note that honey may shoot up your glycemic levels and ginger and cinnamon being carriers of heating properties, may lead to acidity and inflammation. Moderate quantity intake or alteration in the amount used is advised.
Consume this weight loss drink the first thing in the morning and watch your tummy reduce magically.
2. How To Lose Weight With Apple, Carrot & Tomato Drink
To give you a healthy drink and a fitness kick starts every morning give this drink a special place on your breakfast table.
To Make This Weight Loss Drink, You Need-
2 ripe and juicy Apples
2 fresh Seasonal Carrots
3 Medium-sized Tomatoes
Method to Make This Drink-
Take the apple peel and deseed them. Cut them into four slices.
Peel the carrots and roughly chop them too.
Wash and roughly chop the tomatoes retaining as much juice as possible.
Put all the ingredients in a juicer and extract the juice from them.
You can add a pinch of rock salt to the juice for added taste.
Begin your day on a healthy note with a glass of this weight loss drink, as it is a complete meal in itself. It will give you the much-needed energy needed to take you through the day.
To maintain a healthy body weight, Read here important guidelines for a Healthy Weight Loss…
3. Cucumber, Lime and Strawberry Juice to Lose Weight Fast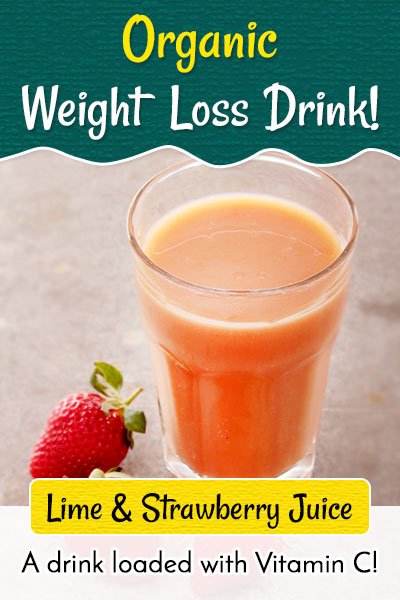 Being loaded with Vitamin C Lime and Strawberry have already earned the title of being the best ally of weight watchers.
To Make This Weight Loss Drink, You Need-
2-3 cucumbers
Juice of half a lime
15-20 pieces of strawberry
Method to Prepare This Juice-
Peel the cucumbers and wash them. Cut them into four sections.
Wash the strawberries and get rid of the leaves. Cut the strawberries in halves.
De-seed the lime and extract the juice.
Once all the ingredients are ready, simply put the strawberry and cucumber in a food blender.
This mix may be a little tough to extract juice from, so add a small quantity of water to it.
Finally, add the lime juice to the mix and enjoy this low-calorie juice.
It also makes for an awesome summer refreshing drink.
Keep in mind to alter the amount of Lime juice used, if you have problems like acidity or acid reflux.
Drink one glass of this juice, daily and two glasses when it is scorching out in the sun, in the months of summer to cool your system down. Bonus: it helps you how to lose weight fast too!
4. Green Juice for Healthy Weight Loss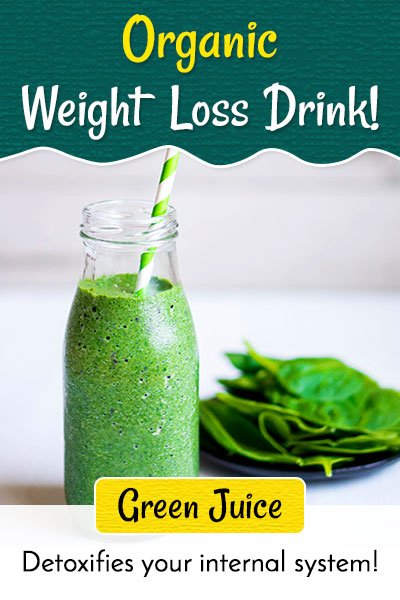 As you must have noticed, the very name itself is Green Juice, meaning if all the green things that are green in fruits and vegetable. This juice will help you in cleansing your system deeply from within, detoxify your system in the most safest and natural way.
To Make This Juice, You Need-
1 cup of baby spinach
1 cucumber
2 stalks of celery
1 cup coconut water
1 small kiwi
½ cup of green grapes
½ cup of Coriander or Parsley
You must read here health benefits of cucumbers that you should be aware of…
Method to Make This Drink-
Wash the baby spinach to get rid of any dirt, dust and impurities.
Peel and wash cucumber and dice in rough chunks.
Clean and dice celery and extract the water from the fresh coconut.
Peel and dice kiwi fruit and green grapes.
Clean and chop Coriander. Do not throw away the stems as they carry maximum flavour and nutrition.
Once you get the entire ingredients ready, get them all into a blender to get a juice ready.
For a finer and smooth juice strain it through a muslin cloth.
Regular exercise and daily consumption of this green juice on an empty stomach gives you excellent health and aids the process of boosting your metabolism thereby speeding up the weight loss process.
5. Bottle Gourd, Holy Basil (Tulsi) and Black Pepper Juice
There is no better way to start the day than on a religious and holy note with the basil and the bundles of health benefits that Bottle gourd has to offer.
To Make This Drink, You Need-
1 Cup of fresh bottle gourd
A handful of Holy Basil Leaves
8-10 Black Peppercorns
Method to Make This Drink-
Take the bottle gourd, peel and wash it. Cut into dices.
Take some Holy Basil Leaves and add them to a juicer along with the Black peppercorns.
Add a small quantity of water as the bottle gourd is a watery ingredient in itself.
Give it a good blitz.
Sieve the mixture through a fine strainer or in a muslin cloth.
For added flavour you can add a pinch of rock salt. Omit it if you are hypertensive.
Holy basil and Bottle gourd house a number of essential vitamins and nutrients needed by your body and this weight loss drink provides them effortlessly
For all this time, if you have been wondering how to lose weight fast and how to lose weight naturally. These weight loss drinks are the answer to your questions.
Do ensure that you add a minimum of 30 minutes of exercise daily in your routine and a proper balanced diet along with regular consultations with your physician. These are some common and mandatory weight loss tips to help you how to lose weight fast. These weight loss drinks are added measures to the above-mentioned considerations for weight reduction.
Hence, one should not be solely dependent on these weight loss drinks, and expect massive results overnight. How to lose weight fast can be answered by these drinks for weight loss and safe and organic detoxification of your internal systems comes as a freebie with these weight loss drinks.
So go ahead, and walk the route to health and wellness with these wonderful weight loss drinks.
Do you have any weight loss drink recipes? Does your grandma hold some secret healthy drinks?  Let us know and spread the word!
Related Posts