If you are also a member of the big belly fat clan, then this healthy weight loss drink is just the thing for you. How to cut down belly fat is one of the toughest questions one can ever answer. With the help of safe and organic fruits and vegetables a healthy drink to burn tummy fat is like a boon.
How to burn belly fat, is an issue on everybody's mind today, and thus healthy drinks for weight loss are the new demand in the market. Have you ever thought of making one at home? Yes! Homemade healthy weight loss drink, works equally well and effectively, as far as the question of how to burn tummy fat goes.
Have you been planning your weight loss program? So, click here for wonderful & best foods for weight loss.
We bring for you one such fantastic health drink for weight loss that ensures to burn your stomach fat fast and quick. Take a look how to burn belly fat with this drink!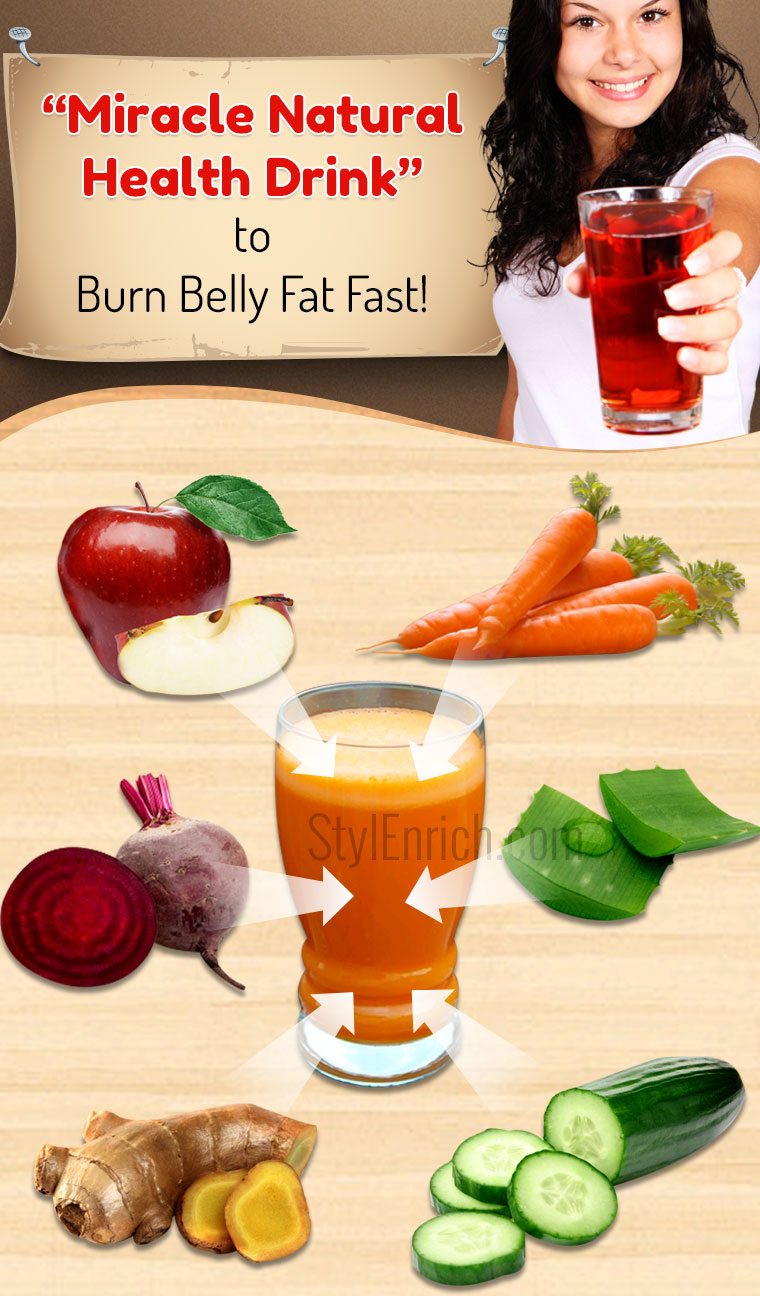 How to Burn Belly Fat Using This Weight Loss Drink
Ingredients
1 apple
1 carrot
1/4th cup of mixed bell peppers
1 beetroot
1 cucumber
1 tablespoon Aloe Vera
Juice of half a lemon
A small piece of ginger root
A small piece of turmeric root
We must know what are the guidelines that we need to consider for a safe and healthy weight loss. Click here to know…
Procedure
Take an apple. Peel and deseed it.
Take a carrot and peel it followed by a wash.
Take the Beetroot and Cucumber and peel and wash both of them.
Take a lemon and roll it on your counter with your palm, with a slight pressure. Then easily squeeze half of the lime and extract it's juice.
Likewise, take the ginger and turmeric root and peel and wash them.
Take the bell peppers and after deseeding chop them roughly.
Pluck an Aloe Vera Leaf from your backyard and wash it. Now with a sharp knife, carefully peel the upper layer of the leaf to see a gelatinous gummy and gooey substance. This is Aloe Vera gel. With the help of a spoon, scoop out the gel in the inner part of the leaf.
Once you have completed the preparation toss in all the ingredients into a blender and give it a high-speed blitz.
Add water to alter the consistency if needed.
Once blended into a smooth consistency, strain it through a sieve for a fine and smooth texture of the drink.
Enjoy your way to burning your belly fat!
When and How Much to Drink This Tummy Fat Burner Juice?
There is nothing like feeling energetic throughout the day and also internally cleansing yourself, simultaneously and this drink will serve that purpose right when you drink it the first thing in the morning.
Stick to a glass in a day regime. Even better if you make it your post-workout drink! It will kick start your metabolism in a flash, and begin the process of burning fat around your waist at the earliest.
Remember, to skip the ginger and bell peppers or decrease their quantity, if you experience acidity or have complained of inflammation in the chest. Also, consult your doctor, and follow prescribed amount of Aloe Vera, as it is an ingredient that has to be taken with care.
What Are The Benefits of This Weight Loss Drink?
Keeping bell peppers as a part natural weight loss remedies should be encouraged as the red bell pepper houses capsaicin, the burning and spicy property that shoots up the body temperature and improves the fat oxidation helping in losing weight.
Apples being high on vitamins and fibre and low in calories make for perfect natural weight reduction food, especially in burning stomach fat.
Beetroot builds up endurance helping you work harder in the gym and aids you to suppress hunger.
Ginger root has the boon to make our digestion more responsive. Thereby, leading to the proper functioning of the digestive system, and aiding to burn belly fat.
Turmeric root performs the function of rapid breakage of fat cells in our body.
Aloe Vera is loaded Vitamins A, B1, B2, B6, B12, C and & E and thus aids in burning calories and excess fats.
So friends, take some time out for yourself, from your busy schedule and make this drink for yourself, It not only gives you a solution on how to burn belly fat but also detoxifies your body and cleanses your blood.  So get up, make this healthy weight loss drink for yourself, burn your belly fat, see the weight scales going south and your tummy fat disappears miraculously.
Related Posts