Who doesn't love lasagna? A simple yet flavoursome dish, lasagna can be eaten for breakfast, lunch or supper. It's a great way to feed a crowd and a perfect dish to take to a potluck. It not just freezes well but also is easy to reheat. What's more? This is one dish that can simply be pushed into the refrigerator after a hearty meal. The leftovers stay for long and barely need a few minutes of microwave treatment before consumption. But when the thought of trying out a lasagna recipe comes to the mind, most people are under the impression that lasagna recipes are to be made only with meat. And, hence a tedious and messy affair!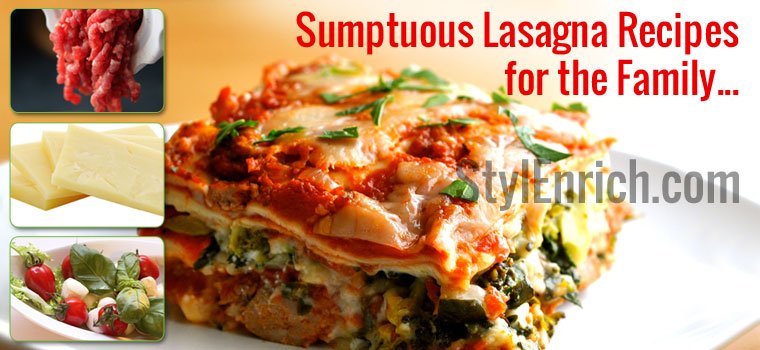 What if we say we have just the easy lasagna recipes, you have been looking for? Follow a few quick steps and you can make a lasagna recipe easy and hassle free. This recipe is quick to make and does not call for cooking the noodles.
Have you been thinking of giving your kids some sumptuous dishes? Click here to get Easy Pancake Recipes…
Sumptuous Lasagna Recipes
1. Beef and Ricotta Cheese Lasagna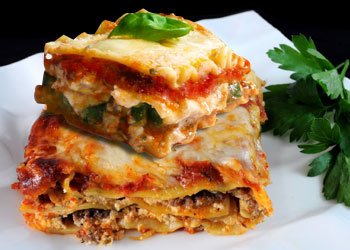 Ingredients –
450 grams ricotta cheese
450 grams of  ground meat (Keema)
6 packs of uncooked lasagna
Quarter to Half a cup of hot water
Click to see savings
3 cups tomato and basil readymade pasta sauce
Click to see savings
1/2 cup of mozzarella cheese (shredded)Click to see savings
Method –
Cook beef in a large skillet over a medium flame. Keep stirring with a ladle until it begins to crumble and is no longer pink; drain. Next, gently stir in some pasta sauce.
Spread part of the ready made sauce onto a well greased medium sized baking dish. Next, gently layer with half of the noodles and 250 g of both ricotta cheese and mozzarella cheese.
Now do the same, to create yet another layer. Next, spread all of the remaining meat sauce over the mozzarella cheese.
Slowly pour 1/4 cup hot water around inside edge of dish.
Cover the baking dish securely with 2 or 3 layers of food grade aluminium foil.
Bake at 190 degree Celsius for about three quarters of an hour.
Carefully, remove the foil and put it back into the oven to bake for a further ten minutes. Cool and serve!
Leftovers can be put into a borosil box, and shoved into the freezer. Thaw, heat and serve with toasted bread or stew the next day.
Did you know that, contrary to common belief that lasagne's chief ingredient is beef, there are many vegetarian lasagna recipes that you can try out.  
Here is a simple vegetarian lasagna recipe, that is not just easy to put together but also very nutritious. This is a dish that even your kids will spoon up with no fuss.
Don't miss too get 5 Super Easy and Sumptuous Easy Evening Snacks recipes, Click here for more…
2. Garden Fresh Lasagna
Ingredients –
9 dry lasagna noodles
349 grams of Silken lite tofu, firm
1 can of spaghetti sauce (any flavour)
2 cups low fat cottage cheese or full fat cottage cheese
1-2 tsp. Italian spice (basil, chives, and dried green peppers. You can use whatever spices suits your taste.
1 cup cheddar cheese full-fat
Directions –
While you ready other ingredients, preheat your oven
Cook lasagna noodles according to package directions.
It is now time to combine the tofu, cheddar, and cottage cheese with Italian spices.
Spary a medium to large sized pan with fat.
Next, layer ingredients:
– Begin with half of the lasagne noodles you intend to use
– 1/2 of the tofu/cottage cheese mixture.
– 1/3 or ½ of the can of Hunts or any other Spaghetti Sauce
Repeat the layering process twice
On top of last layer place the remaining 3 lasagna noodles, and then the last 1/3 of spaghetti sauce.
Shred and sprinkle top with remaining cheddar cheese.
Bake for about and 45 minutes or until cheese begins to brown and turn crispy. You should turn your oven off when you see the sides of lasagna are bubbling.
Works best to let the lasagna set/cool about 10 minutes before cutting.
Remember that a vegetarian lasagne recipe is very easy to customise, you can choose to add your favourite vegetables and can make it more healthy and nutritious.
Wondering how to make Coconut Cookies? Here are the simple steps…
Veggies like spinach, bell peppers, onion, parsley, zucchini, etc. can be used to add flavour to your favourite dish. Spring onions too can go into the topping. Many claim that mushrooms add a distinctive rich aroma and flavour to lasagne.
As much as meaty lasagna is loved, after a bite into this  veggie version, you won't really will miss the meat. Vegetable lasagna is perfect for making ahead of a get together and can be easily carried along to a potluck. It is also easy to store in the freezer for later use.
Use your ingenuity and throw in anything from olives to carrots to prawns into your lasagne. There is no end to experimenting with lasagna. Vary the spices, and you will have yet another signature lasagne dish that your family will relish and enjoy. Try them and leave your comments down below.
Related Posts