A pleasant evening, the warmth of a family sitting and relaxing over a cup of piping hot masala chai and a plateful of wonderfully easy, crunchy and appetizing tea time snacks! Can life get better? If Americans have their espresso we Indians have our Masala chai and the heavenly feeling of having yummy and delicious accompaniments along with our evening tea adds a totally tasty dimension to the tea experience.
We bring for you 5 easy and tasty and ultra delectable tea time snacks that will make your evening tea experience, even more, delightful.
1. Aloo Chana Chaat are Super Tea Time Snacks!
A treat for your taste buds, it's all about balancing the sweetness and tangy tastes that you can find in a spicy mix of boiled chickpeas and potatoes to make a lovely savory snack! "Chaat" means to lick and this dish stands true to its name leaving your finger licking!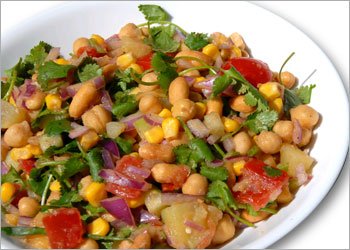 Method to Boil Chickpeas
Measure one cup of chickpeas and soak them overnight or at least eight hours. the chickpeas will become 2 times bigger in size than the original.
Cook the chickpeas in a pressure cooker on high flame with 2-3 cups of water and without salt.
After one whistle of the pressure cook for 20 minutes on a low flame.
Ingredients to Make the Chaat for Tea Time
1 ½ potatoes boiled, peeled and cut into cubes
1 ½ cups of boiled chickpeas
1 tablespoon ginger finely grated
1 teaspoon green chilli finely chopped
¼ teaspoon red chilly powder
1 teaspoon roasted cumin powder
½ teaspoon salt
½ teaspoon pepper powder
½ teaspoon dry mango powder
½ teaspoon sugar
2 tablespoon finely chopped cilantro
½ teaspoon black salt
For Garnishing This Tea Time Snacks
I tomato chopped
2 tablespoon oil
6 mild whole green chillies
6 slices of lemon
Procedure for Evening Snacks
Wash and dry the whole green chillies. Take a pan and add oil and let it heat. Add chopped green chillies and once they begin to splatter remove from the heat.
Now take chickpeas in a bowl and smash it slightly. To the bowl add the boiled and cubed potatoes and other ingredients of salt, pepper, chopped ginger, black salt, black pepper, dry mango powder, roasted cumin powder lemon juice, red chilly, cilantro and mix it well.
Let the complete mix sit for about 5 minutes so as to combine and allow the potatoes and chickpeas to absorb all the flavours of the spices.
Mix well and serve the chana chaat with a side of lemon wedges, fried chillies and chopped tomatoes.
You are high on health and low on calories snack for your tea evening is all set!
Let's see here interesting quick and healthy breakfast ideas to kick start your mornings on a refreshing note.
2. Vegetable Rice Cutlet are delicious Tea Time Snacks!
Got any leftover rice from last night's meal? Thinking what to do about it? Create a fabulous and quick snack out of it! These vegetable rice cutlets are one of the easiest tea time snacks and make for a great accompaniment with tea!
Ingredients
cups small rice
1 small potato boiled, peeled and cut in cubes
1 cup of finely chopped mixed vegetables (green beans, bell paper, mushrooms and carrots)
teaspoon ginger, chopped
½ teaspoon red chilly to taste
1 ½ teaspoon salt
1 teaspoon cumin seeds
1 tablespoon cornstarch
If you want to learn how to make pizza at home. Read here for step by step procedure…
Procedure for This Yummy Tea Time Snacks
Take all the vegetables and all the ingredients. In a mixer jar and give it a quick blitz. We do not want a paste like consistency. The vegetables should be finely chopped. And the rice will gain soft dough like consistency.
Take the mix out of the blender and give it the shape of a cutlet.
Heat oil in a frying pan over medium heat and deep fry the cutlets until golden in color and crispy. Take them out on a paper towel.
For best taste serve them hot!
3. Nan Khatai is a Super Yummy Snacks!
These light as air cookies are eggless and have been a classic and closely associated with tea time!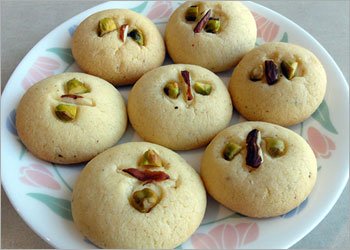 Ingredients-
1/3 cup of all-purpose (maida)
1/3 cup fine semolina (sooji)
½ cup gram flour (besan)
Pinch of baking soda
¼ teaspoon green Cardamom (Elaichi powder)
½ cup unsalted butter
2/3 cups sugar
1 cup sliced almonds and pistachios
Ingredients-
Pre-heat the oven to a hot 350 degrees.
In a bowl mix in All purpose flour, gram flour, Cardamom powder, baking soda.
Mix well room temperature butter and sugar till you get a light and fluffy mix.
Add the flour mix to the butter and sugar mix and knead together o make a dough.
Make small balls of the dough and slightly press the dough in your palms.
With a sharp knife draw the tic-tac-toe sign on the Nan Khatayi, press and place them on a parchment paper lined baking sheet.
Garnish each Nan Khatayi with a slice of pistachio or almond. Bake at 375 degrees for 13-15 minutes.
Give 5 minutes of resting time to the Nan Khatayi before removing the Nan Khatayi from the tray.
Now grab a cookie and enjoy your tea with the sublime Nan Khatayi.
Do You Know How To Make  Pizza Dough at Home? Let's have a look here step by step procedure…
4. Bread Paneer Rolls are the Easiest Tea Time Snacks!
These tea time snacks are made with the beautiful cottage cheese available in the supermarket spiced and seasoned and then rolled in flattened bread!
Ingredients-
1 white bread
1 cup shredded paneer (Indian Cottage cheese) shredded
½ teaspoon salt
½ teaspoon pepper
`1/2 teaspoon cumin
½ teaspoon ginger
2tablespoons fresh coriander
1-2 tablespoons of hot milk
Procedure-
Mix well all the ingredients except the bread and keep it aside in a bowl. Make the mixture in such a consistency that it is easy to spread on the bread mix in milk to alter the filling's consistency.
Trim the edges of the bread and stretch the bread with the help of a rolling pin by rolling it.
Once the bread is flattened, spread the mixture to 3/4th of its capacity and tightly roll the bread into a roll. Make sure it is well packed and sealed.
Now heat up a skillet and apply slight butter on all sides of the roll and lightly grill it from all sides to give it a golden and crisp outside.
Brown evenly from all sides.
Serve hot or at room temperature.
Click here for some easy snack recipes for kids that you can try to surprise your toddler.
Enjoy your evening tea with this sumptuous snack.
5. Aloo Paneer Pops
Crispy on the outside and soft on the inside, this snack will get you accolade from everyone around you!
Ingredients-
1 cup or 200 grams of Indian cottage cheese
large boiled and peeled
1 tablespoon raisins
1 tablespoon Oil
1 medium onion chopped
2 green chillies chopped.
1 teaspoon garam masala powder
A bowl of Cornflakes crushed
Salt to taste
Procedure-
Soak raisins in warm water and in a heated pan take some chopped onions and sauté till translucent .Then remove.
Mix paneer, potatoes, red chillies, onion, green coriander leaves, garam masala powder, salt and raisins well.
Make long and cylindrical croquettes and dip them in a thick batter made up of refined flour, salt pepper and water.
Dip the croquettes in this batter and then roll them in crushed cornflakes.
Refrigerate them for some time so as to set the croquettes and make them ready for frying.
Heat oil in a deep frying pan and fry these croquettes till golden brown. Drain on kitchen towel and serve hot with green coriander chutney.
Have you been thinking of giving your kids some sumptuous dishes? Click here for some delicious pancake recipes…
Now make tea time more special filled with friends family and lots of delectable and mouth-watering tea time snacks like these!
Happy snacking!
Related Posts