Scary ghosts, little pastry pumpkins, crispy crusted Pumpkin pies, scary cookies! Scary food is one of the best ideas this holiday season and what better way to represent the mood of the occasion than portray it through food.  Spooky food creates just the right ambience of dread and death laid right on your dinner plate.
Spooky and frightening appetizers, red jelly for blood spiders crawling on your cupcakes, blood red cocktails! What a pleasant sight to welcome Fall! And bonus points for making the vampires, ghosts and spirits jealous of the yummy things you eat.
We bring for you some incredibly horrifying to the sight but absolutely sumptuous party and dinner items that you can serve to your guests and freak their taste buds out! Have a look at our Halloween Recipes.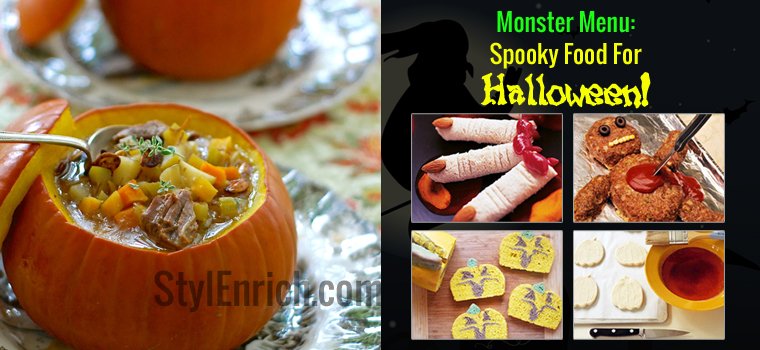 Recommended read:[Homemade Pancakes: Healthy and Easy Pancake Recipes]
1. Dead Woman's Chopped Finger Sandwich
These are just the perfect appetizers to tingle the taste buds of your guests!
Material Required-
Thin slices of white bread, crust removed.
Soft margarine
Cream cheese or peanut Butter
Strawberry jam
Procedure-
Gently flatten the bread to help it soften it. This will help in moulding the bread in the desired shape.
Spread Margarine and Cream cheese and Butter
Shape the bread and roll it to give it the shape of a finger and make three indentation marks to show finger joints. This will add to the realistic feel of the sandwich.
Trim the ends of the fingers and with the help of cream cheese stick an almond on the edge to show long lady-like nails!
Now for the spooky effect- put some strawberry Jam on the edges of the finger to give the look of Blood!
Your Horror provoking fingers are ready to be munched on!
Don't miss to read: [How to Make a Smoothie: 10 Healthy Smoothies for Breakfast]
2. Halloween Dead Man Meatloaf
Traditional meatloaf takes a Halloween twist!
Material Required-
2 pounds lean ground Beef
1 Onion chopped
1 celery chopped
1 tablespoon butter
1 tablespoon minced garlic
2 nos. Eggs
1 tablespoon Cajun Seasoning
1 cup Breadcrumbs
1 cup ketchup
1 pitted Black Olive cut into half
Procedure-
Add melted butter in a skillet and toss in the onion, garlic and celery. Sauté until transparent. Transfer this mix in a bowl to cool.
Preheat an oven at 350 degrees and line a baking tray with aluminium foil and spray cooking oil on it.
The crack opens the eggs and beat until they blend in well with the vegetables. Add Cajun Seasoning and bread crumbs to the egg and vegetable mix. Mix well with your hands.
You will love to read: [5 Simple & Healthy Snacks for Kids]
Transfer the mix onto the foil lined tray and give it the shape of a dead man.
Put the tray into the oven and keep an eye on the beef, until the beef in the centre is no longer pink.
Insert a food thermometer and it should instantly read a good 160 degrees right in the centre of the man.
Place the olives as the eyes of the dead man and pour ketchup on the dead man's abdomen.
Serve with a plastic knife impaled in the Dead man's stomach for a scary and deadly effect.
Your Deadman right out of the oven! Freshly baked for Halloween is ready!
3. Jack O Lantern Bread
This bread captures the true spirit of the Halloween season! And it looks "Fantastic"! try an orange colored bread with black eyes instead of the usual orange or yellow one.
Material Required-
1 cup warm Milk
1 egg yolk
½ teaspoon dry yeast
3 tablespoons white sugar
1 ½ tablespoons unsalted butter at room temperature
1 teaspoon salt
3 cups all-purpose flour
A must read article: [6 Quick and Healthy Breakfast Ideas For Refreshed Mornings]
Procedure-
Pour and stir egg yolk, warm milk and yeast and begin to beat. Wait till it foams. Add remaining ingredients
When the dough is ready to color and shape your bread.
Preheat your oven to 350 Fahrenheit. Place into a well-greased bread loaf tin and bake until the crust is brown and it sounds hollow to tap.
Read Continue for More Sumptuously Spooky Food for A Hassle-Free Halloween!
4. Meal Out of a Pumpkin
This is one dish that you can help yourself with hearty servings. Dig a rich serving and eat to your heart's content plus the child-like the fantasy of serving right out of a pumpkin. Cooked and served in the pumpkin itself it is a flavourful delight!
Material Required-
2 pounds of beef stew meat, cut in 1-inch cubes
3 tablespoons canola oil
1 cup water
3 large potatoes peeled and cubed.
4 medium carrots sliced
1 large green pepper diced
4 garlic cloves, minced
1 onion chopped
2 teaspoons salt
½ teaspoon pepper
1 can dice undrained tomatoes
1 pumpkin medium sized
You may also read: [How to Make Pizza: Homemade Yummy Pizzas With Different Toppings]
Procedure-
In an oven, brown meat in 2 tablespoons of oil. Add water, potatoes, carrot, green pepper, garlic, onion, salt and pepper.
Cover and cook for 2 hours. Stir in tomatoes.
Wash pumpkin and cut the upper circle around the stem in a lid like a manner.
Remove top and set aside.
Place pumpkin in a sturdy shallow baking pan and spoon the stew into the pumpkin and replace the top.
Brush the exterior of the pumpkin with the remaining oil.
Bake at 350 degrees for 2 hours.
Serve stew from the pumpkin scraping a little bit of pumpkin with each serving.
A true taste of Autumn and a sight for sore eyes at your potluck too!
5. Savory Pumpkin Puffs
A cheesy and eerily easy trick with the help of some frozen puff pastry.
Material Required-
1 standard packet of thawed Puff pastry
1 ½ teaspoon of paprika
¼ cup of unsalted butter
2 ½ tablespoons of Dijon Mustard
1 ½ cup of Grated Gruyere cheese
1 cup grated Parmesan
Pepper to season
Must read: [Pina Colada Recipe: How to Make a Pina Colada]
Procedure-
Roll out a puff pastry sheet of 13-by-15 about 1/16 inch thick, rectangle on a well lined Baking tray with parchment paper dusted with all-purpose flour. Refrigerate until firm
Mix melted butter with paprika
Get the puff pastry out of the refrigerator and dust off the excess flour.
Spread a rectangle of pastry with both kinds of cheese and mustard. Spread well.
Cover this rectangle with another rectangle of Puff pastry.
Place a sheet of parchment on these layers of puff pastry until smooth and combined and sealed with each other.
Remove parchment, and brush the puff pastry with the paprika butter mix.
Chill until firm.
Now take a pumpkin shaped cookie cutter and with the help of it take out a good 18-20 pumpkin shaped cookies and place them on a parchment-lined baking tray.
Score each pumpkin with the tip of the knife to make ridges.
Bake for 15-20 minutes on a preheated oven at 375 degrees until golden brown.
Place on a wire rack till they reach room temperature.
Time to gobble up the edible Jack o Lanterns!
Recommended read: [Pizza Dough Recipe: How To Make Homemade Pizza Dough]
6. Bat Wings
Give your Halloween party a spooky touch with the help of these black and scary Bat Wings!
Material Required-
1 cup soya sauce
1/4th cup of oyster sauce
1/4th cup of light brown sugar
1/4th cup black bean sauce
1 teaspoon black food color paste
15-20 large chicken wings with tips
Meanwhile you may also love to know about these awesome Halloween Dress ideas.
Procedure-
In a medium sized bowl mix in soya sauce, Oyster sauce, black bean sauce, black food color paste. Keep 1/3 rd cup of soya sauce aside.
Put large chicken wings in a zip lock bag and pour the remaining soya sauce over them. Seal the bag and shake until well coated. Marinate overnight or if not possible at least 3-4 hours. Keep shaking the bag every half and hour.
Preheat oven to 375 degrees. Remove wings from the marinade bag and shake off the excess. Place them on a baking tray and arrange the wings so that they are well spread out.
Bake until the wings leave their juices and form a crunchy exterior, and brush them every 10 minutes with the remaining soya sauce.
Let them cool for 10 minutes and then serve.
So folks! Call in your neighbours, friends and family and follow these recipes. All your guests will be in surely for a treat. Halloween would be yummy and scary at the same time! Have fun.
Let the party begin!
Happy Halloween!
Related Posts