Monsoon brings the smile on the face of every individual suffering from crouching heat and sweat. The drop of water falling down from sky heals the wound for those people. It brings with itself all greeneries and drives away the blues. Monsoon along with these greeneries, happiness and water drops brings with itself humidity and many infectious diseases. It brings with itself hair problem and damaged hair due to the excess humid condition in the atmosphere. Hence, we must aware of monsoon hair care tips. 
As it is quite a normal phenomenon of losing hair while taking a shower, same in the case of rain which can't be avoidable. However, precautions are taken before hand and some effective ways to deal with the maintenance can help you not to lose your hair from scalp.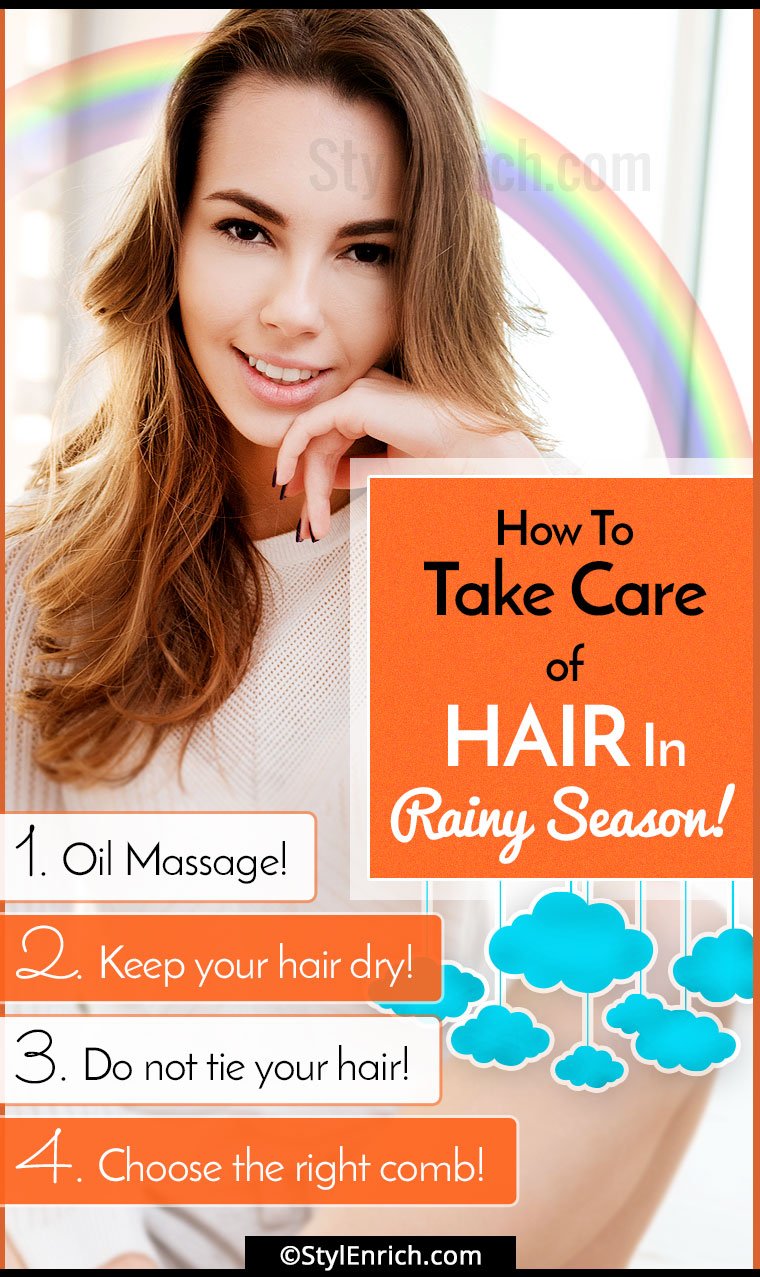 Below are some of the important Monsoon Hair Care Tips which can help in reducing the amount of hair fall or causing any damage:
Monsoon Hair Care Tips
1. Keep Your Hair Dry
Rain water is acidic in nature which is not good for your hair. It is a common phenomenon that we all like to feel the rain droplets and often step out in the rain.
However, this might make the hair dry and frizzy. Therefore, it is ideal to use an umbrella or at least cover up your hair with water proof clothing.
In case your hair gets wet, ensure to dry up your hair soon after the same. It is also advisable to massage hot mustard oil to your scalp and hair once it is damp in rain.
This not only keeps your hair moisturized but also prevents cold and cough from occurring which is very common during the monsoon.
2. Shampoo Your Hair Twice In A Week
Usually, in monsoon, it is a common misconception not to wash your hair regularly as it may weaken the roots of your hair. However, you should wash your hair 2-3 times in a week.
This will help to prevent dry and frizzy hair and also helps you to get rid of dirt and dust which mostly sits on your scalp in this season. It is equally important to be careful about your shampoo.
Mild and no chemical made shampoo should be used. Also, you can wash your hair with natural ingredients.
Process-
Take half cucumber and blend it thoroughly in a blender.
Extract the fresh juice from it and squeeze one full lemon juice into it.
Mix it thoroughly to get a soapy feel.
Wash your hair with this mix.
This will not only help to clean the hair but also render it healthy and shiny.
Cucumber helps to keep your hair hydrated and lemon juice has acidic properties which clean your hair and also gives you lustrous locks.
3. Oil Massage
This is one of the common household methods one should follow during monsoon. Oil Massage is the best way to keep your hair healthy during monsoon. A little amount of oil when massaged properly can be a tonic for healthy hair.
Process-
Take coconut oil and warm it slightly in a container.
Apply the hot oil on the scalp and hair.
Give your hairs a deep massage for 10-15 minutes.
Leave it for overnight for the hair to enter the scalp.
Next morning, use a mild shampoo and a good conditioner to wash your hair for a healthy and smooth hair.
4. Avoid Tying Up Your Hair
Do not tie your hair during the monsoon season; tying up the hair can cause the rain water to hibernate in the scalp which is not a good sign. It will make hair frizzier and limper.
Also, during monsoon, the air is filled with humidity which may attract dust and dirt into your hair and this may cause excessive irritation in the scalp. Therefore, let your hair open and try to keep it as much clean and dry as possible.
5. Use Raincoat Or Umbrella
It is advisable to carry an umbrella or wear a raincoat when you are stepping outside. It protects not just your hair but also your body from being drenched in the rain.
Damp hair often leads to dandruff and hair loss. Also, in the rainy season, it is difficult for your hair to dry once it gets wet in the rain. The atmosphere mostly remains humid and your hair will mostly feel damp and sticky all the time.
In worst scenarios, it may also lead to reddish eruptions in the hair which is the extremely unhealthy condition of the hair.
Waterproof rain coat or hoodie is essential during the monsoons.
6. Choose Your Comb
It is very important to choose the right comb during monsoon. As the hair is mostly frizzy and unmanageable, it gets tangled very easily.
Make sure you are using a wide tooth comb during monsoon. It is very good for hair as it helps you in detangling your tresses and prevents hair fall. Also, comb your hair several times in a day for smooth and silky hair without any tangles.
It is better to prefer a wooden comb which helps to remove hair tangles without any breakage.
In case you have tangles, you can try the below process:
Take a tablespoon of honey and mix it with sufficient water.
Mix the solution well and store it in a spray bottle.
Spray this solution on your hair and then comb to remove the tangles easily.
You can then wash your hair using a mild shampoo.
7. Eat Right
Right diet at the right time can be one of the major ways to avoid hair damage and hair fall.
The food we intake directly affects our hair. Therefore, food rich in protein and iron should be consumed to strengthen your hair follicles. Eat a lot of fresh fruits and vegetables in the monsoon.
Try avoiding outside as the food and water mostly gets contaminated in this season which is extremely harmful to the hair and the body. Also, drink plenty of water in monsoon although you won't feel thirsty mostly. Stick to the daily routine of drinking 8-10 glasses of water.
8. Short Hair
It is a general tendency that girls like to have long and strong locks. However, in monsoon, it becomes extremely difficult to maintain them. Therefore, it is suggested to cut your hair and make them short.
Short hairs are less vulnerable to any damage or fall. Also, you can take care of them properly and maintain them. Therefore, keep your hair short and clean this monsoon.
9. Natural And Organic Alternatives
Do not be too harsh on your hair in monsoon. Avoid using too much of chemical products such as conditioner or shampoos instead try using natural way or kitchen products. This can help your hair from any harmful chemicals and damage. You can also apply hair pack once in your week to prevent hair fall and breakage. Also deeply condition your hair with natural conditioners.
How To Make A Pack To Prevent Hair Fall And Breakage?
Ingredients-
Neem powder
Brahmi powder
Amla powder
Fenugreek seeds
Hibiscus powder
Process-
Soak fenugreek seeds in water for 4-5 hours.
Boil the water along with the seeds for 10-15 minutes.
Strain the seeds and keep the solution aside for cooling.
Once the solution cools down, add 1 tablespoon of neem powder, half tablespoon of Brahmi, half tablespoon of Amla powder and 1 teaspoon of hibiscus powder.
Mix all the ingredients thoroughly to form a thin paste.
Leave it for an hour to soak properly.
Apply this mix on the hair and leave it for an hour.
Rinse your hair thoroughly with normal water.
You can also apply a mild shampoo to clean your hair.
This method can be followed every week once. This will clean the hair and scalp naturally and prevents hair loss and breakage.
How To Deeply Condition Your Hair?
Ingredients-
Process-
Break one egg and beat it thoroughly along with the yolk.
Add 2 tablespoon of fresh yogurt to this and stir well.
Apply this mix on the hair and leave it for 30 minutes.
Rinse using a mild shampoo in normal water.
This process will deeply condition your hair and your hair feels glossy and smooth. You can follow this process once every week to get healthier and silky hair. This will deeply nourish the hair.
How To Make Your Hair Shiny?
Ingredients-
Process-
Boil water in a container and add 2 teaspoon of tea leaves to it.
Boil for 10-15 minutes.
Strain the liquid and allow it to cool down completely.
Squeeze half a lemon in this solution.
Use this liquid as an after wash for your hair after you shampoo.
This will make your hair look healthier and impart a natural shine.
Conclusion
Monsoon is a season to enjoy, however, it is also the time to take extra care for your hair, skin and health. Here, we have given some simple Monsoon Hair Care Tips to take care of your hair in this rainy season.
Also, you should clean and condition your hair regularly to keep your hair free of dandruff and hair fall. You will, therefore, have a healthy hair even in this rainy season.
Hope you have found this article useful. In the case of any suggestion or feedback please share the same in the comments section below.
Related Posts