Are you foodie? If yes, you must definitely love French Fries. Most of us go to Mac Donald's, KFC or at theatres specifically to relish French Fries. Yes French Fries is a delightful dish that almost all of us crave for. There is no limit to eating them. But do we really need to step out of our homes to relish this wonderful dish? Have you ever thought of homemade French fries? Making French Fries at home is as simple as outside and you can re-create the same authentic taste without any difficulty. All you need is a few ingredients and a step by step procedure to make homemade French Fries.
Have you been thinking of giving your kids some sumptuous dishes? Click here to get Easy Pancake Recipes…
Ingredients You Will Need
Peeled potatoes
Salt
Pepper
Chilli powder
Sauces
Frying oil
Frying pan
Chopping board and knife
Don't miss to Learn here quick and healthy breakfast ideas for refreshed mornings…
Step by Step Procedure to Make Homemade French Fries
Craving for the taste of the perfect French Fries? Just follow the simple step by step procedure to attain the best French Fries.
Step 1: Fill the frying pan with cooking oil and bring to heat under low flame.
Step 2: Chop your peeled potatoes elongated and thin with a sharp knife on a chopping board. Make sure the potato slices are thin and slender so that your French Fries recipe turns out to be the best.
Step 3: Once the cooking oil is heated and begins to boil, gently add a few pieces of potato slices and fry them gently until golden brown in colour. Make sure they are crisp and cooked well. Keep the stove on medium or low heat so that your potatoes don't burn.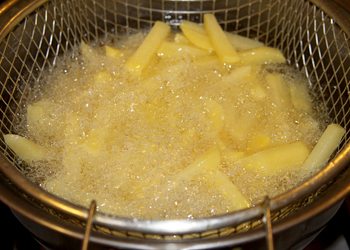 Have you been thinking of giving your kids some tasty snacks? Click here to get Sumptuous Lasagna Recipes…
Step 4: While the potato slices are frying, keep aside a bowl and put a paper towel into it so as to soak the excess oil.
Step 5: Once your potatoes are fried golden brown, transfer them into the bowl containing the paper towel.
Step 6: Add the next set of potato slices and repeat the same process. Make sure you do it slowly so as to not allow the oil to splatter.
Step 7: Once all your potato slices are fried well and the excess oil is soaked, sprinkle salt, chilli powder and pepper to make it tastier.
Step 8: Transfer your French Fries to a fresh plate and serve hot with various sauces or tomato ketchup.
Step 9: Your homemade fries are ready.
You will love to try the tasty snacks recipes that are easy to make!
Procedure to Make Baked French Fries
The procedure for oven baked French Fries is almost the same as that of frying in oil.
Step 1: After slicing your potatoes, add them to a container with a lid or you can also use a plastic bag.
Step 2: To this container or plastic bag add your spices like salt, chilli powder, pepper powder and turmeric powder.
Step 3: Then add a little oil and cornflour to the potato French Fries. Shake the container or bag to ensure proper mixing.
Step 4: Preheat the oven to 250 C degrees.
Step 5: Bake for 25-30 minutes.
Step 6: Once ready, serve hot with ketchup or mayonnaise.
Love experiment the things? Click here to make pizza at home…
There you go! Your homemade deep French Fries and homemade baked French Fries are ready. Give this simple step by step procedure a try and experiment a little to make your best French Fries Recipe. You no longer need to step outside to relish French Fries anymore. You can now satisfy your cravings at home!!
Related Posts