There is no denying the popularity and versatility of pizza. This dish of Italian origin has become popular all over the world with time and it is loved by the toddlers and adults alike! You can gorge on pizza for satisfying hunger pangs while it is also ideal for having dinner after a late night movie show. The variety of pizzas makes them suitable for people with varying eating preferences as well. However, it is not mandatory that you will have to go to the nearby pizza outlets or order online to enjoy succulent and spicy pizzas. Making pizza at home is not tedious and you just need the right ingredients and learn how to make pizza at home.
There are so many types of pizza and it is possible to make diverse tasty pizza at home. You can make both vegetarian and non-veg pizza variants at home. If you feel worried about how do you make pizza that tastes like made in the restaurant, buy pizza loaf. Making pizza dough is also possible. If you love experiment the things, try to make pizza dough at home. Below listed is a recipe for making mouthwatering pizza.
If you are unsure about how do you make homemade pizza with newer ingredients ensure the basics remain the same.
You Will Need Ingredients Like
Pizza Dough/Base
Onion cuts into slices
Tomatoes, cut into rings
Mozzarella cheese
Capsicum cuts into small slices
Oil
Oregano
You will love to read here how to make easy french toast that you and your family will relish almost every day…
How to Make Pizza at Home?
Gather all ingredients and keep them within reach.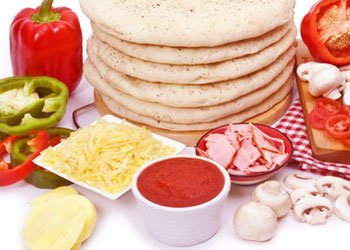 Using a knife, grate the cheese well.
Have you been thinking of giving your kids some sumptuous dishes? Get here Healthy and Easy Pancake Recipes…
Next, roll out the dough. It is not mandatory to use a round shape, but doing so will help in making even-sized slices later. You can go for a readymade dough or can learn how to make pizza dough at home.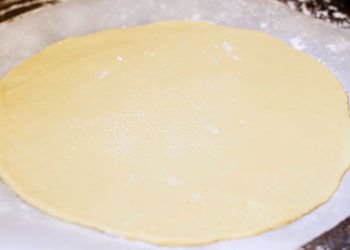 Adjust the dough in a foiled pan.
Now, coat the top of dough with cheese first. Then place the tomato, onion and capsicum slices. The amount can vary based on your preference and you may also use other vegetables. For example, some people prefer to use gherkins and baby corn.
To make the best ever instant, homemade Spaghetti Sauce, click here for recipe in detail…
Apply some tomato sauce or pizza sauce atop the vegetables placed on the dough.
Sprinkle oregano on top. Ensure that you do not load the toppings to the edge of pizza dough. This will ensure the toppings do not drip in the oven and get burnt during baking.
Now, insert the plate inside the oven and bake for 15 minutes or so. Some microwave ovens have preset pizza cooking menu options, but using the manual method ensures you get crispy homemade pizza.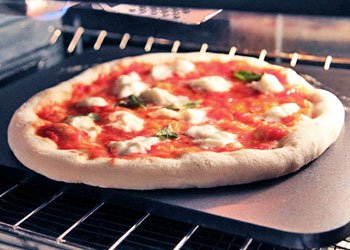 After baking is done, let the pizza thaw for a few minutes. Slice with a knife and serve the slices hot!
How to Choose And Use the Toppings?
Eventually, the flavour and taste of cheese pizza or any other variant depends on types of toppings used. There is no hard and fast rule about using homemade pizza toppings as such and you can be a little creative and mixing and matching toppings for pizza. Use the below-listed tips to make yummy pepperoni pizza and other variants with suitable toppings.
In a vegetable pizza, you need not be limited to using vegetables as the topping. Go ahead and use a few fruits as pizza toppings. For example, you can very well use a few pieces of sliced pineapple with vegetables like tomato and capsicum!
If you are unsure about how to make pepperoni pizza that leaves kid asking for more, use the meat toppings carefully. Using small boneless chicken cubes with slices of minced mutton lends a unique texture to the pizza.
If you are wondering about how to make pizza that tastes delicious, but unique, use prawns as toppings! Mix prawns with black olives for a unique tangy taste. Prawns also go well with mushrooms.
Don't miss to follow interesting quick and healthy breakfast ideas to kick start your mornings on a refreshing note.
There are mothers feel worried about how to make pizza at home that tastes great, but does not come with excess calories. For keeping the calorie count low, do not cram in cheese on pizza. Use plenty of vegetables to add texture and flavour. Using low-fat cheese is also an option.
You may feel unsure about how to make pizza that goes well with everyone! It happens when you cook pizza for the first time. In such instances, Use toppings and ingredients that are liked by all and keep the numbers low. Opt for cherry tomatoes, red onion, mushroom and black pepper powder.
Related Posts