Have you been thinking of giving your kids some sumptuous dishes that taste sweet and yummy, but do not contain the excess fat and condiments found in ready-made snacks? If the answer is yes, try some delicious homemade pancakes recipes! Pancakes are mouth watering and can be made quickly. They can be prepared using nutritious ingredients in healthy ways.
How to Prepare Homemade Pancakes?
For people wondering how to make homemade pancakes there are several solutions. They can look for the best pancake recipe on the web. On the internet, finding the best pancake recipe becomes easy. There are other ways too. You can buy cooking books with pancake recipes from scratch. Some people also rely on asking their relatives and friends for learning about pancake recipe from scratch. In fact, you can sometimes break out of the mold and try variations like potato pancake recipe.
Try out the below listed easy pancake recipes that can be made at home.
You must read here a quick way to make a healthy breakfast smoothie for your kids…
1. Basic Homemade Pancake
This is possibly the simplest pancake recipe that can be prepared when your kids return home from school, hungry. You will need the ingredients like:
1 cup flour
Baking soda
Baking powder
Sugar
1 egg
Melted butter
Buttermilk
Salt
How to Make?
At first, you need to mix the dry ingredients together in a large sized bowl. Then pour in the egg and buttermilk into it and whisk with a fork. Next, add the melted butter. Then, put a not stick pan or skillet over the flame. Sprinkle some oil on top and then pour the pancake batter on a hot skillet. Flip it after some time and ensure both sides are golden brown. Serve the pancakes warm with honey sprinkled atop.
Do you know how to make pizza at home? Follow here easy recipe for making mouthwatering pizza…
2. Chocolate Pancake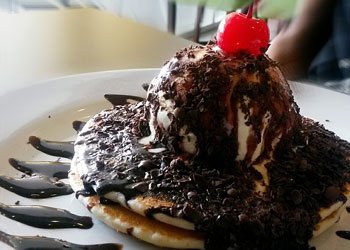 This is not as calorie heavy as some other chocolate-based dishes kids love but tastes yummy. The required ingredients for this easy pancake recipe are:
Self-raising flour
Cocoa
Caster sugar
1 cup milk
2 eggs
Melted butter
How to Make?
You will need to mix cocoa, sugar, and flour well in a bowl. Then add the egg and milk into it and turn into a batter. The batter should be thick and smooth texture. Now, put a frying pan on flame and pour some melted butter at the top. Pour the batter on a pan and spread evenly. Flip over after some time and make sure both sides are cooked well. Serve it with vanilla ice cream or fruit slices.
3. Mango Pancakes
Filled with the flavor of ripe mangoes, these healthy pancakes will leave your kids and others in family asking for more! Keep this reserved for special occasions.
The ingredients are-
Flour
Egg
Oil
Milk
Butter
Sugar
Baking powder
Baking soda
How to Make?
At first, blend all the dry ingredients well. Then add the milk and egg into it. Mix all other ingredients to form a smooth and thick batter. Heat oil on a deep frying pan and fry the pancakes on both sides.
Try these snack recipes for kids so that you can surprise your toddler.
Tips to Cook Superb Pancakes
Utilize the below-listed tips to ensure your homemade pancake recipe turns out to be fluffy and absolutely tasty:
Using self-rising flour instead of regular flour makes your pancakes fluffy and lighter. Try this for buttermilk pancake recipe.
To make your homemade pancakes recipe a hit beat the egg whites separately before adding it to the batter.
For the chocolate pancake, some people prefer using melted chocolate instead of cocoa. This surely adds to the flavor, but it no longer remains a healthy pancake recipe.
For variations, try out banana pancakes recipe or blueberry pancake recipe following the aforesaid methods.
You may add some vanilla essence to any pancake recipe. This helps hide the odour of egg.
For lactose intolerant people, the pancake recipe without milk fits the bill well. Vegetarians can opt for the no egg pancake recipe.
To try out any pancake recipe, easily prepare in small amounts the first time. Then you can make in large amounts. This is applicable for pancake recipe no eggs and the best potato pancake recipe.
These recipes are simple to make and a delightful dessert that can be eaten on its own or topped with some maple syrup and ice cream. Try them today and tell us which one you liked the most!
Related Posts