Smoothies are the newest and healthiest breakfast food that is taking the world by a wave. It is easy to make and very tasty to drink. If you are thinking how to make a smoothie or what is the difference between a smoothie and a fruit juice? Today, we answer all that and more! Well, a smoothie is a much thicker drink or beverage than a runny fruit juice. It is a mixture of fruits or vegetables along with milk or water, ice cubes and some sweeteners.
How to Make Smoothies?
Smoothies can be made in many different ways. But the most common and quick way to make a healthy breakfast smoothie is:
First, you need to choose a fruit or vegetable. You can pick either fresh fruits or frozen. But we suggest you stick to fresh fruits!
Next, would be to choose the base for the smoothie. You can choose between milk or water or yogurt.
To make it healthier, you could add some nuts or seeds to the mix.
Add ice and some sweetener to the mix.
Transfer all the ingredients into a blender and whip them together.
Add a few herbs or spices for that extra flavour!
Layer them up into a smoothie glass and your drink is ready!
You will love to read the article on how to make a pina colada…
The Top 10 Healthy Smoothies for Breakfast
1. Strawberry Smoothie
Everyone loves strawberry and a healthy strawberry smoothie would top the list of smoothies on a sunny summer day. The recipe for the perfect strawberry breakfast smoothie is very simple and it can be prepared within minutes.
All you need are a few strawberries and two bananas, preferably frozen. For this smoothie, it is not necessary to add any kind of liquid. Just get your blender out, add all the ingredients with some ice and blend them to a smooth consistency. Drink it up!
2. Mango Smoothie
This particular smoothie is a personal favorite among the diet conscious cult. This breakfast smoothie uses a secret ingredient, Avocado. Avocados not only provide loads of healthy fats and nutrients that keep your hair glowing, but also reduces your risk to cancer. What's more?  This fleshy fruit, when combined with mangos, helps in regulating blood pressure levels.
The ingredients that you will need to prepare this smoothie are a few mango slices, peeled and chopped avocados, one-fourth cup of milk and a few ice cubes. Blend them all together and top it up with a slice of mango.  Your drink is ready!
You must read here how to make Simple & healthy snacks for kids…
3. Beet and Raspberry Smoothie
Whoever said that healthy breakfast smoothies are only made of fruits. You can make one of the most healthy smoothies with none other than beat!  Beets are known to produce nitric acid that helps in promoting blood circulation in the body.
The preparation time for this smoothie is just ten minutes and all you need are a few fresh raspberries, few chilled raspberries for the garnish, half a cup of yogurt and a cup of cooked beetroot. Blend them to a smooth paste and dress it up with some chilled raspberry on the top.
4. "Love Apple" Smoothie
Healthy breakfast smoothies are all prepared in less than fifteen minutes. And this simple smoothie just takes five minutes to make. Tomatoes are high in salicylates, that has anti-clotting properties. This means the more tomatoes you consume, the healthier will your heart be!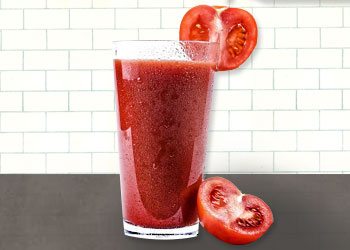 All you need are a few chopped tomatoes, a few basil leaves, and low-fat yogurt. Blend all ingredients with ice cubes and transfer them to a smoothie serving bowl.
5. Flaxseed and Berry Smoothie
There is no better way to start the day than with the perfect mix of food for improved blood sugar. Flaxseeds are loaded with fibre and lignans that help slow down the growth of tumours. Although this smoothie might not sound be very sumptuous, it is rich in fibre and other essential nutrients.
The ingredients you need for this are flaxseed powder, a handful of blueberries, orange juice for a citrus flavour, half cup of yogurt and a small banana. Blend until it is smooth and creamy in texture. Serve with ice.
6. Banana and Orange Mix Smoothie
Oranges and bananas go hand in hand when it comes to the perfect blend of flavours. This drink will keep you energized and alert all day. This smoothie will also improve bowel movement in those who suffer from severe constipation.
To make this beverage, you will need a banana, half a cup fresh orange juice, two teaspoons of brown sugar and some ice cubes. Once blended, garnish the drink with mint leaves. Remember brown sugar is used instead of regular sugar because the calorie level is much lesser when compared to white sugar.
7. Dark Chocolate Green Smoothie
This smoothie is one of the best weight loss smoothies ever. Dark chocolate or raw chocolate contrary to the general notion helps promote weight loss. Although they are very bitter to taste, dark chocolates are considered to be good mood boosters.
This smoothie is made with raw chocolate, baby spinach, mango or banana and a cup of milk. Blend all ingredients except the chocolate. Transfer to a smoothie glass. Top the smoothie with few shavings of dark chocolate.
8. Watermelon Smoothie
A cold glass of watermelon smoothie on a hot sweaty day can do wonders! Watermelon is very refreshing and helps replenish your body as it is high in water content. This fruit also helps in weight loss.
Grab six to seven cups of watermelon, a cup of milk and a few ice cubes. You could also add yogurt instead of milk to have a thicker smoothie. Blend together and serve.
9. Broccoli Smoothie With Kiwi and Cucumber
Broccoli is a vegetable that is rich in vitamin A and C and so is the fruit Kiwi. Cucumbers are high in water content and are a rich source of dietary fibre. The combination of all the three can leave you feeling refreshed and energized to tackle the day.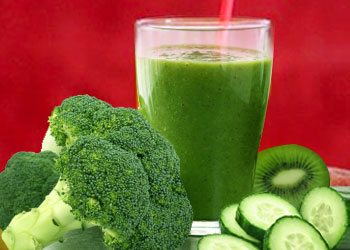 Blend all ingredients together. Add a few nuts and drink up!
10. Peach Smoothie
The last on the list of top breakfast smoothie recipes is the peach smoothie. This fruit is low in calories but rich in minerals and vitamins. The ingredients that go into this smoothie are just half a cup Greek yogurt and a few peeled peaches. Blend them together and enjoy the drink.
Fruit smoothie recipes or vegetable smoothie recipes are easy to make and a good alternative to our regular breakfast. Try these recipes today!
Related Posts