What do you eat in the morning makes your day? This induces the significance of breakfast in your daily diet regimen. The options for breakfast are never-ending, but you need to select those that keep you light and refreshed all day through without consuming hours for cooking them. There are many interesting quick and healthy breakfast ideas to kick-start your mornings on a refreshing note.
Top 6 Quick Healthy Breakfast Ideas
These healthy snack ideas are brilliant for the busy bees that are conscious about their nutritional intake as well. You need not spend hours in your kitchen preparing any of these healthy breakfast recipes. So, pick the recipes of your choice and get, set, go, for a healthy day ahead!
1. Yummy Breakfast Burritos as Healthy Breakfast Food
Give wings to your Mexican cravings with healthy breakfast ideas like burritos. In fact, it is the easiest snack that you can prepare amid the morning rush.
Ingredients
2 egg whites
1 whole wheat tortilla
2 tbsp fats free cheese, shredded
Salsa
2 tbsp canned beans
How to Prepare This Mexican Breakfast?
Sprinkle some vegetable cooking oil in a non-stick pan.
Scramble egg whites and cook them properly.
Place eggs on the tortilla and cover with shredded cheese.
Garnish with beans.
Roll the tortilla and microwave for 30 seconds.
Pour salsa over it and enjoy this healthy breakfast food.
2. Strawberry and Yogurt Parfait for Healthy Morning
Parfaits always sum up for quick healthy breakfast ideas. With ingredients like these, they become extra sweet for your well being.
Ingredients
Fresh strawberries, ¼ lb
Half cup plain yogurt
1 tsp honey
1 tbsp muesli cereal
½ tsp vanilla extract (optional)
How to prepare?
Chop the strawberries and put half of them in the glass.
Pour the yogurt and honey. Add half muesli cereal to it.
Again, layer with strawberries, yogurt, and muesli.
Garnish with sliced berries.
3. Avocado and Egg Sandwich for Easy Breakfast Ideas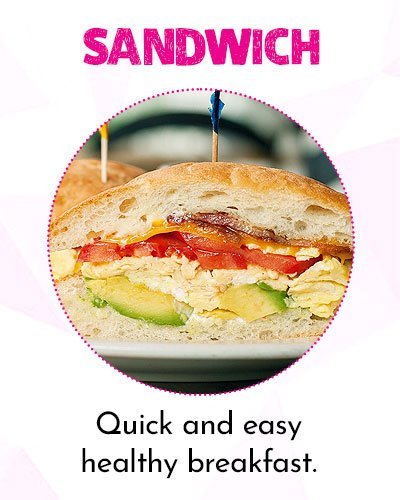 Sandwiches count for most of the quick and easy healthy breakfast ideas. You can make them healthier by choosing your ingredients carefully.
Ingredients
1 avocado
2 cooked eggs with sunny side up
2 multigrain toasts
1 tbsp shredded cheese
Sea salt to taste
1 tsp lemon juice
Sliced onion and tomatoes (optional)
How to Prepare Avocado and Egg Sandwich?
Cut avocado and extract its pulp. Put in a small bowl, mash and add lemon juice.
Use this avocado mashed flesh as a spread on the toast.
Top it with egg and add salt to taste.
Garnish with all other toppings as desired by you.
4. Low-Fat Healthy Pizza
Yes, you can make a pizza using these quick easy breakfast ideas. Here, you can use your leftover pizza from last night to save some more time.
Ingredients
1 slice of multigrain bread
3 tbsp of ricotta
Sliced tomatoes
1 tsp of olive oil
Salt to taste
½ tsp black pepper
How to Make Healthy Pizza?
Spread the ricotta on the bread slice. It is preferable to go for low-fat ricotta.
Place the sliced tomatoes over it.
Drizzle with olive oil.
Sprinkle salt and pepper to taste. Your yummy pizza is ready!
Don't miss to read How to Make Pizza: Homemade Yummy Pizzas with Different Toppings…
5. Healthy Oat Muffins for Fulsome Breakfast
Oats are rich in beta-glucan. They are a superfood for making many quick healthy recipes including oatmeal porridge and crunchy muffins. Here, we will talk about the latter!
Ingredients
2/3 cup all-purpose flour
1 cup quick cooking oats
¾ cup brown sugar
2 tsp cinnamon powder
½ tsp baking soda
½ cup raisins
3 tbsp extra virgin olive oil
1 large egg
1/3 cup of skimmed milk
½ tsp baking powder
½ tsp salt
1 ripe mashed banana
1 cup froze blueberries
cooking spray
How to Prepare Healthy Oat Muffins?
Preheat your oven to 400 degrees.
Take a muffin pan and coat it evenly with cooking spray.
Take a large bowl. Pour all-purpose flour, baking powder, baking soda, brown sugar, salt, and brown sugar in the bowl.
Whisk them properly avoiding any lumps to be left.
Add oats, raisins, eggs, banana, milk, and oil to it. Blend it properly to make a smooth batter.
Add blueberries to this batter. Now place it in muffin cups.
Sprinkle some granulated sugar over it, if interested.
Microwave for 20-25 minutes until cooked from inside.
Relish these muffins hot.
6. Delicious Tofu Tacos for Yummy Start of The Day
With its high protein content, this recipe is extra simple to prepare as well. You can store the tofu in your fridge and have a handy breakfast option for next 2-3 days.
Ingredients
Tofu, 1 pack
¼ cup whole wheat flour
2 tsp onion powder and garlic powder, each
¼ tsp turmeric
¼ cup yeast
Salsa to taste
4 corn tortillas
How to Prepare Delicious Tofu Tacos?
Scramble the tofu in a bowl.
Add whole wheat flour, yeast, garlic powder, onion powder, and turmeric to it and stir properly.
Heat a pan and pour tofu mixture in it. On a medium flame, cook till it turns brown.
Serve this tofu with tortillas and garnish with salsa.
These are our 6 easy healthy breakfast ideas. Apart from being easy, they are healthy too. You can make them fast and, of course, they are savory! If you also have some intriguing quick healthy breakfast ideas, please share them in the comments section below.
Read more – Top 9 Harmful Effects of Skipping Your Breakfast!
Related Posts