While most of the people today are worried about weight loss and struggling to reduce some pounds from their body, there are also some people who want to gain weight! Being too skinny is not a great feeling see! You might be surprised to know that there are a lot of lean people too in this world who genuinely want to put on some weight. We can also see some people struggling for how to gain weight naturally or using various weight gain products.
The weight gain products cannot assure you desired results. It might work fine for some but for some no matter how many products they try, their skinny skin does not change. Being too lean lessens the confidence of people. If you too are worried about how to gain weight naturally, then this article is for you! Stop worrying! We have listed top ways from which you can gain weight fast.
The best part about these tips on how to gain weight naturally are that you don't really have to spend loads of money on these. These are simple tips on how to gain weight naturally and most of the ingredients you will probably find in the kitchen itself! So, let's get start read on how to gain weight naturally!
How to Gain Weight Naturally With Top 8 Ways?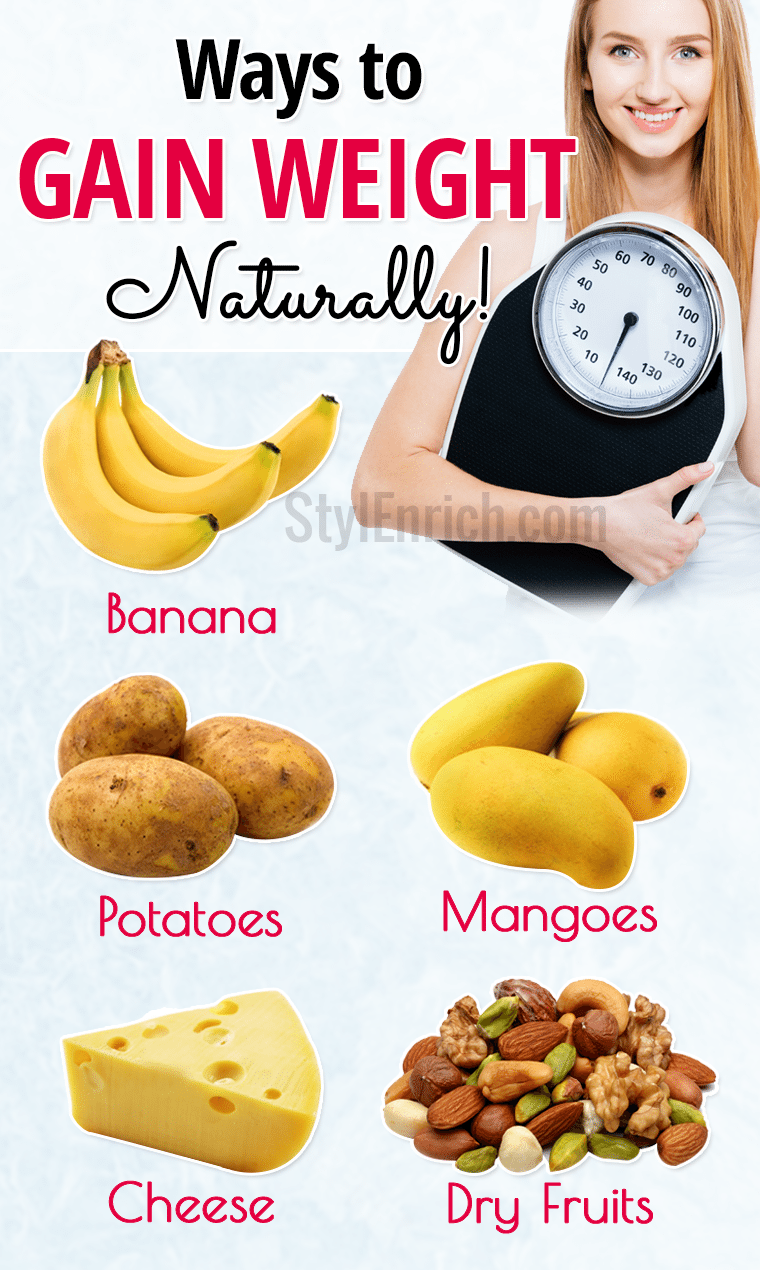 1. Eat Banana to Gain Weight
Yes! Heard us right! This common fruit that you'll find very easily everywhere can actually help you to put on weight. Bananas are loaded with calories and essential proteins. Bananas also contain a rich amount of potassium and carbohydrates that will not just increase your stamina, but also helps to add some kilos to your body. Banana is also believed to boost up the appetite according to ayurveda. Besides the best part here being it is very cost effective and easy to consume. So, if you are tired of trying out and experimenting with many weight gain products, you should be looking for bananas!
Simple Ways of Consuming Bananas
You can crush the bananas and add it to your daily milk with some sugar. Drinking this everyday morning for at least 3 weeks will surely increase your weight by some kilos.
Next alternative could be a delicious banana juice. Wouldn't it be a great idea to drink a fresh banana juice after a tiring day? Just cut banana into small pieces and grind it well with milk and some water. You can honey to this mixture and even sugar if you want to. Top the banana juice with dry fruits like cashew and dry grapes. And voila! Your delicious banana juice is ready! The dry fruits you add are also rich in protein and doing this on a regular basis will show you amazing results!
The most simple way is to eat raw bananas without adding anything extra to it. As soon as you wake up from your bed, eat 2 bananas everyday. You will be amazed with the results.
2. Have Cheese Spreads to Gain Weight Naturally
As cheese is one of the main by products of milk, it has almost all the characteristics and benefits of milk. It is a very rich source of proteins.  Cheese contains fat in high quantities that helps in adding some good pounds of weight to your body. Single serving of cheese can help in adding 69 calories to the body. That is the reason why people who are regular consumers of cheese are so energetic! Cheese is a rich source of all essential nutrients like protein, fats, calcium and carbohydrates. So consider including cheese in your diet schedule.
How To Include Cheese In The Diet?
There are different varieties of cheese spreads that are available out there in the market. Grab some of your favorite flavors like the salted cheese, Mexican cheese, sweet cheese etc and start eating your bread by spreading a layer of cheese on it.
If you are a fan of hot snacks like the French fries, Gobi Manchurian, Samosa etc you can consider adding some cheese to these delicacies and tasting it.
Another mouth watering alternative could be adding cheese to the sweet corn. Salted cheese added to the hot baby corn is a bliss! You can surely give it a try. By doing so, you will start loving these foods and start consuming it everyday by yourself. No room for too much stress of gaining weight see! You can easily put on weight y trying these and not even realizing that you are on a mission of putting on weight.
3. Eggs Help to Gain Weight
Since times immemorial people have known that egg is a rich source of protein. Most of the body builders consume eggs everyday that will strengthen their muscles. Eggs can work wonders for you provided you are a regular consumer of eggs. Eggs will strengthen your muscles and helps in generation of cells that will build your body. Eggs also increase the appetite and the digestive power. Make it a point that you consume 3 eggs everyday if you really want solution on how to gain weight naturally!
Some Simple Ways To Eat Eggs
Studies have shown that drinking milk everyday by adding raw eggs to it will help increase weight. You can try this out if you are comfortable eating raw eggs. If not, no worries! Read on!
You can check out different recipes of eggs on google like the scrambled eggs, egg omlet, egg fry, chilly eggs and what not! There are number of mouth watering recipes on internet that you can try out!
If you do not too much time to check out the recipes on net and then trying them out, simply eat 3 boiled eggs everyday after your breakfast hic is bound to put on some healthy weight to your body. Simple as that!
Go for healthy low calorie soup recipes that I bring just for you…
4. Eat Mangoes for Weight Gain
In Ayurveda, it is believed that mangoes are a great source of proteins that can help increase weight. Mangoes contain vital vitamins and essential proteins. The carbohydrates content too is very high in mangoes that will come handy when you want to put on weight. We are speaking about the ripe mangoes here. Do not get confused with unripe mangoes that are sour or bitter. So that rules out the mango pickles or sour mango pulp. Ripen mangoes can do wonders for people who asked how to gain weight naturally!
Easy and Quick Way To Increase Weight With Mangoes
A fresh mango juice is a great idea to start with.
Cut mango into small pieces and grind it well using a mixer. Add 2 cups of milk if you are using one mango.
Add some sugar to it for a great taste.
If you are a fan of dry fruits, you can also add cashews and dry grapes to it. Top the mixture with roasted almonds for best results.
This mango milkshake which is also loaded with the dry fruits is a very rich of source of proteins. The combo of ripe mangoes, milk and dry fruits is a perfect solution for your cues on how to gain weight naturally.
5. Yogurt
Yogurt is yet another rich source of proteins. If we were asked to list down high protein foods, yogurt would definitely be included in the list. There are various kinds of yogurt based on the source from it is it prepared. The fruit based yogurt is an all time favorite to many and is believed to contain 118 calories. Greek yogurt is also available in the market and is worth a try! Greek yogurt has a very yummy taste and contains double protein that  helps in building and strengthening your muscles.
Ways To Include Yogurt In The Diet
Take some yogurt in a small bowl. Add some refined sugar to it and blend them well.
Add it to a sipper bottle or any bottle that has a wide opening and a tight cap.
Empty the mixture into this and shake it well. You can refrigerate it for some time and then drink it.
Repeat this every day and keep a fixed time for this, say afternoon. Consume it everyday and you will be surprised to see results. You can also add banana and honey to this if desired.
6. Potatoes
Yes! This common vegetable that is easily found in our kitchen aids weight gain. Potatoes are loaded with rich carbohydrates and proteins. Consuming potatoes everyday will increase your weight. But you need to very careful about the freshness of potatoes. When the potatoes are stale it is quite tricky to recognize and you might end up eating a stale potato which is toxic. Therefore make sure you are eating only the fresh potatoes. Also if you have high cholesterol then this home remedy to increase weight is not for you!
Time To "Go Potatoes!"
You might already be familiar with ways of using potatoes. You can add it as a stuffing to some fried snacks. Making home made French fires could be a great idea.
If you are a fan of fried snacks, potato chips too is not a bad idea. To increase its effects, you can add cheese spreads to it while you are preparing potato chips.
Potato curry or potato fried rice is worth a try too! Also there are a lot of other recipes of potato you can find on net. Browse some of them, pick your favorite, try it out, enjoy the dish everyday in the evening during snack time and put on weight! Simple as that!
7. Dry Fruits and Nuts
Eating dry fruits is an amazing simple yet most effective home remedy to increase weight.  Dry fruits and nuts like almonds, cashews, raisins and figs, walnuts and peanuts are full of vitamins, minerals and fibers that will boost the body building cells of our body. They contain all the goodness of essential oils and helps a skinny person to put on healthy weight.
Best Ways of Eating Nuts and Dry Fruits
Grab handful of nuts and eat them everyday in the morning before breakfast to increase your body weight rapidly.
Add 2 to 3 dates, some dry figs and 4 to 6almonds to one big glass of milk and boil it. Drink this for about one and half month to witness amazing weight gain.
An another alternative could be soaking dried figs in a small cup of water and letting it to soak overnight. Eat this as soon as you wake up. Repeat the same procedure for a month for best results.
8. Whole Grains
Whole grains include oats, cereals, wheat, brown rice etc which are considered to be the powerhouse of various diverse nutrients. The brown rice and oats are rich sources of complex carbohydrates that helps in building the muscles. The whole grains can be consumed as an inclusion to your daily diet. Some people have a notion that oat meal is only for those who want to lose weight. Now, that's a myth! By including oat meal in your diet everyday by adding it with milk you can increase weight rapidly.
Various Ways of Including Whole Grains In The Diet To Increase Weight
If you plan to increase weight rapidly, you might consider combining rice with other calorie dense foods. Cooking brown rice in milk or broth may be a great idea.
Prepare an oatmeal adding milk to it. Serve the oatmeal with toppings of handful of nuts and other dry fruits. You can also add honey if you want to. Start your day with this oatmeal breakfast. This is one of the quickest and effective ways for how to gain weight naturally in a healthy manner.
Those were some tips which threw light upon the eating habits that can help you increase weight. There are some lifestyle habits too which can increase your weight in a healthy manner. What becomes more important is the manner in which you are gaining weight. Gaining  weight in a healthy manner is of utmost importance. These following lifestyle habits can help on how to gain weight naturally and in a healthy manner. Read on!
You will love to know Chinese Herbs for Weight Loss That are Just Amazing!
Tips on Lifestyle Habits To Increase Weight Naturally
1. De Stressing
Nowadays due to advanced technology today we can see that a lot of people spend most of their times with the gadgets. This can cause stress and will hamper the healthy weight gain. So limit taking too much stress and concentrate on your health. Health is wealth see!
2. Sound Sleep
A sound night sleep has many advantages. During the night's sleep, the body cells repair themselves. The dead skin cells are mostly removed and the body repairs itself while we are asleep. A sound sleep improves the repairing capacity of your body and that in turn promotes good health.
3. No Skipping of Breakfast
There is an age old proverb which says "Eat like a king for breakfast, a queen for lunch and a minister for dinner". That's how important it is to eat a healthy breakfast. Never ever think of sipping meals especially the breakfast.
These are some lifestyle habits you need to cultivate if you have a question how to gain weight naturally in a healthy manner. All the eating habits that are listed here will work wonders for you provided you follow them on a regular basis. Regardless of the tip that you choose to follow, a common fact that is important is consistency. The consistent practices will help you put on weight. A very simple formula to increase weight however remains the same! Eating sumptuously! Eating should never be a pain see!
Related Posts