There is hardly any better alternative to pizza when you want to get a tasty yet filling snack to battle those occasional hunger pangs. However, pizza can also be eaten alone or with accompaniments for dinner. This Italian dish has become much sought after worldwide over time. While most people opt for pizza joints and fast food stalls to gorge on various types of pizza that is not your only choice. You can make pizza at home with proper ingredients and right easy pizza dough recipe.
Pizza Dough Recipe
There are a lot of people who think making pizza at home will be tough if they do not buy the pizza dough or a loaf from shops! They are unsure about how to make a pizza dough at home. However, you can very well make pizza dough at home. Easy pizza dough will be tasty and filled with fewer calories compared to the ready made dough you buy at stores.
You will love to read 6 Quick and Healthy Breakfast Ideas For Refreshed Mornings…
How to Make Tasty and Healthy Pizza Dough at Home?
Don't feel worried about how to make homemade pizza dough. It does not involve rocket science! This process will help you grasp how to make pizza dough from scratch. You will need these things to make with pizza dough:
Whole wheat flour, 1/4 cup.
All-purpose flour, 3 cups
Salt
Active dry yeast, half a spoon
Olive oil, 2 spoons
White sugar
Warm water, a cup
Step By Step Procedure To Make Pizza Dough
At first, you will need to make the dough properly. Take the dry and liquid ingredients. Mix the flours first and then add the others. Pour in the warm water next and stir with a spatula.
This will make the base of the dough. Stir until the mixture turns into a sticky ball. It will take about 5 minutes or so.
Now let the dough ball sit in the bowl for some time and keep it covered with a cloth in a warm place. It will become inflated after the time.
Don't miss to read Simple & Healthy Snacks for Kids…
Now, you can preheat the oven at 280 degrees C. Take a baking sheet and top it with cornmeal.
Now, take the inflated dough and put it on a surface sprinkled with more flour and coat it with some flour as well. Then, turn the dough into a rectangular slab and divide into 4 equal parts.
Turn every piece into a ball and make a smooth surface for all. Let the balls rest for 20 minutes after wrapping with cloth.
Now, pat the dough flat after sprinkling with flour. Using a rolling pin form disk shapes about 8 to 9 inches in diameter.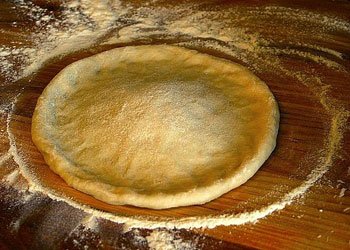 Now, put the crust into the ready baking sheet and use toppings as required. Bake as per instructions to ensure the exterior is crunchy and dough interior is fluffy.
A must read article Yummy Healthy Snacks Ideas that You will Love it!
Tips to ensure your pizza dough tastes the best
Use the below-listed tips to ensure your homemade pizza dough turns out to be yummy.
You can use the whole wheat flour to ensure the quick pizza dough is healthier.
To add a taste of zing to your pizza, sprinkle some herbs like crushed garlic and oregano on the dough a few minutes before baking is over.
Some people opt for making the dough base the night before baking. You can bake the dough and wrap it in a cloth and put it in the refrigerator. Take it out an hour before baking so that the dough can reach room temperature.
Sprinkle a dash of sugar when you make the dough. Of course, you do not want the dough to taste very sweet, but adding the sugar is helpful. Add a spoonful so that the crust gets the perfect golden hue during baking.
If you find the dough offers a spring back action as you shape it, let it sit for some more time. This makes the gluten in the pizza dough subside and helps to shape it properly.
You may use a bit of olive oil to coat the edge of the crust lightly. This will offer the pizza dough a golden sheen post the baking.
There are similar pizza dough recipes, but the basics are the same! Examples include homemade pizza dough recipe as well as thin crust pizza dough recipe. There are so many other pizza dough recipes you can find online too.
Once the dough is made and the pizza crust is ready, it is left to you as to how you want to make your pizza. You can add veggies and sauce with cheese for a simple pizza or go exotic and add a variety of fruits, veggies, and even meat to add flavour and colour to your pizza. Use your creativity and you can make your pizza as yummy as the ones you get at delis.
Related Posts