Can't decide what to wear for Halloween? The witch or the sexy kitten? Go crazy go spunky, go scary! At your Halloween party, you will see all kind of maniacs dressed up as cowboys, clowns and animals of all kinds. Every imagined classic horror icon and trendiest pop culture artists of that era.
One or the other costume catches your attention and horrifies you to the extent of a heart attack! In the end, it's all about decorating yourself to give a spooky feel, and enjoying to your heart's content!  But with lack of time, sometimes you need to get ready with least number of things in a short period of time.
We bring you some fun, easy on the pocket and creative ideas on DIY Halloween costumes.
1. Day of the Dead Costume : A Perfect Choice for Holloween Dress
Nothing screams more Halloween than a red and black outfit with skeletons. These colors are easily available too. Boast of skeleton style from head to toes. Flaunt your bad to the bone look in a screamy way using fiery colors of red and black. Enter the party and make a statement by mixing and matching a flowing bustle and corset with sugar skull tiara, makeup, and gloves.
Pointed black shiny shoes and a skeleton neckpiece add to the horror factor of the costume. Go equally berserk with makeup with a white base, red spiky lips and yellow around the eyes!
2. Little Fairytale Look for Halloween, like Alice in Wonderland!
This may look like a fairytale dress but you can give it a bit Halloween look. Take a sensuous feel down the rabbit's hole and dress up Alice in wonderland this Halloween. You will wonder and marvel at your own creation of this Costume. Keep adding things like the beribboned pop icy blue and black corset, a frilly and feminine little ruffles skirt in net that has playing cards detailing. Add more drama with thigh highs in black and white stripes, a cute and girly bow on your headband and Black heeled stilettos. Look your best irresistible this Halloween!
3. Half Circus and Half Magician Look Will Make You Halloween Star!
This wil surely attract many eyeballs. This will not look too scary bu will give a trendy and sporty feel. Give the Halloween spectators a magical costume this season. Turn the house down with a freaky Half Circus and Half Magician Look and create you own gasping audience. A well-fitted red and black corset, a tutu with double design detailing of harlequin print and lace that complements you weird and mismatched thigh highs perfectly. Accessorize it in a crazy way with a blood splattered clown collar, half net, and half fabric gloves to add more drama. Plain hair is so boring and so NOT Halloween. Go for dual toned curly hair wig in red and black colors. That's a killer finish!
4. The Stylish Vintage Vixen Halloween Attire
Don't miss to read: [How to Choose the Right Handbag for Any Occasion?]
Who said you can dress retro during Halloween? The retro look of the 50's and 60's is never out of style. The classic vintage feel enlivens the Marilyn Monroe in you! Think all about cherries from head to toe. Whether a curve-flaunting halter top in polka dots or a knotted shirt in black with white polka dots, roses clipped in the hair the darkest and deepest colored lips. A chiffon neck scarf, cherry earrings and who can forget the quintessential retro accessory- the cat eyed winged glasses. Pin up to perfection!
5. The Hip Hop Chick Look Different in Halloween Party!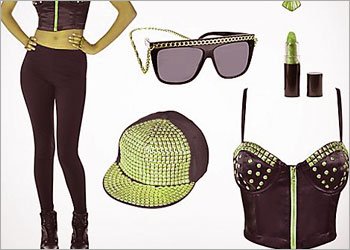 Well, the musical theme will also look good this Halloween. Let music rule over you with the hip-hop fashionista in you. It's the sexiest throwback you can wish for this Halloween. Multiple chunky chains in golds, gold, and a black baseball cap, matching chained sunglasses, gold eagle pendant and phat rings and a gold mouth with gloss! Let your hair play with Gold! Bring a heavy set of Bangs in Gold in front of your face! Dazzle and glitter this Halloween in gold!
6. Enjoy Halloween Gothic Style!
Become Bad to the Bone this Halloween! The entire look that you should carry this Halloween should carry a feel of a gothic glam. Wear a tank with a skeletal design and a tutu shaded in black and white color with lace, a heavy choker, and a ruffled shrug and add that glam factor to your hair.
A pair of gloves and a mini top hat with bare bones detailing give the entire outfit a complete Goth feel.  Style yourself up the skeleton way and we are sure you will have a to-die-look and the ghosts and ghouls will have a tough competition!
You may also read: [How to Choose Comfortable Right High Heels?]
7. The SpongeBob Look to Add Some Fun During Halloween Party
Don't we all love this super cool and amazingly crazy family of nut heads???  And don't we absolutely adore them? Then how can Halloween be celebrated without the Sponge bobs?? Mix in a geek chic side with Sponge bob accessories. Don a form fitting Spongebob shirt and a pair of quirky printed leggings a Laplander hat and those big chunky wide framed glasses. A little bit of silly and a little bit of sexy! The coolest mix this Halloween!
8. The Snow White Look for Halloween
Amidst all the chaos of ghosts, witches and skeletons appear like an angel who welcomes winter with radiance and brings along chilly winds. The entire white outlook comes as a sight for sore eyes. Even though you appear as cool n calm as a fairy temperatures are sure to soar heights. Start with a shiny blue corset and a shawl in sheer a layered tutu in tuille to add that feminine touch. What's a fairy without a wand and that too a snowflake wand. Add a wig with shiny silver hair and blue highlights, and a princess tiara in silver. White peep toes or strappy sandals do equal justice.
Look snowtastic this Halloween!
Hope you loved our dressing tips and ideas. Few of these ideas can be your last-minute Halloween costume ideas as well, if you are not prepared till the end. So let your quirky, fun, and gothic side come to play. Unleash your inner vampire and create a statement this Halloween!
Happy Holidays!
Related Posts