Do you often go to sleep with make up on because you're too lazy to wash it off? Or do you often resort to just washing your face with water when you're back after a busy day? Here are a few DIY face wipes you can make easily. You don't have to spend any more money on those branded facial wipes and neither do you have to worry about which one will suit your skin the most.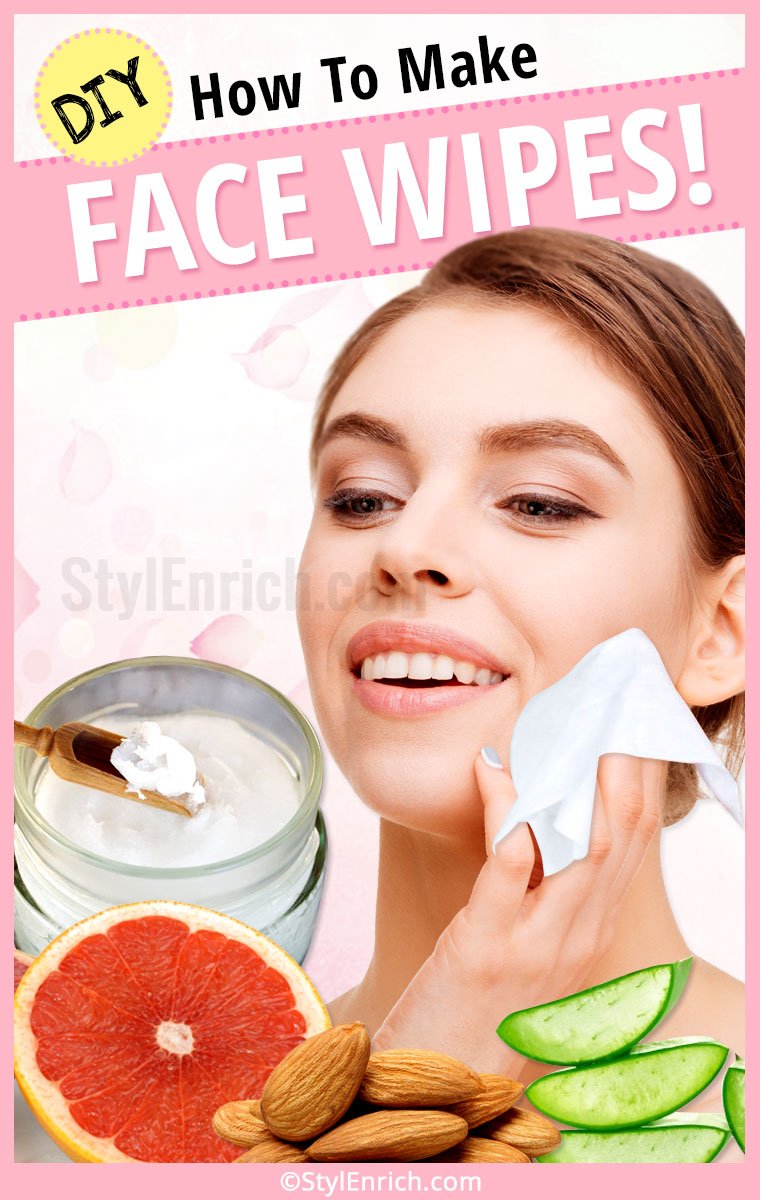 How To Make DIY Face Wipes?
1. Melaleuca-Grapefruit Oil Wipes
Essential and natural oils can help you make facial wipes. For this you will require two cups of distilled water. This is to make sure that it is bacteria free. You will also need one tablespoon of coconut oil melted or fractionated and five drops of Melaleuca essential oil and Grapefruit essential oil each.
Take a clean piece of cloth (an old t shirt or a towel), cut it into tiny squares and keep them aside. Empty the coconut oil, either fractionated or melted, into a bowl. Pour the essential oils into the same bowl and stir the mixture so that all the elements blend with each other. Pour the distilled water into this and continue mixing.
Place the cut pieces of cloth in the mixture so that they take in the solution. Move these into any jar that you wish to store them in. You can pour the remaining portion of the mixture on to the cloth pieces. You must ensure that you store these at room temperature. You may also keep it inside the refrigerator if wish to get a cool and much more soothing effect while using it. You can use these wipes just as any other regular ones.
2. Anti-aging Face Wipes
These DIY face wipes have an amazing fragrance, helps you remove impurities from your skin and give a moisturizing effect.
To make these, you first need to prepare your solution before dipping the wipes in.
Your ingredients will include Castile soap, Aloe Vera gel, Coconut oil, Sweet Almond Oil, Macadamia Nut Oil, or Meadowfoam Seed Oil and Essential oils.
Castile soap is very effective in cleansing the skin and contains natural and chemical free ingredients.
The Aloe Vera Gel enhances renewal of the cells making it six to eight times faster. This results in quicker healing. Aloe vera has cleansing effects.  According to a few studies, the compound that gives it this quality is also capable of tightening the epidermal cells, enabling the skin to hold more water and thereby reorganizing them.
Coconut oil increases production of collagen and reduces wrinkles. It helps in the creation of new blood vessels in and around any wounds on the skin and heals incredibly. It Coconut oil also has moisturizing properties and keeps the skin hydrated. It is antioxidant-rich. These antioxidants fight against free radicals that attack skin cells and lead to aging of the skin.
Sweet Almond Oil, Macadamia Nut Oil and Meadowfoam Seed Oil are anti-aging oils.
Essential Oils like the Frankincense essential oil helps in renewing an repairing cells of the skin. It also has antiseptic, anti-tumour, anti-bacterial and pH balancing properties. It will take care of all those annoying spots and scars, helping to fade them away. Lavender essential oil has a nourishing effect. It also has anti-bacterial, anti-viral and anti-fungal properties and gives a calming effect to the skin. Lemon essential oil acts as a great cleanser. It helps in lightening the dark spots and the skin tone as well. It also brightens and awakens the skin.
To prepare the solution you will need a cup of water, two tablespoons of Castile Soap, two tablespoons of Coconut Oil, one tablespoon of Aloe Vera Gel, One and a half teaspoons of Sweet Almond Oil (or any of the other oils), ten drops of Lavender essential oil and 5 drops each of Frankincense essential oil and Lemon essential oil.
Mix all the ingredients well using either a blender or even using a bowl and wire whisk. Pour the solution into any container. It has to be left for some time so that the bubbles release. The quantity of ingredients used as mentioned will give you about 12 ounces of cleansing solution.
Pick fleece sheets or fleece baby blankets and wash the fleece so they don't shrink later. Iron the edges of it or even the whole of it if you wish to. Cut out the raw edges of the fleece. Use pinking shears to control fraying. In case you use regular scissors or any other kind of scissors you may use sew around the edges to reduce fraying.
Following this, you may begin to cut your fabric into strips. You can fold these, fold and place one above the other and keep these folded ones inside any empty container you choose. You may now pour the solution you prepared on to the wipes and leave for around an hour giving it time to soak through all of them. Once this is done, they are ready to be used. It's time to pamper your skin with these fragrant, anti-aging and moisturizing wipes.
3. Fragrant Wipes To Cure Skin Breakouts
Take a roll of paper towels and cut it in half. You'll also require water, coconut oil that is fractionated, organic soap that is scent free, Cinnamon bark essential oil as it is anti-bacterial, Purification essential oil, which is a mix which has tea tree oil in it reducing skin break outs and Citrus Fresh essential oil as it has a magical fragrance and is also effective in curing skin problems. Melrose essential oil or Tea tree essential oil could also be added.
Take one and a half cups of water and keep it aside.
Make a blend using one tablespoon of unscented organic soap in its liquid form, one tablespoon of fractionated coconut oil, three drops each of Cinnamon Bark essential oil, Purification essential oil and Citrus Fresh essential oil, in a bowl. Stir the solution well.
Now mix this solution well with the water kept aside.
Take the cardboard roll out from the paper towels once you have them cut in half. For this, make it skinny by pressing the roll in half from each after which you may pull it out easily. Now keep the half roll of paper towels in a container which is air tight.
Pour the prepared solution on to the wipes allowing them to saturate well. You can now store this in an air-tight container and use the wipes.
Avoid contact with your eyes.
These DIY face wipes are chemical free, simple to make and very effective. Try them out and you're definitely going to love the result!
Related Posts