Every girl loves eye makeup to get flawless and beautiful eyes. Eyes are a sensitive organ of your body. We all like to put on eye makeup to make the eyes look beautiful and make a style statement. Hence applying eye makeup and removing the same is an important part of eye care. There are some ingredients which are easily available in your kitchen which acts as the cleansing agent for your eyes. Below are some homemade eye makeup remover tips to safely remove makeup from your eyes.
Homemade Eye Makeup Remover
1. Avocado
Avocado is rich in oil known as avocado oil.
Cut an avocado into two halves.
Soak cotton in the oil from the avocado.
Apply it gently on your eyes around the makeup area.
Let it stay for some time.
Wipe off the makeup with a clean cloth.
It removes the eye makeup gently and moisturizes the skin.
Avocado oil will absorb the makeup and once you wipe it, all the makeup will come out. You can wash your eyes with normal water and pat dry.
Caution-
Do not use soap or face wash after wiping the makeup. It will make the eye areas extremely dry. It is better to let the oil stay in for the whole night.
2. Olive Oil and Coconut Oil
This combination is effective in removing the eye makeup. It also keeps the eye hydrated and prevents dryness.
Mix olive oil and coconut oil and store it in a container.
Shake the container and pour a little of it in the cotton ball.
Apply it on the eyes and the makeup region and allow it to stand for some time.
Wipe across your eyes and then remove the oil with a dry cotton ball.
Wash off with cold water and pat dry.
Olive oil and coconut oil nourish the eyes and it appears bright. It also removes the makeup effectively.
3. Petroleum Jelly
Petroleum jelly is excellent homemade eye makeup remover for waterproof make-up.
Take some petroleum jelly and gently apply across the eyes.
Leave it for some time and massage in circular strokes for few minutes.
Finally, wipe it off with a dry cotton ball.
Any kind of waterproof makeup can be easily removed with petroleum jelly.
4. Grapes Seed Oil and Castor Oil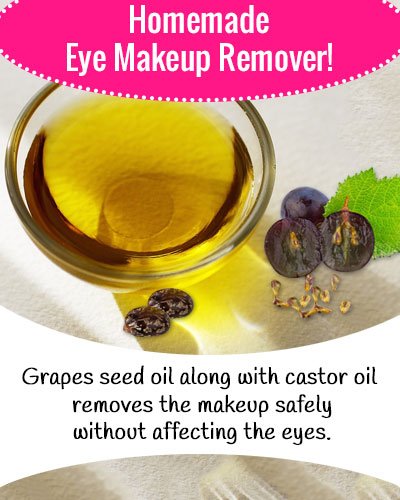 Mix 3 tablespoon of grapes seeds oil and 1 tablespoon of castor oil in a container and stir.
Massage this oil gently all over your eyes in the circular direction.
Leave it for some time.
Wipe off the makeup using a dry cotton ball which removes the excess oil from the eyes.
This acts as a makeup remover and is helpful for those with sensitive eyes.
Most people experience itching and irritation in their eyes while using a makeup remover. In worst cases, it may also lead to burning of the eyes. This is because their eyes are extremely sensitive.
Grapes seed oil along with castor oil is a wonderful remedy for those having sensitive eyes. It removes the makeup safely without affecting the eyes.
5. Jojoba Oil
Jojoba oil has non-allergic property and is perfect homemade eye makeup remover.
Mix one part of jojoba oil with 2 parts of water.
Shake the mixture well.
Pour little solution on a cotton ball and gently apply across your eyes to remove the makeup safely.
Leave it for few minutes.
Always wipe off with a dry cotton ball to remove the excess oil from your eyes.
Splash water on the eyes thoroughly and pat dry.
It is useful for people who are prone to allergies.
Most of the time, to look beautiful we apply different cosmetic products on the eyes without knowing the harmful effects of it.
Allergies are one such reaction. It may develop if the product does not suit your eyes. In some cases, you may see red rashes or eruptions around the eyes.
Jojoba oil is better homemade eye makeup remover in such cases. It is also effective if you can apply the jojoba oil directly around the eyes using a cotton ball. It prevents any form of allergy in the eyes.
6. Extra Virgin Olive Oil and Almond Oil
Mix 4 tablespoon of extra virgin olive oil with 3 tablespoons of almond oil and massage across your eyes.
Leave it for some time and gently wipe it with a dry cotton ball.
Wash off with normal water and pat dry.
Extra virgin oil is viscous in nature and almond oil is rich in Vitamin E. They not only remove the eye makeup naturally but also a perfect homemade eye makeup remover to nourish the eyes and prevents dullness and dryness.
Conclusion
It is a known fact that the skin around the eyes are very soft and gentle. Therefore, it is always better to be careful while applying any of these homemade eye makeup removers. Do not rub the cotton ball in the eye areas. Just wipe the makeup gently.
It is always better to use oily products and ingredients while removing the eye makeup. First of oil acts as an absorbent and homemade eye makeup remover. Second, usually the products that we use for makeup makes the skin very dry. Oil helps in restoring the natural moisture in the eyes.
Hope you have found this article useful. In case of any suggestions or feedback, please share the same in the comments section below.
Related Posts