Drooling on an amazingly glowing skin of your favorite actor and wishing you too could have that soft and gleaming skin? Well, in that case, you are on the correct page as today we will be discussing various ways on how to use illuminators on your skin and making it glow.
Happy reading!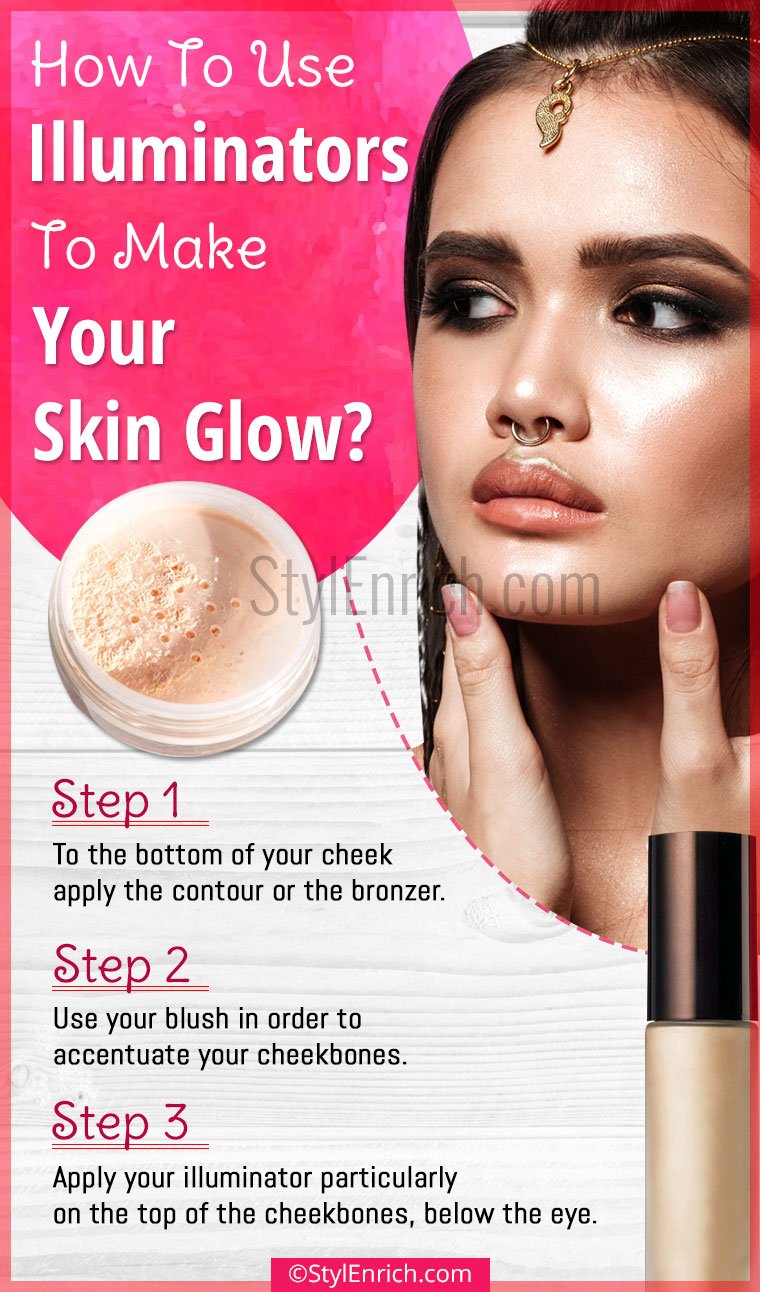 What Are Illuminators?
Firstly, we would like to clear a misconception that many people have regarding illuminators, and that is, it gives your skin an oily look! An illuminator is just a type of makeup which makes your skin gleam. Application of the illuminator on your face makes it naturally brighten your skin giving it a pleasingly shiny skin which is often confused with the oily skin.
Secondly, people often confuse illuminators with highlighters. Both are two completely different things used for different purposes. The highlighter is used to emphasize a particular area and the illuminators are used for enhancing or creating a sense of vitality and glow from your skin tone.
An illuminating powder usually acts as a spotlight on your best facial features. It makes your skin glow naturally, unlike highlighting and contouring where you usually modify the appearance of your features.
Do You Know Why Does An Illuminator Make Your Skin Glow?
The reason behind the gleam is the mineral dust contained by it which helps in the refraction of light. Applying illuminator on your skin softens and diffuses the spots and particularly highlights the areas on which the light falls.
Isn't it a great relief to know that you can hide your dark circles by just making the cheekbones pop!
Warning
The illuminator is not a replacement for your concealer or foundation. Never apply an illuminator on your entire face or else, you might glow like a light bulb!
Illuminators are now available in powder, cream as well as in liquid form which you can use according to the texture of your skin. We would suggest using the powder version of the illuminator is you have an oily skin. Moreover, if you have a really oily texture you can reduce the high shine by using a mattifier or even using a spray before applying the illuminator. This will reduce the extra shine particularly if the concerned area is your forehead. Settle for a cream or a  liquid type of the illuminator if you have a dry skin texture.
These days illuminators are available in a wide array of colors. You can go for the pearlescent color if you have a fair complexion and opt for warm golden shades for dark and olive skin tones respectively. One best quality of illuminators is that it can be applied with or without makeup.
Illuminators really do make an amazing glow on your skin. Let's see how to use illuminators!
How to Use Illuminators?
1. Powder Illuminator
As we mentioned earlier, powder illuminators are respectively used for oily skin. Using a soft blush brush is the best method to apply a powder illuminator on your face. Pick up the illuminator by swirling the brush. Remove the excess of the powder by shaking it off. You can keep swirling it on the applied area in a circular motion as per your satisfaction.
2. Cream/Liquid Illuminators
Like we discussed earlier these two illuminators are recommended if you have a dry skin texture. The best way to apply a cream or a liquid illuminator is by using a beauty blender or a sponge or even your fingers to blend the illuminator. You just need to take a small quantity and pat on the area you want to highlight.
Usually, the illuminators are applied in the center of your chin and forehead, the middle of your nose and also to the tip of the cheekbone. It can also be used to emphasize a particular area more specifically. Like if you want to make your eyes look bigger, use a small amount of illuminator on your brow bone as well as in the corner of your eye. This is specifically effective if you have minimal eyes or even nude lips. Or if you want to make your lips look bigger, then use a small quantity of the illuminator on the cupid's bow.
When to Apply Illuminators?
If you want your skin to glow remarkably, then it is ideal to apply the foundation first, followed by the illuminator. However, few women prefer using the illuminator underneath the foundation for a subtle look. If you have an unlined or a quite good skin, use an illuminator all over in order to get the glow on your skin straight away. But, if you don't possess an amazing skin, first use the foundation followed by highlighting certain areas with the help of the illuminator. This is done in order to diminish the lines and the blemishes.
How To Mix Illuminators With Your Other Products?
Do you want to use the illuminator but are confused regarding its application beside other face products? Don't worry. We are here with three easy steps on how to use illuminators with the other products.
To the bottom of your cheek apply the contour or the bronzer.
Now use your blush in order to accentuate your cheekbones.
In the end, apply your illuminator particularly on the top of the cheekbones, below the eye. This freshens up your glow.
8 Best Face Illuminators Available In The Market Are
1. Nyx Professional Makeup Born To Glow Liquid Illuminator
It is one of the best illuminators available and is in high demand among women. It enhances your skin complexion with a touch of shimmer which makes your skin glow. It is a lightweight multifunctional product which also moisturizes your face. Further, it is also used as a foundation or over cupid's bow or cheekbones.
2. Colorbar Radiant Glow/Eclat Lumiere Glamour
It gives your complexion a vibrant and perky look. You can apply it on cheekbones as well as the areas you want to highlight. It is easy to use and can be mixed in the base or anything you apply on your skin. Moreover, it banishes the tired look or the dullness from your skin leaving your face glowing.
3. Revlon Photo Ready Skinlights Face Illuminator
This product brightens and highlights your skin really well. It can be applied easily on the skin making your skin glow and giving it a fresh look.
4. L'Oreal Paris True Match Lumi Powder Glow Warm Illuminator
This amazing illuminator can be applied all over face or can be even used as a highlighter. It can be applied over the foundation or can also be worn alone. You can apply this illuminating powder with brush and sweep it onto the face. It is designed in such shades which can flatter all the skin tones.
5. Maybelline New York Mineral Power Illuminator
The product guarantees to have 100% micro-minerals. It illuminates your skin complexion with mineral quartz and mineral mica. This product lasts for long 8 hours.
6. Clinique Up-Lighting Liquid Illuminator
This product is an oil-free, lightweight and a smooth liquid which helps instantly in the brightening of the skin. It gives a natural looking glow and is perfect for all skin types.
7. Nelf Face And Body Illuminator
This illuminating powder can be applied over your foundation. All you need to do is apply it on your face with the help of a soft blush brush. As we discussed earlier, powder illuminators are usually suggested for oily skin. You will feel a natural looking glow on your face by using this product.
8. Miss Claire Born To Glow Illuminator
This product has a glossy and a shiny texture which blends and glides smoothly, thus giving your skin an instant and natural looking glow. Moreover, this illuminator can be used as a foundation or also can be used over a cupid's bow or also over the cheekbones. It also enhances your skin tone by adding an impact of shimmer illuminating from your skin. This product gives a golden finish which glows when the light falls. Also, it doesn't break out or irritate. Neither does it blotch or crease and is a long wearing product.
So, these are the illuminators which are in high demand. We have also provided you the links for the products. You can just click on the link given and can order these amazing illuminators today!
We hope that this article helps in how to use illuminators & enhancing your skin and make it glow naturally. Further, we have discussed the various kinds of illuminators you should use according to your skin type.
We would love to hear your feedbacks and your experiences on how to use illuminators. Also, if we missed on some fact or some product please do comment on the comment box given below.
Related Posts