A Cinched Waist – You might have heard this terms many times. Since this trend is coming back into the fashion it becomes important to take a look at it and understand its meaning, importance and tips to achieve this look.
A cinched waist is a style of clothing that is designed to emphasize the waistline, creating a flattering silhouette. It is often achieved through the use of a belt or drawstring at the waist, which is used to cinch the fabric in at the waist and create a more streamlined look. Cinched waists are a staple of many fashion trends and can be used to add a touch of sophistication to any outfit.
A cinched waist is a timeless fashion statement that accentuates the curves of the body, creating a flattering silhouette. To achieve this look, there are a variety of techniques you can use, such as sewing techniques, belts, corsets, and body shapers. The cinched waist is typically found at the natural waist above the hips, but can also be cinched higher up along the rib cage at the empire waist. Corsets were traditionally used to create a "wasp-waist" look, but modern day girdles and "shape wear" are now the preferred option for cinching the waist and creating an hourglass silhouette.
Nowadays, cinching your waist is essential to looking fashionable and stylish. It's important to understand how cinch waists work in order to achieve the desired effect. A cinched waist is the feature of a garment that tapers narrowly at the midsection, highlighting beautiful curves. This accentuating feature can be achieved in different ways, such as using body shapers, corsets, and belts.
An ideal cinched waist is usually found at the natural line where the stomach narrows above the hips area, however, some garments are designed with a higher empire waist along the rib cage. Depending on the style you are going for, you may want to consider cinching your waist at the natural waist or higher up around the empire waist.
It's important to factor in comfort when choosing a style that works best for you. Look for an option that can be adjusted as necessary and won't cause discomfort during regular wear. Ensure that the fit is snug but not too tight, and that the fabric is breathable and won't cause irritation. With the right cinching technique, you can easily achieve the fashionable and stylish look you desire.
How to Achieve a Cinched Waist Look?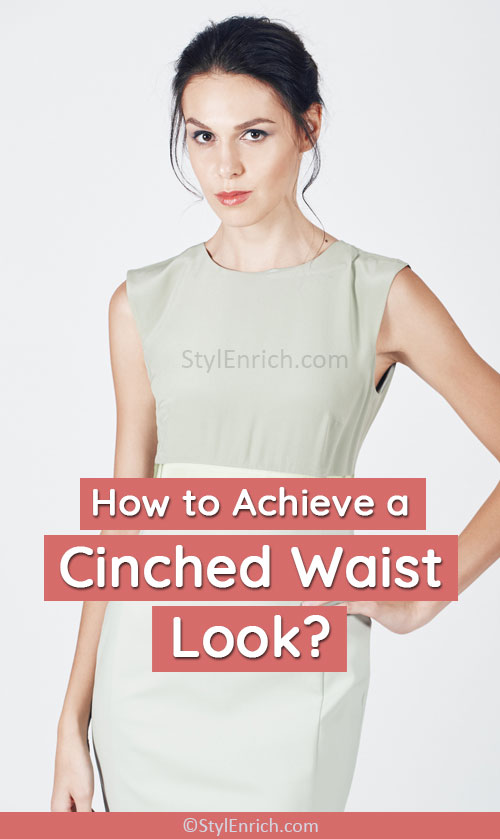 When sewing a garment, the placement of darts or folds plays a vital role in how it will fit and look on you. Darts can give your garment a subtle curve at the waist or cinch it tightly for a dramatic look. For the most dramatic cinched look, try an elasticized belt. These thicker belts often come with garments such as empire tops and sweater dresses, and sometimes have clasps or hooks at the front instead of a traditional belt buckle and loop. With the right placement and belt, you can achieve the perfect cinched waist and make a statement with your style.
How to Find the Perfect Cinched Waist Size and Fit?
For a perfect cinched waist, it is essential to get the right fit. Here are some tips and tricks to help you achieve it:
1. Measure Yourself Correctly
Take accurate measurements of your hips, bust, and waistline before choosing a cinching garment. This will help you find the right size and ensure that cinching will cinch in the right areas.
2. Select the Right Material
When choosing the right material for your cinch, make sure to select fabrics that are comfortable and breathable, so you can cinch without feeling restricted or uncomfortable. Look for fabrics such as cotton, spandex, lycra and silk which provide ample stretch and flexibility, allowing you to move freely and comfortably. With the right material, you can achieve a snug fit that won't cause discomfort or restrict your movement.
3. Extra Features are Always Good
If you're looking for the perfect fit, consider cinching garments with features like adjustable straps, elastic back panels, and side boning. These features will help you achieve an even cinch all around the waistline, creating a flattering silhouette.
4. Try it Before Buying
Make sure you try on cinching garments before you purchase them. This will ensure that the cinching areas fit your body perfectly and give you the desired silhouette. Don't forget to check the fit and make sure that the cinching areas are comfortable and flattering.
5. Do Not Compromise with Quality
Make sure to invest in quality cinching garments that are crafted with durable materials and features for better cinching and longer-lasting wear. Avoid buying cheaper, inferior corsets that may not provide the same level of support and comfort.
6. Do Not Compromise with Quality
Choose clothing in colors that complement your skin tone and coordinate with the other items in your wardrobe. Cinching garments with a belt or sash can help create a flattering silhouette that will make you look and feel your best.
7. Selection of Colors is Important Too!
Choose clothing in colors that complement your skin tone and coordinate with the other items in your wardrobe. Cinching garments with a belt or sash can help create a flattering silhouette that will make you look and feel your best.
8. Don't Forget the Unique Accessories
Complete your look with the perfect accessory! Whether it's a belt, scarf, or jewelry, accessorizing your outfit can take it from ordinary to extraordinary. Cinch your waist with a belt or add a touch of sparkle with jewelry to finish off your ensemble.
9. Layer Up
Add extra volume and shape to your look with a cinched waist petticoat or corset skirt. These garments are designed to fit snugly around the waist and give your outfit a flattering silhouette. Whether you're looking for a more dramatic look or a subtle enhancement, adding a cinched waist garment can help you achieve the perfect silhouette.
10. Shop for Versatility
Look for cinching garments with multiple adjustable cinching options so you can create different looks and styles for any occasion. With the right cinching garments, you can easily tailor your outfit to any event and look your best. Whether you're dressing for a formal night out or a casual day at the office, you'll be able to find the perfect cinching garment to complete your look.
Achieve the perfect cinched waist look with help from the experts! Consult with cinching and corset makers to get the perfect fit for your body. With their expertise, you can get a cinched waist that looks amazing and flatters your figure. Don't settle for anything less than a boss-level cinched waist!
A Cinched Waist Fashion in History
The cinched waist has been a popular fashion trend throughout history, with its popularity waxing and waning over time. From the 1950s with its formal-wear featuring cinched waists, to the loose, straight lines of the shift dress in the 60s and 70s, to the oversized, slouchy tops of the 80s, to the baggy sweaters and flannel shirts of the 90s grunge era – the cinched waist has had its highs and lows.
The modern trend of cinching the waist with a wide belt was popularized by Paris Hilton, Christina Aguilera and Kim Kardashian in the new millennium. This vintage glam look from the 1930s, '40s and '50s has made the cinched waist a fashionable and timeless staple for women's fashion.
Frequently Asked Questions About Cinching Waist
1. How Cinching can help you look more Proportionate and Curvy
Tightening your waist is an age-old technique for creating flattering curves, dimension and definition to any outfit. Corsets and shirring techniques are two popular methods of cinching the waist that have been used for centuries. The result of these waist-cinching techniques gives you a balanced silhouette that emphasizes your curves in all the right ways.
Not only do you get a stunningly flattering look, but you also get an extra confidence boost. So don't forget to add a little cinch to your wardrobe – it's sure to help you feel beautiful and make a lasting impression.
2. What is a cinched waist dress?
A cinched waist dress is the perfect choice for anyone looking to flaunt their curves and create an hourglass silhouette. With its cinched or gathered waist, this type of garment is designed to hug your body and accentuate your figure, giving you a flattering and stylish look. Whether you're dressing up for a special occasion or just want to add a touch of glamour to your everyday wardrobe, a cinched waist dress is the perfect choice.
3. What does cinched at the waist mean?
Cinched at the waist is a term used to describe a garment that is fitted tightly around the waist to create a flattering silhouette. It is usually achieved by using a belt or drawstrings to pull the fabric in, creating a snug fit. This look is popular in both casual and formal attire, as it helps to accentuate the waist and create a more defined shape.
4. How long does it take to cinch the waist?
It all depends on the cinching method you choose and how often you cinch. Corset dresses, cinched jumpsuits, and shirring tricks can give you quick results and enhance your waistline, but they may not be as secure or long-lasting as corsets or waspies. If you want to achieve a more permanent waist-cinching effect, then corsets and waspies are the way to go. With proper care and maintenance, they can give you a secure and long-lasting waist-cinching effect.
5. Is it safe to cinch your waist?
When cinched properly, cinching your waist is a safe and effective way to achieve a flattering silhouette. To ensure that your cinched waist is comfortable and secure, it is important to choose the right size and fit for your body type. Additionally, it is always wise to consult with cinching experts or corset makers to make sure you are cinched properly and in the most comfortable way. With their expertise, you can be sure that your cinched waist will look great and feel secure.
6. What are the best exercises to cinch the waist?
If you're looking to cinch your waist and tone your midsection, the best exercises are Pilates and core-strengthening exercises that target the abdomen and oblique muscles. Planks, side bends, and leg raises are great for toning your midsection and cinching the waist. These exercises will help you build strength and flexibility, while also improving your posture and balance. With regular practice, you'll be able to see results in no time.
7. Why do corsets have a cinched waist?
Corsets are designed to create a stunning hourglass figure that accentuates and emphasizes curves, while also providing a slimming silhouette. By cinching at the waist, corset-wearers can enjoy an enhanced silhouette that is sure to turn heads. With the right corset, you can achieve a beautiful and flattering look that will make you feel confident and stylish.
8. What are waist cinchers and waspies?
Waist cinchers and waspies are two types of waist-shaping garments that are designed to help you achieve an hourglass figure. Waist cinchers are made of elastic or boned material, and they cinch your waist, creating a slimming effect. Waspies, on the other hand, are made from stiffer material and are designed to help you create a more defined waistline. Both of these garments are great for creating a flattering silhouette and can be worn under or over clothing.
Conclusion
Cinching your waist is the perfect way to add a touch of sass and femininity to any outfit. From corset dresses to cinched jumpsuits and shirring tricks, cinching your waist will help you stand out from the crowd in style.
By finding the right size and fit for your cinched waist, you can flaunt your figure and make a lasting impression. Show off those curves and be the boss of any event – cinch it up and be fabulous!
Related Posts