You may think that picking the right clothes to wear is tough, but the truth is choosing the right accessories can be even tougher. It can take you hours trying to decide which handbag looks best with the outfit you are wearing. More than jewellery, the accessory that is the most difficult to decide on is the handbag. To make sure that your outfit is complete, it is an absolute must, make sure that the bag you choose matches it perfectly. Knowing how to choose the right handbag for any occasion is absolutely vital to look fabulous no matter where you are.
With so many different types of handbags to choose from nowadays, you need to know which ones suit different occasions. All you need is a few tips and soon, you will know exactly which handbag to carry!
Tips on How to Choose the Right Handbag
Here are a few simple tips to help you pick out the right handbag, no matter what the occasion is. They will help you make sure that this essential accessory always complements your outfit and is perfect for the event you are going to attend.
Click here to follow some tips to get some of the most important accessories for plus size women that will keep them elegant and confident…
1. How to Choose the Right Handbag for Formal Parties
For black tie occasions such as weddings, red carpet events or award ceremonies, you need to make sure that every part of your ensemble is carefully picked. This includes your handbag. For these formal occasions, you need to be dressed up to the nines, so a clutch purse is a fabulous choice. Beaded purses and evening bags are great too. Handbags for parties come in a vast array of styles, designs, colors, etc. so finding one that is perfect for every formal dress that you have will be easy.
2. Handbags for Casual/Smart Events
For a casual do like an engagement party, all you need is a stylish handbag that suits your outfit. You can choose from a variety of styles including shoulder bags, slouches, hobo bags, and many more. You can even carry a leather satchel handbag. It just needs to go with what you are wearing, that is it! Make sure that the color and design of your bag does not clash too much with your clothes.
Do you know how to dress for a Cocktail Party? Get here a fantastic way to decide on how to dress for a cocktail party…
3. Handbags for Cocktail Parties
For a cocktail party, you need to find the perfect balance between casual and dressy, whether it is your outfit or your accessories. For these occasions, you can opt for a clutch without too many embellishments or a baguette. Envelope clutch purses are a great choice as well. You could also go for a formal shoulder bag that is not too big with accents that make it look a little dressier than your everyday shoulder bags.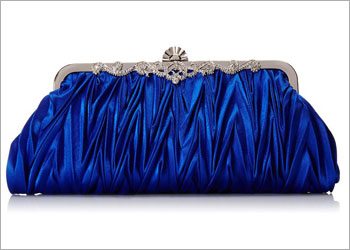 Here are some prom makeup ideas that work wonders for your much-awaited occasion! Read More…
4. Handbags, Purses for Casual Occasions
For occasions such as birthday parties, you have the freedom to carry any handbag you choose as long as it suits the clothes you wear. Again, you can carry a hobo bag, slouch or shoulder bag for occasions like these. Women tote bags look stylish as well. With so many different designs available, you do not need to carry a boring handbag even if the event you are going to is casual. For these occasions, you can even carry handbags for daily use.
If you wish to find styling tips for wide hip females, then click here to know the ways to flatter the portions of body…
How to Match Your Handbag With Your Outfit?
Many women get nervous when it comes to choosing accessories that complement the clothes that they wear. To make sure that you match your handbag, purse with your outfits, you need to put a lot of consideration into the different aspects of your clothes. Factors such as the style, colors, materials and embellishments in your clothes play a role in what type of handbag will look good with them. Choosing a handbag that has a factor or two in common with your outfit can complete your look.
We have give suggestions how to find the best prom dress for your body type. Click here to read more…
Leather shoulder bags for women are always in vogue and you can find them in a wide variety of designs and styles. No matter what your personal style is, finding handbags that suit every occasion will never a problem as you have so many choices at your disposal!
Please share with more about us what type of Handbags you love & how to choose the right handbag? Also how about sharing these tips with your friends on Twitter, Facebook and Google+? We believe sharing is caring!
Related Posts