Talk about today's lifestyle and what is not there to worry about? The constant rush we are in at all times, the shortage of time we feel, everything goes hand in hand. In such a fast pacing life, we often forget to take care of our skin and neglect the formation of dead skin, blackheads and pores over the facial skin. This is mostly as a result of air pollution and the dirt components in the atmosphere that contribute in making the skin dull and lifeless. To combat the same, there is one thing you can do that is not only safe for your skin, but very easy too. The DIY Peel off face mask will just do the trick.
When you make it with your own hands using all the natural raw materials, you can be sure of how safe this one is going to be. Sure, there are ready-made facial masks available in the cosmetic markets but who can tell how safe and effective are they on every skin type. The thing about the cosmetic facial masks is that the synthetic and chemicals used in those are something which is never known to the customers. They can not only cause allergic reactions but can continue to make your skin even more dull over time.
This is why the DIY facial masks are the perfect way to go. All the natural ingredients minus the synthetics and chemicals which equals a win-win! Although, you might want to keep in mind some points before you start using these facial masks. Here are some of them.
It is very important that you clean your facial skin with a good face wash in order to get rid of any overlying dirt.
When applying the facial mask, make sure you keep it away from delicate skin areas such as around the eyes and the eyebrows to avoid any pain while peeling it off.
Make sure you double check for any skin reactions or irritation that may persist because of a face mask.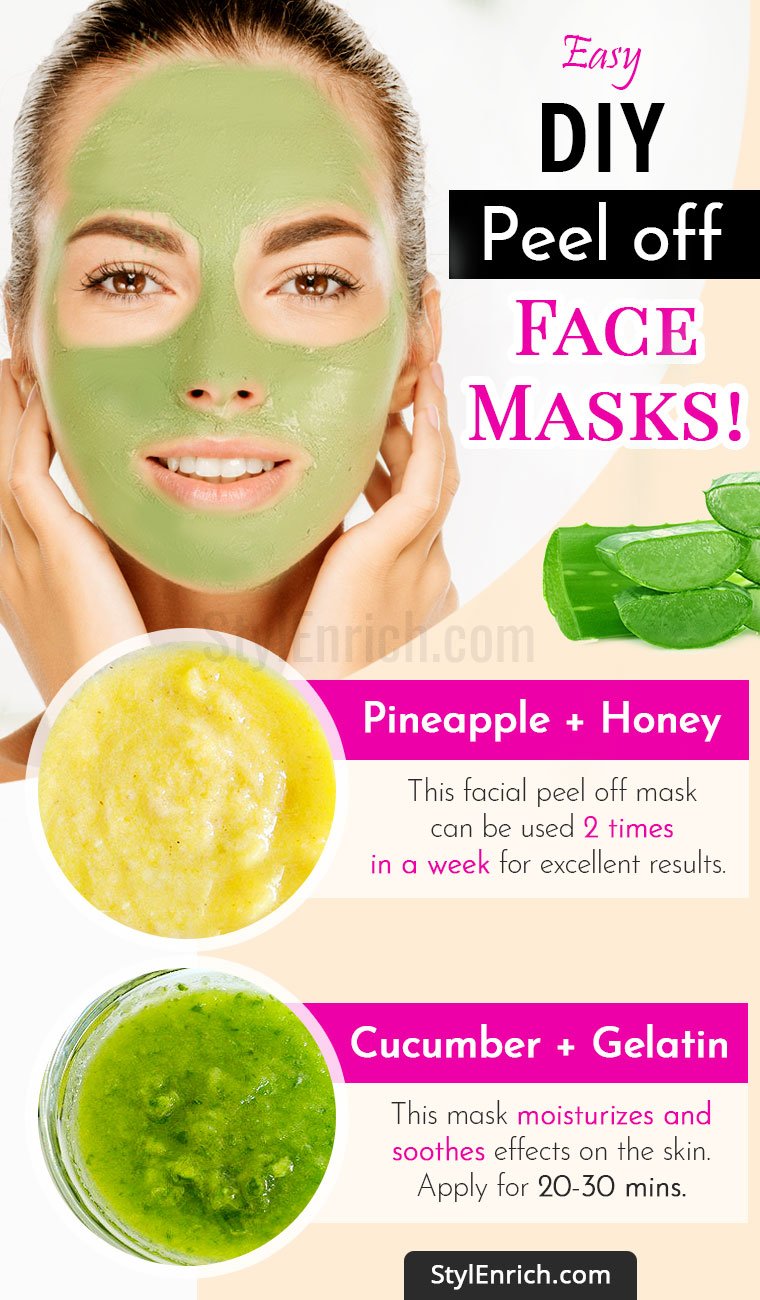 Now, let's get down to putting those hands in action and creating a DIY peel off face mask right in the premises of your kitchen.
DIY Peel Off Face Mask Recipes
1. Milk + Honey
This is one of the easiest facial masks you can make at home. Honey is well known to be an excellent skin moisturizer and milk as a great exfoliating agent when it comes to the facial skin. A combination of these two means goodbye blackheads and hello soft and radiant skin. All you need is some milk (preferably raw) and some honey.
Procedure-
Just mix up desired amount of milk and honey in a bowl and mildly warm up the mixture till it becomes a thick paste. Now, apply this paste over your skin with the use a cotton ball or a spatula. As you apply the paste, consider sticking a thin layer of cotton over the places where this paste is being applied.
Time: 20 minutes
After 20 minutes, start from the upper right corner of the face and peel off the mask gently. Wash your face and enjoy the radiant glow you just got blessed with.
2. Honey + Cinnamon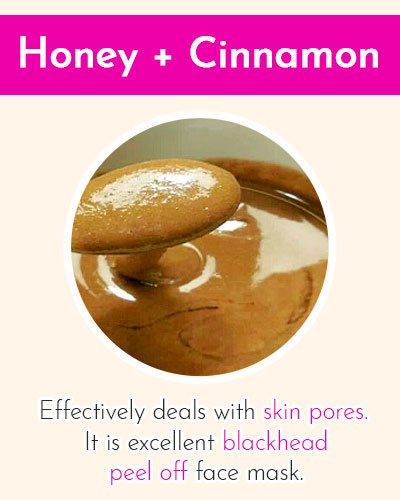 Honey still manages to stay in the picture, thanks to its miraculous effects over the skin. Talking about cinnamon, it is a well-known spice with antioxidant properties which means it is very effective in dealing with skin pores. A combo of these two will make an excellent blackhead peel off face mask for a regular use. All you will need is some portion of powdered cinnamon and some honey.
Procedure-
Mix the desired portions of cinnamon powder and honey in a bowl and stir to form a thick paste, much like honey's natural consistency. Now apply the paste on your face with a spatula along with a thin cotton covering over the areas where the paste is applied.
Time: 5 minutes
After 5 minutes, start removing the mask gently. Wash your face and moisturize as needed. Your face will feel refreshed instantly.
3. Cucumber + Gelatin
Cucumber is another excellent skin companion which is well known for its moisturising and soothing effects on the skin, much because of the good water content that this vegetable carries. Some facial masks can contain gelatinas a constituent and it is perfectly safe but we do recommend checking with your skin first. You will need 2 sachets of gelatin powder and 1 cucumber to make this mask.
Procedure-
Peel one cucumber and wash it properly. Cut it open and remove all the seeds in sight. Grind the pulp in a grinder until it forms a paste like structure. Now strain the paste and collect the watery part of it. Microwave this water for 30 seconds and then add gelatin while gradually mixing until it dissolves completely. Apply the mixture over your face. If the mixture doesn't set, you can go for a second coating as well.
Time: 20-30 minutes
After about 30 minutes, start peeling the mask starting from downwards and making the way upwards. Wash your face and moisturize thoroughly.
4. Lemon + Green tea+ Egg whites
Lemon is the best natural bleaching agent there is for the facial skin. Green tea and egg whites are both not only soothing for the skin, but they also help fight pimples and acne scars. A combination of these 3 is sure to do wonders for the skin. For this facial mask, all you need is 1/4th cup of brewed green tea, lemon juice (1/2 a lemon), egg white (1 egg) and about 2 ½ tablespoons of gelatin powder.
Procedure-
Start with warming up some brewed green tea in a bowl over mild flame. Pour in the gelatin and mix gradually to dissolve it completely. Now add the lemon juice while still warming it. After this, let the mixture cool down before mixing the egg whites and whisking it thoroughly. Now apply the mixture over the complete face.
Time: 30 minutes
After 30 minutes, peel off the mask gently from the sides. Wash your face and moisturize to notice the even tone of your skin.
5. Aloe Vera + Green tea
When we talk about skincare, there is hardly any discussion that skips the mention of Aloe Vera in it. It is one of the skin's best friend, thanks to the vitamins and natural exfoliators it contains. Coupled with the soothing effects of green tea, this combination is sure to make up for an excellent DIY peel off face mask. All you will need is 1 green tea bag (brewed), 2 tsp of aloe vera gel, 3 tsp of gelatin powder.
Procedure-
Pour in a cup brewed green tea into a bowl along with the aloe vera gel and bring the mixture to a boil. Now add the gelatin powder and keep stirring until it dissolves completely. After letting the mixture return to a room temperature, start applying it on the face. After a gap of 5 minutes, go for a 2nd coat to form a thick facial mask.
Time: 20 minutes
After 20 minutes, start peeling off the mask in the upward direction. Wash your face with lukewarm water and moisturise.
6. Orange Juice + Gelatin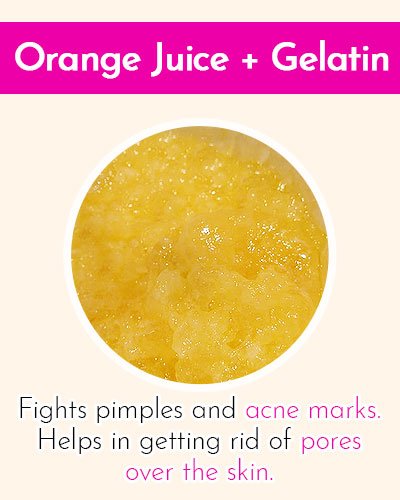 Oranges are one of the best carries of Vitamin D and another one of the best friends of the skin. The antioxidants present in an orange not only fights pimples and acne marks but also helps in getting rid of pores over the skin. It is well known to provide the skin a subtle glow by both consuming and applying. All you will need is about 6 tsp of orange juice and 1 tsp of gelatin powder.
Procedure-
Microwave the orange juice in a bowl for about 30 seconds. Mix the gelatin powder in the warm juice and stir till it gets completely dissolved. Let the mixture cool down. Take a thick brush and start applying the mixture over your face.
Time: 10 minutes
You may keep it for more than 10 minutes if it hasn't dried yet. Wait till the mixture dries before you start peeling it off gently from the sides working upwards. Wash your face and moisture to notice the instant glow on your face.
7. Oatmeal + Yoghurt
A combination of yoghurt and oatmeal will result in the formation of an excellent facial mask which will not only work as an excellent blackhead peel off mask but will also contribute to making your skin look younger and clearer. Mixed with the goodness of lemon, it is naturally going to give your face a glow. All you need is 2 tsp of yoghurt, 3 tsp of oatmeal and a dash of lemon juice.
Procedure-
Start with using a grinder to grind the oatmeal in a powdered form. Now take this powder in a bowl and add yoghurt to it. Add lemon juice to the bowl while gradually mixing the contents. Apply this mixture on your face with your fingers and even out all over the face.
Time: 15 minutes
After 15 minutes, start peeling this mask and wash your face with water and moisturize.
8. Pineapple + Honey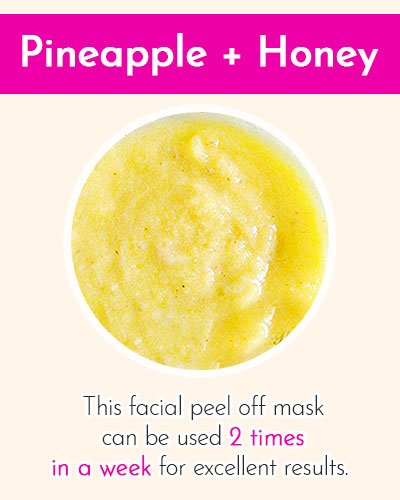 Pineapple is really good for the skin and proves to be one of the best considerations when it comes to incorporating it for a facial mask. To make this facial mask, all you will need is some pineapple juice, gelatin powder and some honey.
Procedure-
Start with grinding some pineapple pieces in a grinder in order to extract some pineapple juice from the fruit. Separate the juice from the pulp and pour it into a bowl. Mix the appropriate amount of honey into this bowl and then warm it slightly over the flame. After turning off the heat, throw in some gelatin powder and still mixing it until it gets dissolved entirely. Now, using a makeup brush, start applying this mixture all over your face.
Time: 10 minutes
After 10 minutes, when you start feeling a stretching sensation on your face, peel it off gently from the sides. Now wash your face with simple water and moisturise. This facial peel off mask can be used two times in a week for excellent results.
9. Egg yolk + Gelatin
Egg yolk can be seen as another nutritional component. It is not only amazing for consumption, but also for skin application purposes. Egg yolk has been known to be an important ingredient in many cosmetic facial packs and face masks. It helps in making your facial skin firmer and works as the best blackhead DIY peel off face mask. Coupled with gelatin, it forms a perfect natural face mask. All you need is 1 egg yolk and 1 tsp of gelatin powder.
Procedure-
Crack open an egg into a bowl. Now get a simple plastic bottle and place its mouth over the egg yolk in the bowl. Crush the bottle slightly to remove the air present inside it. Slowly start removing the pressure from the bottle walls so that the yolk is sucked inside the bottle. Empty the bottle in a separate bowl to get the egg yolk. Now add the 1 tsp of gelatin powder in this bowl and mix it properly till it completely gets dissolved. Microwave this mixture for about 30 seconds with frequent stirring. After cooling it off, start applying it over the face with the help of a brush.
Time: Until the mask dries.
As soon as you start to get a stretchy feeling on your face, start peeling off the mask gently and wash with simple water and moisturise. Your skin will then be blackheads-free and cleaner than ever before.
These were some of our best picks in the DIY peel off face mask category. These can be used about twice a week for the best results. Being perfectly safe for your skin, regular usage of these helps your skin remain free from blackheads, oily pores and keeps your skin firm and clean. These masks can be one of the best forms of standard skincare routine. Try these out today!
Related Posts