Hello! Are you wondering whether you got the title right? Yes! We are going to discuss coffee, not as a drink but you will be surprised to know the numerous benefits of coffee powder for the skin and beauty. Let's briefly go through the advantages of coffee powder as a natural beauty product and why and how can we use this coffee scrub for the body and face as well!
Coffee contains caffeine and a lot of other compounds which have natural antioxidant properties which fight the free radicals and keep the skin young and radiant.
The texture of coffee powder acts as a natural exfoliator which helps in removing dead skin, dirt, blackheads and cleanses the pores without being too harsh on the skin.
Application of coffee can aid in reducing Cellulite. (Cellulite is nothing but normal fat beneath the skin which appears dimpled and wrinkled which makes the skin look unappealing. It is mainly seen on thighs and buttocks and hikes during puberty)
Stretch marks can fade away with regular use of coffee scrub.
How to Scrub Different Body Parts?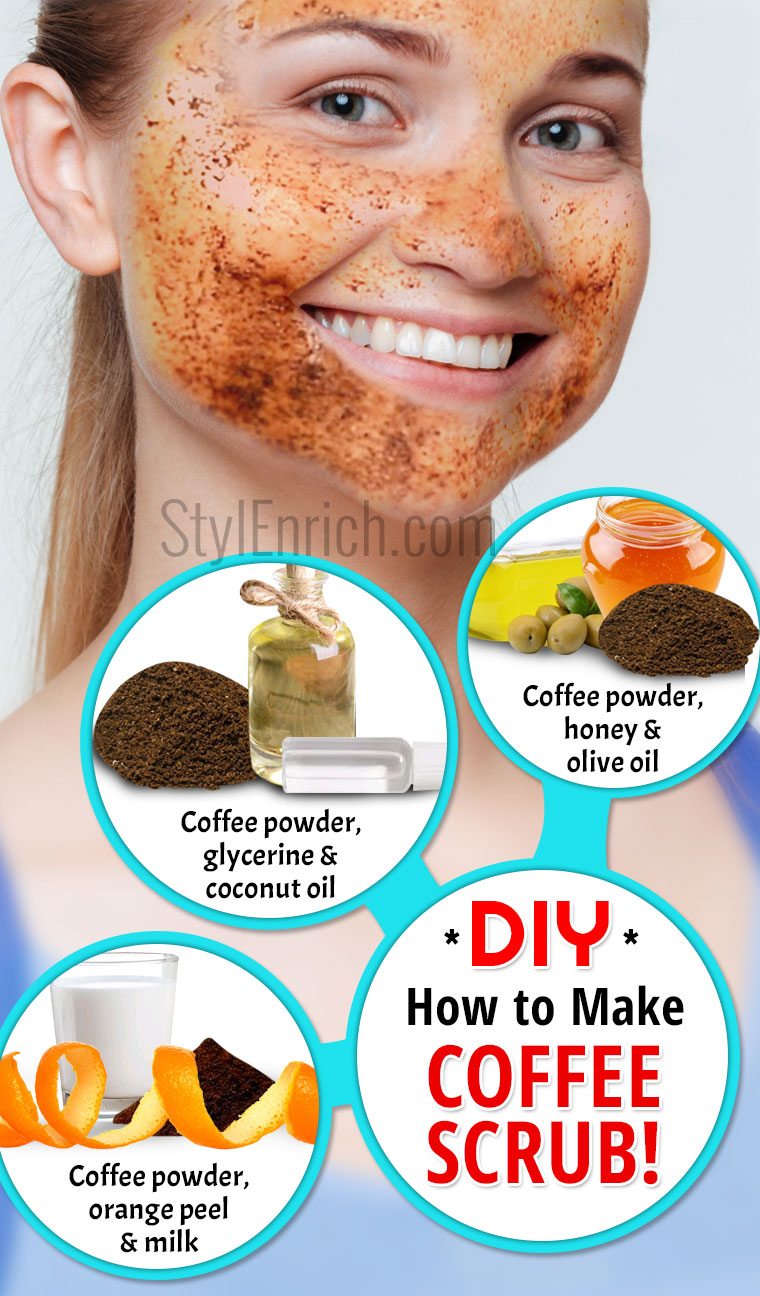 Scrubs should be applied and used in a particular direction to derive the maximum benefit out of it. If applied in proper direction it enhances the blood circulation and reduces the swelling as well.
1. How to Scrub the Face?
Using DIY Coffee Scrub for a face is not complicated. Take scrub on your fingertips and start rubbing your face in circular motions starting with the cheeks, forehead, chin and focus more on the T-zone and angles of the nose which are more prone to blackheads and acne.
Scrub gently for 2-3 minutes. Do not overdo as it leads to dryness and does more harm than good.
Leave it for another 30 seconds and rinse it with warm water.
Apply cream or moisturizer.
2. How to Scrub The Body?
Coffee Scrub is very advantageous for the body. The direction of scrubbing should be towards the heart for example legs should be scrubbed from below upwards as it leads to the reduction in swelling and enhances blood circulation in a physiological way.
The different and simple ways how to make and use DIY Coffee Scrub are enlisted below which can be easily used at home. Apply according to the needs of your skin. The composition is given according to the face scrub but if you are going to use the same for the body scrub, make in more quantity while maintaining the proportion of the ingredients. Let's get started.
How to Make DIY Coffee Scrub?
1. Coffee Powder, Honey and Olive Oil
Take 2 tablespoons coffee powder, 1 tbsp of honey and add olive oil to form a paste. Honey is a natural moisturizer and skin lightened while olive oil has anti-oxidant and hydrating properties.
It also contains fatty acids which are essential for skin lubrication, rejuvenation, and regeneration. This scrub is excellent for dry to normal skin.
2. Coffee Powder, Glycerine and Coconut Oil
Take 2 tablespoons of coffee powder, half tbsp of glycerine and coconut oil to make the scrub. Glycerine provides just enough moisture and hydration to the skin. Neither excess nor less. This scrub is suitable for all skin types.
Coconut oil has excellent hydrating, antiseptic and locks the moisture in the skin keeping it soft and smooth. This is beneficial mostly during winters.
3. Coffee Powder, Cocoa Powder and Coconut Oil
Take 2 tbsp of coffee powder, 1 tbsp of cocoa powder and add coconut oil to make the chocolate coffee scrub. This is a very high yielding scrub as it has properties of coffee, chocolate and coconut oil as well.
Cocoa powder has significant amounts of omega fatty acids, vitamin C which help in revitalising the skin. It also has skin lightening properties. (You would have noticed the skin to have an extra glow after a birthday cake smash!) Coconut oil is suited for all skin types.
4. Coffee Powder, Orange Peel and Milk
Take 2 tbsp of coffee powder, half tbsp of orange peel powder and milk to make this scrub. How to prepare orange peel powder? Keep the orange peels in sunlight for a week so that all the moisture gets evaporated and the peels are hard and dry. Grind them into a fine powder.
Oranges are great for the skin as it contains Vitamin C in high amounts which is a known natural antioxidant and skin lightener as well. Milk is a cleanser and skin hydrator as well.
5. Coffee Powder, Sugar and Olive Oil
Take 2 tbsp of coffee powder, 2 tbsp of sugar(brown sugar preferred over cane sugar) and olive oil to make the scrub. The texture of sugar will aid in the scrubbing and exfoliating properties of coffee scrub. This is one of the simplest scrubs to make at home.
If you are hunting for answers on how to make the sugar scrub, you must click here to read more…
6. Coffee Powder, Vitamin E and Yogurt
Take 2 tbsp of coffee powder and add vitamin E capsule(2 capsules if you are using it for the body and 1 capsule if you are going to use it only for the face). Add yogurt in amount enough to form a scrub of the desired consistency.
This scrub is very beneficial for dark circles, pigmented skin, scars and stretch marks.
Vitamin E is also known as the beauty vitamin as it is required for fighting the free radicals, exfoliates the dead cells and hence reduces the scars. It has good penetrating properties and reaches the deeper layers of the skin and helps in regeneration of the skin.
Yogurt has bleaching properties and acts as a skin lightener and skin cleanser.
This scrub can be used on everyday basis and is suited for all skin types. If you have oily skin just dilute the yogurt and reduce the quantity of vitamin E to half.
Using this scrub everyday will do wonders to the stretch marks and pigmentation.
Some Extra Tips to Keep in Mind While Using These Coffee Scrubs
Do not use coffee powder after the expiry date as it can lead to some reaction due to the expired products.
Make fresh scrub every time. Do not prepare and store it.
Most people love the smell of coffee but if you can not tolerate it add 2 drops of vanilla essence or any essential oil to overcome it.
Use it weekly or at least once a fortnight to get sustainable and desired results.
Hope you have enjoyed reading this article. If you loved our tips then please share it on social media with your friends. Also if you have additional info on DIY coffee scrub then please do share in the comments box below the article. Cheers!
Related Posts