If every weekend you have been doing something for your hair to get some effective results and still have not, it's time to rethink your hair care techniques. Do you have rough hair? dry hair? or dull hair? Not to worry. We will be sharing few effective hair treatment overnight for healthy hair. The hair treatments are used to infuse life into your strands and give shiny and soft hair.
While there are some of the treatments you can easily make in your kitchen and there are others that you can buy online. They all are super-duper effective. So why are you still waiting? Try all these hair treatments by yourself and say a very good morning to your luscious locks.
Top 10 Best Overnight Treatments For Healthy Hair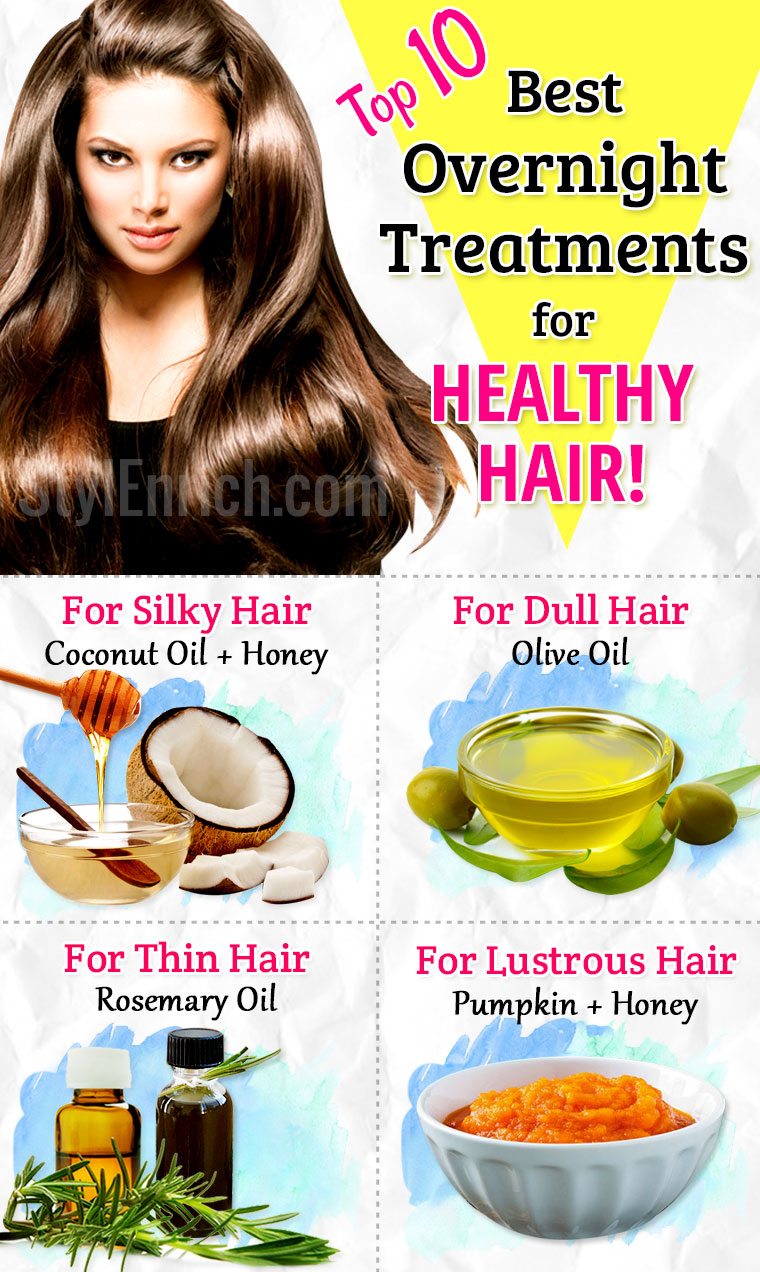 1. Coconut Oil And Honey For Silky Hair
If you are looking for silky hair, use a mix of coconut oil and honey on hair. Add 5 to 6 Tablespoon of natural honey and add 6-7 tablespoon of oil. Heat the mixture in a pan and blend it till it gets lukewarm. Now apply the mixture on your scalp and your split ends before going to bed. Cover your head with a shower cap to avoid sticking honey to your bed sheet. Wash off the mixture and feel the softness of your silky hair.
2. Overnight Coconut Oil Massage
For damaged and dry hair, an overnight hair oil treatment is a must. Remember your mum giving you hot coconut oil massage at night to bring life to hair. Take little amount of coconut oil and heat a bit. Massage your favourite hair and leave it overnight. Wash your hair with lukewarm water. This way you are giving the gift of moisture to your hair. Repeat the process twice in a week to see effective results.
3. Overnight Hair Mask
There are various sulphate-free products in the market. For an overnight hair treatment for frizz-free hair, get a sulphate free hair mask. The hair masque offers hair repair for extremely dry hair. The masque is fortified with palm oils, tropical acai and hyaluronic acid gives deep conditioning to your hair treatment overnight.
4. Overnight Solution for Dandruff
In winters, dandruff could be a problem creator and really embarrassing. Fortunately, you would be glad to know that you will not have to work hard. Simply use an anti dandruff oil or lotion before going to bed. It cleans your hair and leaves it healthy and removes dandruff. With regular use, your hair tends to get softer. Isn't it a win-win situation for all.
5. Amazing Conditioner with Coconut Milk and Argan Oil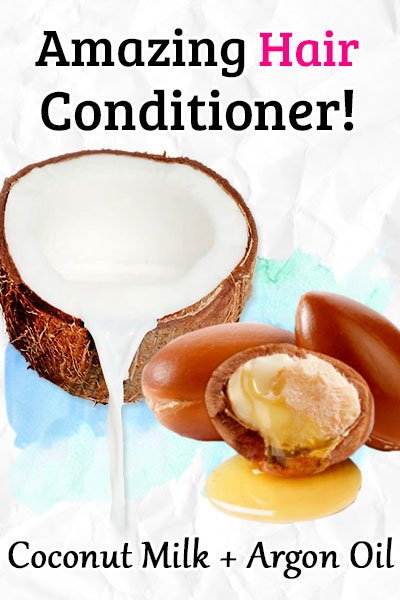 Argan oil is well known as a blessing for hair conditioning and it gets better when mixed with coconut milk. The mixture infuses into your hair and leaves it radiating. This is a perfect overnight treatment to nourish your hair and keep them soft and silky.
6. Overnight Olive Oil Mask
Olive oil needs no introduction. It makes an amazing mask foray hair treatment overnight. Adding an egg yolk and little bit of aloe vera makes this mask more effective for bringing back the lost shine to frizzy and dull hair. We all want well-hydrated hair and coat of this mixture on your hair evenly. Cover your head with the shower cap to prevent moisture from drying off. Do this atlas once a week for the best results.
7. Pumpkin and Honey For Lustrous Hair
You might be thinking what sort of combination is that. Right?But pumpkin and honey together make an amazing hair mask that can be used while sleeping. Mash honey and pumpkin together and apply to your scalp. Shampoo your hair next morning. The moisturising treatment leaves your hair lustrous and soft.
8. Overnight Hair Fall Treatment With Rosemary And Castor Oil
Are you tired of constant hair fall? Fight the hair falls with regular use of actor oil and rosemary oil mixture. Take 4-5 drops of rosemary oil and one cup of castor. Shake well and use regularly. You will not only notice the decrease in hair fall but also the quality of your hair will improve drastically.
9. Overnight Deep Conditioning With Yogurt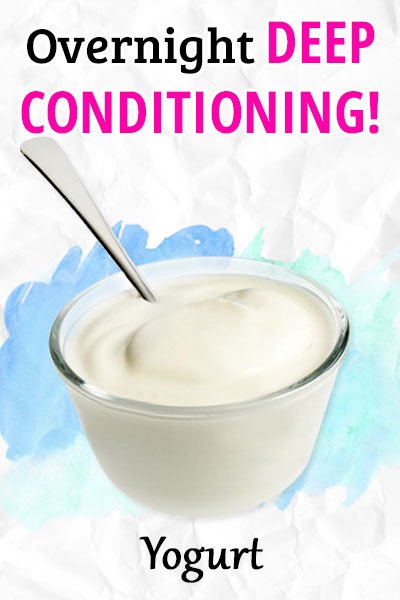 Yogurt is an amazing conditioner and perfect product to make your hair hydrated and smooth. When you mix sunflower seed oil and coconut oil, it also makes hair smooth and shiny. Try a hair mask using unsweetened yogurt, banana and avocado for restoring the natural shine and rejuvenating the damaged hair.
10. Overnight Avocado Treatment
Avocado is the best secret for soft locks, glossy and healthy hair. This homemade product for dry and rough hair bring back life into your locks. Avocado mixed with olive oil is an affection mixture for split ends. Use it twice in a week to see the results all by yourself.
Apart from creams, honey or yogurt one of the most effective hair treatment overnight comes from oils. We present to you best oil overnight treatments based on your hair types.
Best Oil for Hair Treatment Overnight
1. Rosemary Oil for Thin Hair
The oil naturally stimulates the follicles and prevents the hair loss and helps hair follicles grow. It has anti-aging properties, protective compounds and many nutrients that help translate the unhealthy hair to keep young and healthy. Rosemary oil nourishes and hydrate the regenerative cells and tissues for strong and long hair. Massage your scalp with rosemary oil once a week for strong hair.
2. Avocado Oil for Course Hair
Avocado is quite rich in proteins and that's exactly what our hair need. It helps in softening of course hair. With Vitamin D, A and E and high amino acids, the oil helps in repairing the crevices of the course hair and further strengthen strands to protect from the further damage. The course hair is softened and can be managed well with this oil. Try this oil every alternate night to see an early effect.
3. Hemp Seed Oil for Thick Hair
Thick hair is hard to manage and not really easy to keep hydrated. Hemp seed is rich in vitamin E and fatty acids. Hemp seed oil helps in deep conditioning the thick hair and give more nourishment and flexibility to split ends. The oil allows the hair to feel thick and straightens it from the roots. Hemp seed oil is not available easily but if you get it, Thank God for a natural savior.
Finally, the ultimate hair oil that is eligible for all types of hair is Argan oil. It is one of the rare oils but definitely worth each penny. The oil is perfect for hair treatment overnight with its high vitamin E content which helps in stimulating cell growth. The oil also encourages hair development in a healthy manner by increasing the elasticity and prevents the breakage. The oil is composed of almost 80% of fatty acid especially unsaturated such as Palmitic, Oleic, Stearic and Linoleic acids. These acids work very hard to tame the frizziness and add shine to the split and dry ends. Highly recommended for all hair types and especially for hair treatment overnight.
Simple warmth oil and massage gently onto your scalp. Leave it overnight and wash it next. Try this oil twice a week to see the results within few days. Do you still feel you need to go for the hair salon to get some hair spa? when everything is available in your kitchen.
Related Posts