Our hair is considered the crowning glory of our body. Beautiful and healthy hair enhances our appearance and personality. We need to maintain our hair regularly so that it remains soft, silky and voluminous. Here in this article, we bring amazing homemade hair mask with papaya. We all know papaya benefits – it is good for health and yes for skin too! But benefits of papaya for hair should also not be ignored. To get full benefits of papaya for hair, we should consume the fruit regularly as well as use hair care products that contain papayas in it.
Is Papaya Really Good for Hair?
Here are quick facts about what Papaya can do for your hair –
1. Promotes Hair Growth
Studies have shown that the nutrients in Papaya helps controlling hair fall thereby prevent balding. For that you have to consume Papaya at least thrice a week. This will prevent thinning of hair.
2. Dandruff Removal
Papaya Hair Masks work wonders on dry and flaky scalp. We will be discussing the recipe of making papaya hair mask for dry scalp further in this article.
3. Papaya is a Natural Conditioner
Papaya works as a natural conditioner since there are abundant minerals, enzymes and vitamins packed in it. These elements make your hair soft and smooth. A quick recipe for this is to blend banana, yogurt, papaya and coconut oil together and mix well to make a thick paste. Apply this thick paste onto the damp hair. Keep this paste applied on your hair for at least half an hour. You can use shower cap of warm towel to cover the head so that it will generate heat needed for hair. After half an hour, rinse this paste with water.
Let us see how homemade hair mask with papaya helps in improving the structure of our hair. Let's watch this useful video of using Papaya for hair growth –

Amazing Homemade Papaya Masks for Healthy Hair
It's always preferable to prepare natural papaya hair mask at home which can cut down the expense of salons without any adverse side effects. Using the natural ingredients that are commonly available in our kitchen, we can make amazing homemade hair mask with papaya that can bring life to our dull and damaged hair.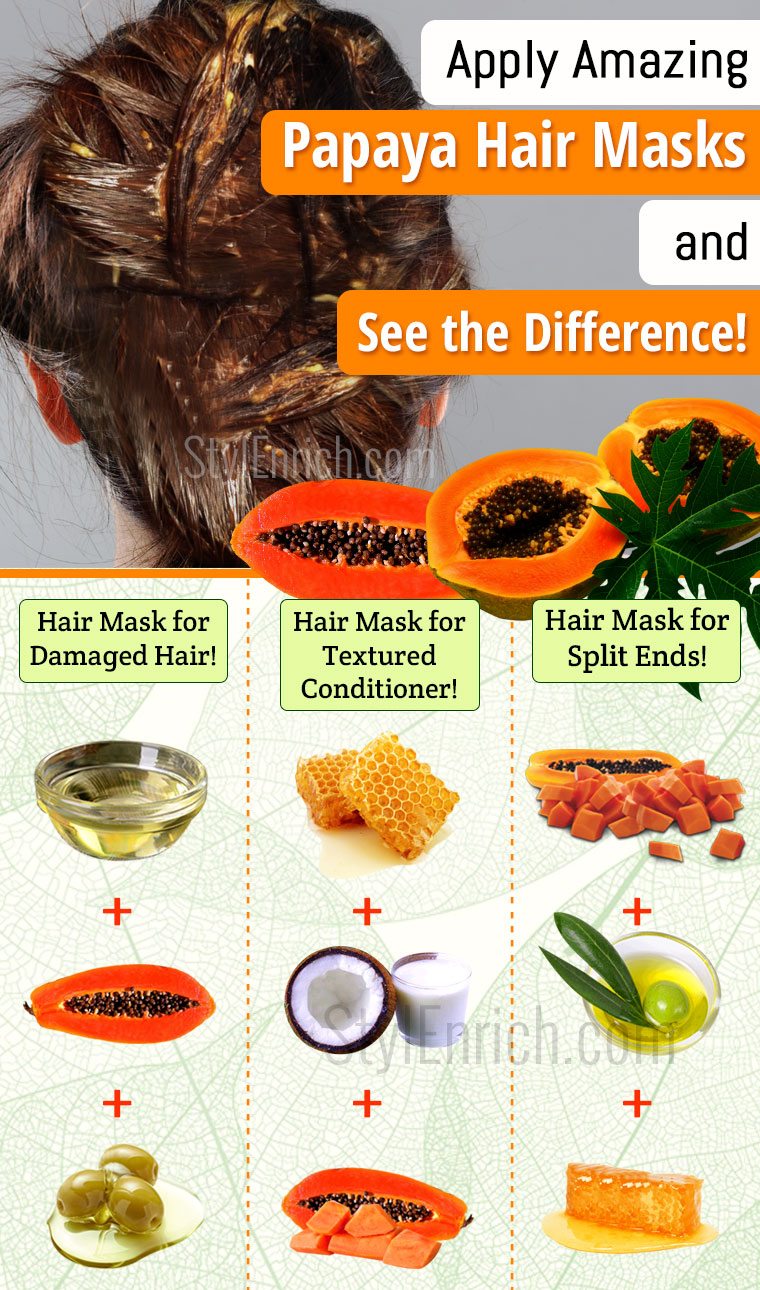 1. Papaya and Yogurt Homemade Hair Mask for Dry Hair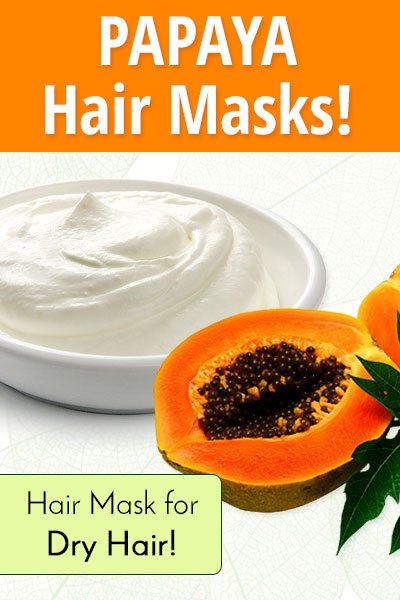 This natural homemade hair mask brings wonders to dry hair. Here is the procedure to make this hair pack.
Remove the skin and seeds of a fully ripe papaya. Cut it into slices and blend it well to get a smooth puree. Make sure no papaya chunks remain in the puree.
Add ½ cup unflavored yogurt to the papaya paste. Mix it well so that the paste of uniform consistency is made.
Apply this pack on the hair, especially on the scalp and hair from the roots to the ends of the hair. Leave it on the hair for 30 minutes and then wash your hair thoroughly with water and shampoo.
It is essential to apply shampoo on the hair after applying yogurt on the hair otherwise yogurt can give a stench on the hair and becomes rancid.
2. Papaya, Coconut Oil and Olive Oil Homemade Hair Mask for Damaged Hair
Take fresh pieces of ripe papaya, 2 tablespoon coconut oil and 1 teaspoon olive oil.
Take papaya pieces and add olive oil to it.
Blend the papaya pieces well. Now add coconut oil to the paste. Apply this mask on the hair and allow it to remain for 30 minutes. Wash your hair thoroughly.
3. DIY Papaya Hair Mask for Split Ends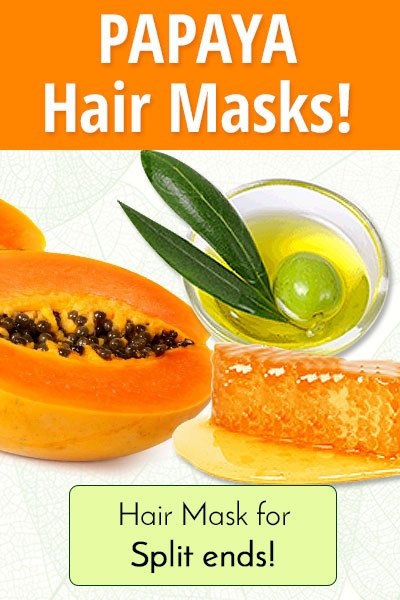 Take half of ripe papaya and cut into pieces. In a blender add papaya pieces, ¼ cup olive oil and ½ tablespoon honey.
Mix these ingredients in the blender well to form a smooth paste.
Apply this mask on the hair for 1 to 2 hours and then rinse your hair thoroughly with shampoo and conditioner. This hair pack is helpful for dry and damaged hair and also for split ends.
Do you know why we opt for papaya treatment to enhance the glow of the skin? Click here…
4. Papaya and Honey Hair Mask for Textured Conditioner
Take few papaya pieces, add coconut milk and a teaspoon of honey and blend the mixture well.
Apply this paste on the hair and leave it for 30 minutes.
Rinse thoroughly. This pack is useful for strong, healthy and shiny hair.
How Do Papayas Improve The Strength of The Hair?
Papayas, being considered as a natural conditioner, help to keep our hair soft and manageable because papayas are rich in vitamins, minerals and enzymes.
Papayas are effective in removing the chemical build up and residue that are formed from the chemicals or hair products and does not make the hair dull or lifeless. Papayas also remove the dirt and oils from the hair and help to keep the scalp clean.
People who complain of hair thinning can always try the papaya hair mask as it improves the volume of the hair and nourishes the hair shaft. Regularly having papayas or having papaya juice three times a day helps reduce hair thinning.
Even the leaf extracts of papaya are used as hair conditioner by salons or hair care experts to improve the shine of dull and lifeless hair.
Using papaya based hair products or conditioners regularly or making a homemade papaya paste and applying it on the hair weekly can be effective for the hair.
Our hair needs a regular treatment which should not only be done using natural ingredients but also, if possible, affordable and easy to use so that the treatment can be carried out regularly.Then why not try our good old fruit, papaya? The best part of papaya is that this fruit is available throughout the year, very affordable and loaded with nutrients. Papayas can be used as it is or it can be mixed with other natural ingredients to make hair masks easily at home as we have already seen above!
Papaya is a great solution for our damaged and lifeless hair. This fruit has always been an angel which has brought magic to our hair thus making it beautiful and healthy.
Friends must try these natural homemade hair mask with papaya and share your experience with us … and yes if you know any such hair mask of papaya, Share with us in the comment section!
Related Posts