Now a day's people are either unaware or had forgotten to trust the natural products, home remedies and homemade beauty products such as sugar with lemon juice can act as the scrubber and one can also use it for toning of the skin. Coconut oil for hairs can be the best solution to all your hair problems. So, let's see the benefits of Coconut oil for hair growth.
We all want to follow the latest fashion trends, whether it's a full fringe haircut of Taylor Swift, wavy overgrown bob cut of Cameron Diaz or the super sexy and sultry slicked back hairstyle of Jennifer Lopez. We all want to shimmer and shine just like them but, usually, we tend to keep forgetting in this, that our hair also needs nourishment. We often overlook and do not remember that the natural therapy always proves to be the best therapy.
Do you coconut oil benefits for your beauty? Here we bring unexpected benefits of coconut oil  for your beauty.
One such natural product for the nourishment of your hair is coconut oil.
Coconut Oil for Hair Growth
A coconut oil has fatty acids which will work on your scalp and hair and gives the much-needed nourishment and moisturiser.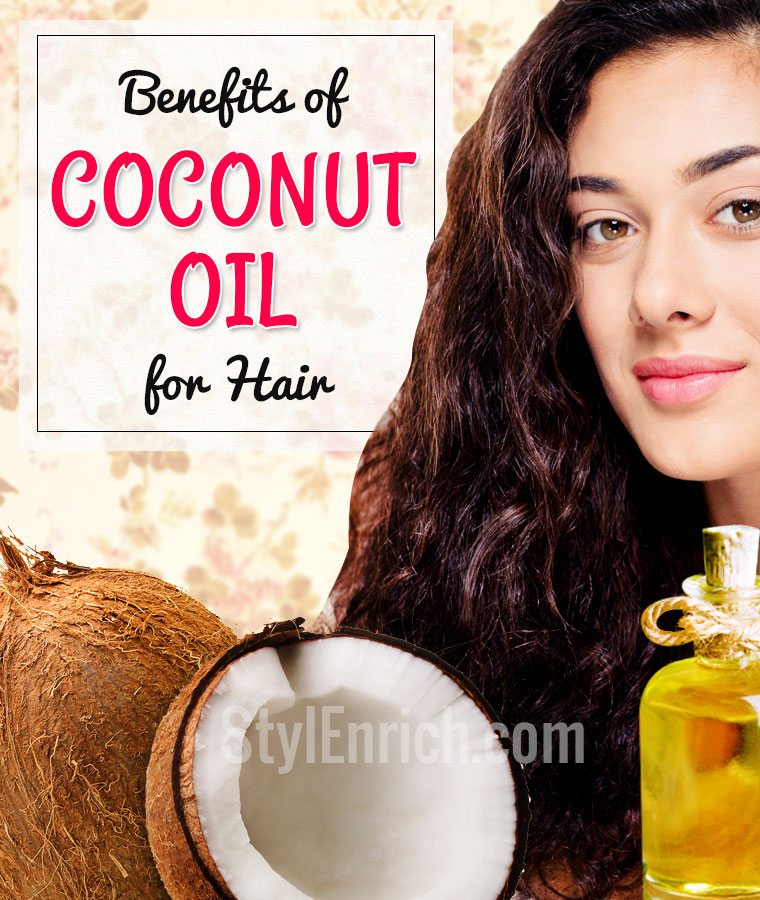 The coconut oil is a panacea for hair treatment. It is a proven best solution for all your hair problems. When applied on a scalp and in hairs, it provides the desired nourishment.  It seeps into the scalp better than any cosmetic product. It is a wonderful remedy for compact frizzes. It is versatile in nature, used for hair, skin and cooking purposes.
Coconut oil will help you get rid of dandruff, reduce and prevent lice; and also promotes hair growth. It will amaze you to know that coconut oil can also be used to extract chewing gum from the hair.
The oil improves the scalp health, henceforth improving the conditions for growing, thicker and fuller hair. It is also a general notice that it can soothe cradle cap (issue mostly seen in children). The oil has anti-bacterial properties which will avert folliculitis, and also prevent the infection of follicles, and also fight fungal infections, such as ringworm of the scalp.
Here, with some hair growth tips, you will have the solution for hair fall problem…
This oil smells great, comes very cheap and is an immensely beneficial hair product (all in one) at your home. I would discuss in detail about its variety of uses and steps to follow (for better results) for your hair in detail.
1. Coconut Oil for Hair Conditioning Purposes!
It conditions your hair, as it comprises of smaller and medium-chain fatty acids, the oil penetrates the hair deeper than any other conditioner.
This oil also acts as a hair treatment to repair split ends, to moisturise your scalp and also brings a shiny glow to your tresses.
  Leave the coconut oil on your scalp for at least an hour or two to get the most useful results from this treatment.
 Wash and dry your hair, take a small amount of coconut oil in a small bowl.
 Set this smaller one at the bottom of larger one and fill the larger one with hot water, so that it is partially  submerged.
 Allow the coconut oil to come to the ordinary temperature, massage your scalp with oil gently
 Use a comb or a hair pick in your hair, and then cover it with a shower cap or small towel
 Leave it for 2-3 hours and later use the shampoo to remove oil.
 Dry your hair with a towel and style it as you want.
2. Coconut Oil Use to Remove Dandruff!
All the chemical from your shampoo, conditioner, styling product and colourant has left your scalp with itching, flakiness and dandruff. Use coconut oil to remove dandruff. Just use it daily by following easy steps and that dreaded, and irritating dandruff will disappear.
Wash your hair at the end of the day and dry them.
To bring the oil to a normal temperature, submerge the bowl containing the oil a hot water.
Massage the oil on your scalp with fingers.
 Wrap your hair in a small towel or shower cap, and leave it for the fortnight.
The following morning you may need to use the salt treatment for the extra shed cells.
You will love to read benefits of coconut oil for hair growth – DIY Guide of Coconut Oil Uses for Beauty Products
3. Coconut Oil as a Base for Hair Colouring
As we all know, many families use coconut oil for cooking purposes, it is because it blends with other ingredients. That makes the coconut oil an excellent medium for all natural hair colouring. It makes the colour look more vibrant and keep it from fading away soon.
Gather up all the material like two different sizes bowls, shower cap, comb or a hair pick and colouring herbs.
Take few scoops full of coconut oil in a smaller of the two bowls; submerge the container partially in a larger one filled with hot water.
 Allow the oil to warm up and mix it with colouring herb.
Apply the mixture as you normally do.
Once a colour is set to wash your hair and wrap them with a shower cap or towel for a fortnight.
4. Coconut Oil for Hair Growth : Protect from Sun-Damage!
The coconut oil makes an excellent natural shield from harmful rays of a sun. So, on the day when you know that your hair shall get exposed to a rugged and rough environment, use the Luke-warm coconut oil on both the scalp and hair to prevent it from damage.
5. Coconut Oil for Hair Growth Naturally !
The vitamins and essentials of fatty acid in the coconut oil get rid of sebum build-up from the hair follicles. Just before going you apply the melted oil on your scalp, wrap up your scalp and leave it for a night for the best results. Wash your hair in the morning. By following it regularly, your hair will grow longer, thicker and faster.
6. Coconut Oil Benefits : Used to De-tangle!
In case you have that long curly hair, and you battle with them daily to detangle them. Coconut oil is a fantastic solution for this too.
Melt the coconut oil in the small bowl by submerging the container in hot water.
Use your fingers to apply the oil, starting your the end to the roots, then gently work out the tangle with a comb.
Let the oil soak and style as usual. You also leave it without shampoo, all day.
These are some remedies along with coconut oil for hair growth. There are some general tips you may look them out too!
Don't heat coconut oil in a microwave.
Use only organic coconut oil
Apply the oil only on damp and dry hair.
Massage the oil at roots for scalp treatment.
Use Luke- warm water for washing your hair.
Conclusion
There are multitude benefits of coconut oil for hair growth, also it moisturises, conditions, combat the slip ends, and re-grows damaged hair. It also makes your scalp free from dandruff and lice. So, all in all, it works as a hair growth remedy for your hair, which is also cheap, readily available and chemical free.
Related Posts