Eyebrows enhance the beauty of your eyes by giving the much-needed flair. The eyes are the focal point of your face and they can be made even more exquisite by thicker eyebrows. The thin and sparse eyebrows may even make you look older and dull. Only some of us are gifted with thicker eyebrows naturally. Even then we spoil our eyebrows by threading, waxing, plucking, using cheap cosmetics, etc. The eyebrows may become sparse and thin naturally due to health deficiency, aging process or medical conditions, etc. Below we are discussing how to thicken eyebrows naturally.
Does eyebrow grow back? Yes, they do. The perfect and easy solution for naturally thickening the eyebrows is to use the home remedies with help of natural ingredients that you can get hold of effortlessly. This article will help in answering your question of how to thicken eyebrows and grow them naturally.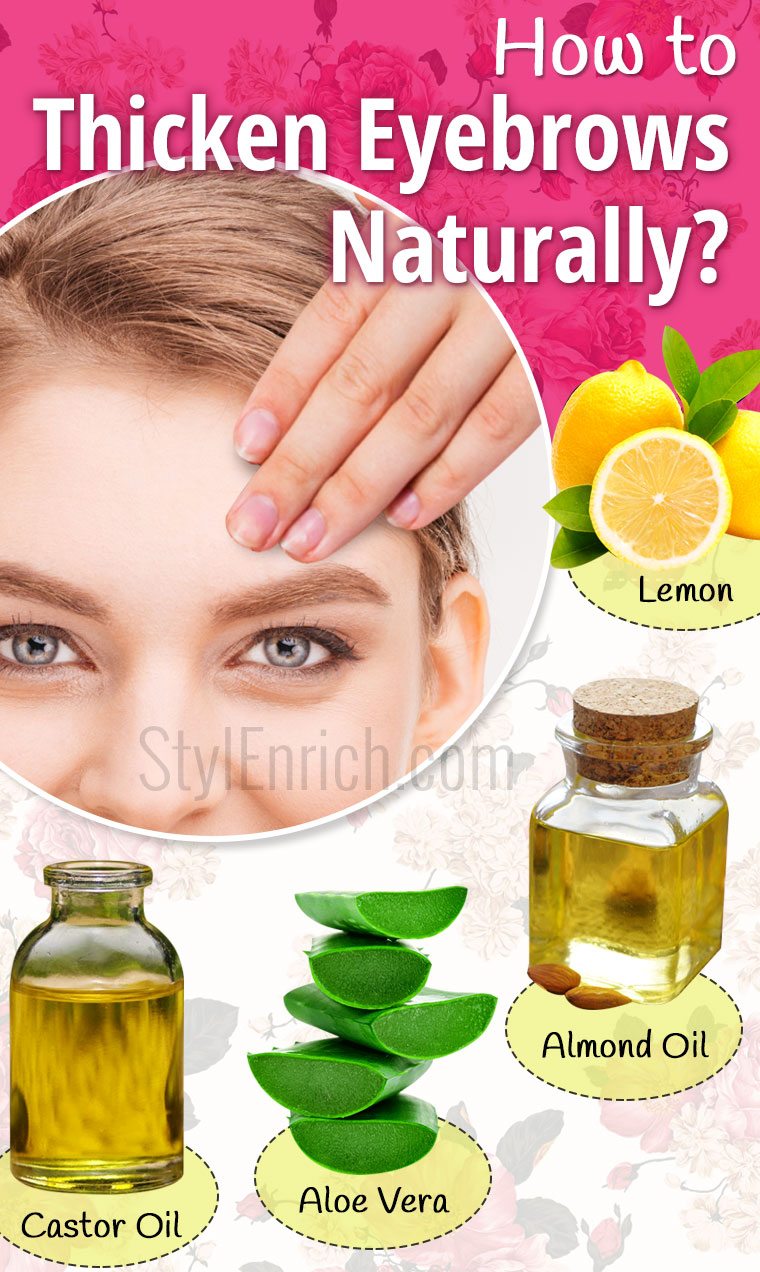 How to Thicken Eyebrows Naturally?
You will love to watch this useful video on how to thicken eyebrows and grow them naturally.
Using the natural ingredient is the best solutions for how to thicken eyebrows and grow your eyebrows because most of them do not have any kind of side effects and are 100% efficient. But it takes time when compared to the artificial means. The most of the natural ingredients used for the purpose of growing the eyebrows dense and thick are –
Castor oil
Coconut oil
Olive oil
Almond oil
Onion juice
Aloe Vera
Milk
Egg yolk
Vaseline or petroleum jelly
Fenugreek seeds
Lemon
Curry leaves
After using these ingredients you can evidently see the eyebrow growth before and after. Some of the ingredients answer the question of how to thicken eyebrows and grow faster overnight.
Let us discuss how to fill in your eyebrows and get the ideal look...
1. Using Castor Oil for Eyebrows
Using castor oil for the purpose of growing eyebrows is an old trick. The castor oil contains nutrients like proteins, vitamins, antioxidants and fatty acids that can essentially nourish the hair follicles. It also helps destroy the bacteria that can accumulate in the eyebrows which may obstruct the growth of eyebrows.
All you have to do is to apply castor oil to your eyebrows using a cotton swab in the night and leave it on to dry. Then wash your face in the morning. You will see the result of this process in about 2 to 3 weeks.
2. How to Thicken Eyebrows Using Coconut Oil?
Does coconut oil make your eyebrow grow? Yes. Coconut oil is usually used for the purpose of moistening and to grow dense eyebrows. It contains the necessary Vitamin E which promotes the growth of eyebrows. It also darkens the colour of the eyebrows.
The coconut oil can be used by applying it to your lashes before going to bed using an eyebrow brush or cotton swab and leave it on for overnight. Wash your face in the next morning with lukewarm effect. Continue this for at least 1 to 2 months to see the better result.
3. Using Olive Oil for Eyebrows
Many of your questions are does Olive oil help eyebrows grow?  Yes, indeed. The olive oil is the best ingredient for eyebrow growth since it is rich in vitamin E. It also improves the colour of your eyebrows. It is easily available.
There are two ways to use olive oil. You can simply apply olive oil before going to bed and wash it in the morning with warm water or apply few drops of honey to olive oil and then massage your eyebrows with it for about 30 minutes before washing. Use this method once a day for better result.
4. Using Almond Oil for Eyebrows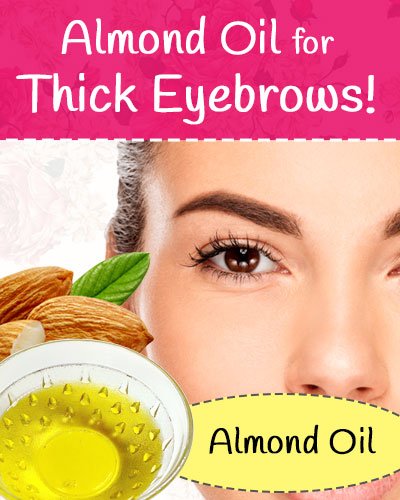 Almond oil is also one of the natural ingredients which is rich in vitamin E, vitamin B and vitamin A, hence can be used for the purpose of exceptional hair eyebrow growth. Apply almond oil to your eyebrow in the night and wash it off in the morning with warm water.
5. Using Onion Juice for Eyebrows
The onion juice is one of the common vegetables found in every household and hence can be obtained easily. The collagen tissue is important for hair growth. The sulphur present in the onion will promote collagen tissue and also improves hair follicles. They answer the question of how to increase eyebrow growth.
You can use onion by grinding in it a blender and then extracting the juice. Apply this extracted juice in your eyebrows. Massage your eyebrows after applying for at least 5 minutes and let it dry. Wash it with cold water and continue this process daily for weeks to till you see better results.
6. How to Thicken Eyebrows Using Aloe Vera?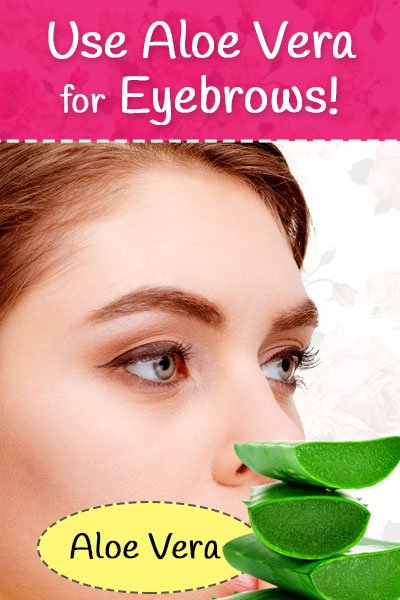 Aloenin is present in Aloe Vera which helps in hair growth and it is an enhanced moisturizer. It softens the skin present near your eyebrows. Extract the Aloe Vera gel from the Aloe Vera leaves and massage your eyebrows with it for 30 minutes and then rinse it off. You can also add a tablespoon of honey or coconut oil along with your Aloe Vera gel.
7. Using Milk for Eyebrows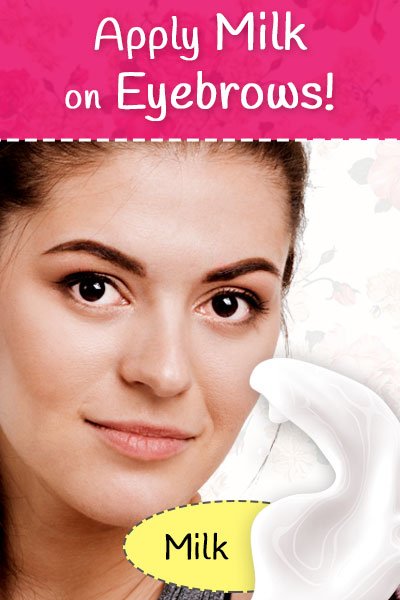 Milk is also rich in protein that nourishes the hair, which can be used in our benefit. It promotes hair growth. Take a small quantity of milk, use a cotton swab to dip the milk and apply it in your eyebrow. Allow it to dry before rinsing it off.  Follow this procedure whenever convenient to get the required result.
8. Using Egg Yolk for Eyebrows
The egg yolk contains biotin which contributes in the growth of eyebrows. Take the egg yolk out separately from the white and then beat it mix thoroughly. Then apply it in your eyebrows and allow it to dry before washing it off.  Sometimes egg yolk may also cause acne, so be careful.
Learn how to shape eyebrows and how to maintain it.
9. Using Lemon for Eyebrows
Lemon contains nutrients like folic acid, vitamin B and C, etc which can help in the growth of eyebrows and thicken your eyebrows. Rub the lemon in your eyebrows and leave it to dry. Let it dry for about 15 minutes and then you can wash it off.
10. How to Thicken Eyebrows Using Vaseline?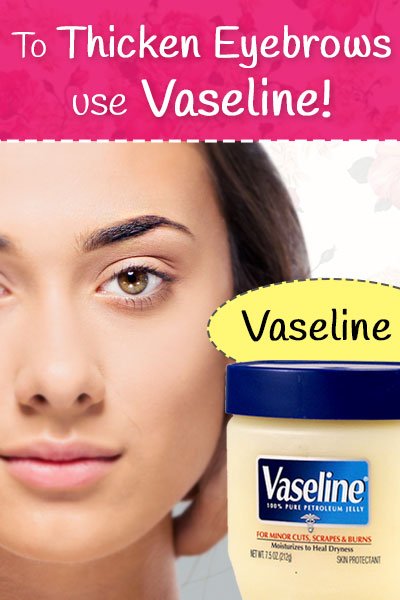 Everyone's question is does Vaseline help eyebrows grow? Yes, it does. Vaseline also called as petroleum jelly will condition and moisturize your hair which will eventually help the eyebrow thickening. Vaseline keeps the hair of your eyebrows straight. This will thicken your eyebrows. For better results apply it daily with equal intervals of time as soon you see it drying off. Follow this process for at least 3 months.
11. Using Fenugreek Seeds for Eyebrows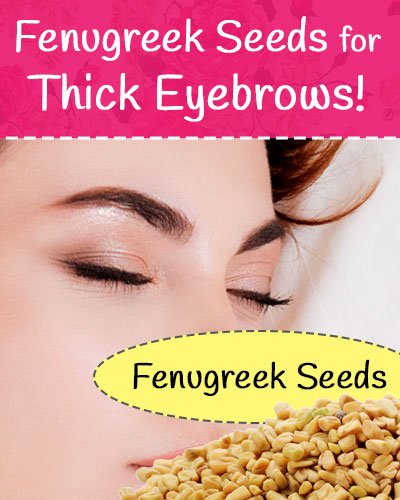 They contain proteins and also have nicotine and lecithin. All of them help in the eyebrow growth and thickening of eyebrows. They rebuild hair follicles.
Soak the fenugreek seed and grind them. Then mix it with any oil and apply them in your eyebrows. Leave it of the whole night and wash it in the morning.
12. Using Curry Leaves for Eyebrows
The curry leaves are being used in the treatment of Ayurveda for the growth of hair for decades now. It also helps to darken the colour of eyebrows. Grind the curry leaves; soak it in the water for few hours. Use the concoction and apply it in your eyebrows leave it for the night and as usual wash it in the morning with water.
You can also thicken your eyebrows by eating healthy food which contains nutrients which promotes the hair growth. Intake of food with vitamin E, A, B and D are most useful. Simply massaging your eyebrows is also a best way to improve your eyebrow growth. Avoid applying lotion to eyebrow and over plucking. Drinking sufficient amount of water also helps in a minuscule level.
These are the most used home remedies for the thickening of eyebrows. Every one of the natural ingredients mentioned above has nutrients that help in the growth and thickening of eyebrows. Use the home remedy that is best suitable for you and easily available in your location. Enjoy the thick eyebrows and amplify your beauty using these natural ingredients.
Related Posts