Eyebrows are an eloquent and significant element of appearance. Filling in your brows is one of those beauty steps where a tiny bit of effort takes you a long way, but it's quite easy to make a mess out of it if you don't know what you're doing. So, let us discuss how to fill in your eyebrows and get the ideal look.
Don't miss to know about the remedies for how to make your eyebrows grow faster.
How to Fill in Your Eyebrows?
1. Start Fresh
Clean brows will let you get the best results. To make sure your brows look as perfect as possible, try choosing an eyebrow pencil colour that matches your natural tone. When in doubt, use a shade with grey undertones. You should make sure you don't go too scarlet.
2. Stroke Upwards
For a fresh everyday look, start by brushing your brows in an upward direction with a spool brush to notice if there are any cranny or sparse areas that you need to fill.
You must go with the DIY makeup ideas that every woman should know.
3. Tweeze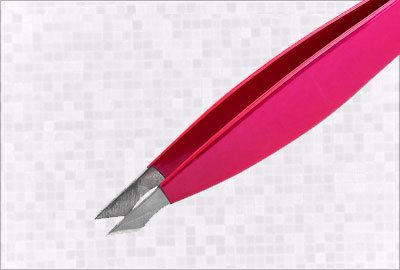 The important step to tweezing is knowing where to tweeze. Use your eyeball as a guide, line up the grip end of the makeup brush on the outer edge of or your brow. Wherever if it hits, that's your arch. It is the point where you'll take out most of the hair. But remember that it may only be a few hairs. Using slanted tweezers, like Tweezerman's is recommended.
Be cautious not to tweeze past the inner edge of your eye.That's the starting point. Don't tweeze the ends. They will almost never grow back. You can use aloe vera to calm your skin down if there's a rash after tweezing. Hold on to a pencil for guidance. Your eyebrows should start exactly at the top in line, with the outer side of your pupil, and end at a point that falls 45 degrees from the outside corner of your eye. Be sure that your brows do not look abnormal and therefore do not curve your brows too high.
4. Consider Your Skin Tone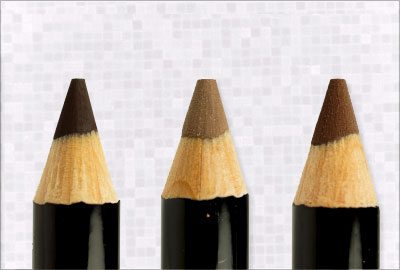 Just like how you use a lighter shade to underline the area of your brow, your skin tone should also sway the colour you are using to fill in your brows. For example, if you have dusky or dark skin tones, try to use a colour that has a little bit of cherry tint to it. It should help with making your brows turn out more natural.
If you have a lighter appearance but darker hair, try to use a light brown shade of the eyebrow filler. You will always find the right colour which suits you through trial and error.
5. Outline the Rest of Your Brow
Starting from the arch, continue sketching to the fringe of your brow with light brush strokes. Without adding more powder or product which you are using the brush, highlight on adding powder and creating volume on the outer edge of your brow rather than coating powder in the middle area of your brow.
Highlighting on the brink of your brow gives you a more natural, wholesome look. Keep in mind; you can always add more, but if you begin with heavy makeup, it's hefty to take off if you mess up.
The makeup tutorial to look like a diva on your special day, please click here for detail tutorial…
6. Time to Know How to Fill in Your Eyebrows
Find the beginning of your brows, closest to your nose. They are called the "sprouts." Draw petite, hair-thin strokes upwards near your sprouts. Follow the current shape to your brow end. Take care of all places where you have scanty hair.
If you do not have a lot of hair and want thicker looking brows, continue to add colour until you have your expected look/shape. You can fill in your brows with a pencil or powder and an angled brush. Use any kind that suits you.
If your brows are extra sparse, take a two-step approach. Use powder to make the shape and then with a thin pencil, use fine light feathery strokes to get the illusion of real hairs.
If you want your filler to look like real hairs and not just a block of brown powder, start with using short and light strokes that impersonate the length of your eyebrow hairs. Begin underneath your natural arch, thickening the brow moderately. To ensure a natural look, don't fill in the top of the brow that can look too grating.
7. Set With Gel
Though a pigmented gel may seem like a one stop solution to all of the steps above, sticking with a clear formula is better, to hold them in place.
Learn how to make your eyes look bigger…
8. Brush the Colour Out
On the tip of the brow pencil is a small brow brush. The bristles in the brush will shatter up any extra colour that might have smeared during application. It shall make your full brow look natural and the best way on how to fill in your eyebrows. If you're using a pencil, a toothbrush or a mascara wand will work as well.
9. Clean Up
If there's any colour above or below left out on the brow, use your finger to wipe off. Finish using the same style and brush as required. But you are doing it for your persona, do your brows as you please!
10. How to Fill in Your Eyebrows with Eyeshadow or Brow Shadow?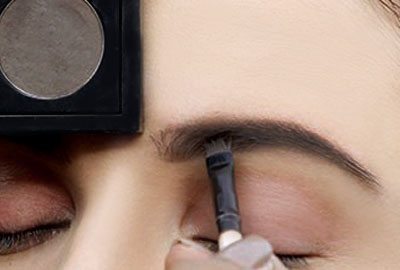 It is the best way of shaping the brows. If your brows are thick, they do not need too much off coverage, and using eye shadow to fill them with some little hair gaps will make a soft and accurate final look.
However, this way of filling the brows can be for any eyebrows. Just make it certain to find the correct shade of the shadow. For light brow's, go with a darker shade and for dark brows, go with 2-3 shades lighter tints. For blonde and brown hair, go with the brown colours. For black brows, grey looks appealing. If your hair is reddish brown, go with burgundy coloured eye shadow.
Using a pigmented or tinted powder to fill and define brows is one of the best ways for how to fill in your eyebrows. For a better and natural look, add a tinted brow powder to brows. Use wax over the top to strengthen the shape and colour and to restrict it in place.
To get a more intense and defined brow, you can add a little wax above the top before brushing your pigmented brow powder. Always begin light and add extra as you go ahead. Perfect brows take a tiny bit of practice, but once you start filling them in, you'll marvel how you ever went without them!
11. How to Fill in Your Eyebrows Using Eyeliner Pencil?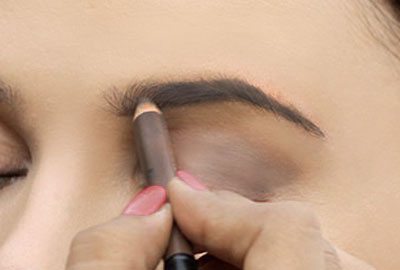 For all the people with very scarce eyebrow hair, using a pencil is recommended. A pencil covers your brows completely, fills in the gaps effectively, and gives you the desired shape in style.
For the colour and tint choices, you should follow the same rule as mentioned above. Try lining your brows with an eyeliner pencil and creating the desired shape. Fill in the complete eyebrow or the gaps which you want to cover.
Using the wand brush softens up and evenly dispenses the colour by gently touching the eyebrow. Using white and pale eyeliner pencil establishes the browline by applying it right under your brows. Combine with the white liner. Optionally, add a clear brow gel to your brows and use some highlighter on the brow bone region.
Do you know how to do eye makeup for brown eyes in the perfect manner? Click here…
12. How to Fill in Your Eyebrows Using Mascara?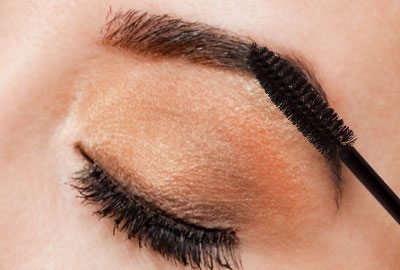 This method is perfect for how to fill in your eyebrows. However, if your brows are too thin or too sparse, that makes them look ignorable, try brushing them before you apply any product on it. Apply the mascara on your brows. If not pleased with one coat, apply another layer to the part of the brows which you want to look defiant and give a dark look. Using a Q-tip, you can clean up all the smudges and marks. Using the concealer brush apply it right under your brows to express the brow line and to reach that fresh and stunning look. You can also use any concealer on the top part of your brow if you want. Brush in the concealer and apply highlighter on your brow bone space. Thus, you can attempt filling in the brows using various combination of techniques and tools.
Well, occasionally our brows are perfect in one part, then scarce up towards the end, or too light with no definite shape, etc. In such cases, you can always use the amalgam of the techniques described above, based on the type of your eyebrows.
One can always line and shape brows using eyeliner/brow pencil, then fill them in applying eye shadow or mascara, use concealer or white eyeliner pencil below your brows likewise. Just pick the way that works optimally for your brows.
13. The Optical Illusion
After intensifying the eyebrow, you can add some edginess that will make them look like a professional made. Draw a line underneath the brow, from the beginning to the tail, with a white or nude pencil and then smudge. Try adding a highlighter with a warm and shimmery tint just under the curve to accentuate the shape even better.
You must read an easy guide for How to Do Eye Makeup Flawlessly….
Conclusion
Perfectly shaped brows alleviate to frame your entire face and to bring out your eyes, with or without any auxiliary makeup. Filling in the eyebrows is an art. It requires some amount of practice. However, once you know how to fill in your eyebrows and skilled at it, you get a mesmerising look that any woman dream of.
Related Posts