Do you know how to do eye makeup for brown eyes in the perfect manner? Do not worry. After all, we can't be a pro in everything. So we are sharing some brown eyes makeup tricks and tips with you in this post. You can find a number of eye makeup tricks and makeup ideas for brown eyes throughout the internet. But, you need to be diligent here.
The best part about brown eyes makeup is that any color can complement your eyes immaculately. Still, it is best to choose the one that goes well with a shade of brown in your eyes.
Makeup Ideas for Brown Eyes
Eye makeup for brown eyes begins with choosing the right color in it. Going by the latest fad for Smokey brown eyes, you can also take help from online tutorials. So, here it goes –
Quick Eye Makeup Tricks for Brown Eyes
For perfect looking brown eyes makeup, you can start with understanding the shade of brown that you possess.
For women with deep brown eyes, choose anything from medium to dark tints of makeup color.
Medium brown eyes are flattered by any deep green and shimmery gold.
Light brown eyes look their best with shades like light yellow.
Follow this click for the tutorial that will give you some simple steps including amazing eye makeup tricks…
Here are Steps for Brown Eyes Makeup
It can be done in these easy steps –
Start your makeup with choosing a solid base that will give the perfect platform. This will help makeup to stay for longer time. Choose the base color that goes well with your skin tone and use your fingers or eye brush to spread it evenly.
Unfortunately, if you have dark circles, hide them with under eye concealer. Apply it gently and blend well until it just matches up with your skin.
Apply any light shade eye shadow. Start from to the brows. After that, apply a layer of medium shadow on the crease. Keep dark eye shadow only for the eyelid. Here, you can give dramatic looks to your eyes with shimmer used in. However, if you prefer simple and casual looks, go for neutral tones.
Next, eye makeup for brown eyes requires choosing the right eyeliner. Prefer simple colors like dark brown or mauve for casual looks while for dramatic eyes, go for colors like bronze or gold colored eyeliner. Metallic eyeliners work best for evenings. Simplest tip to follow here is choosing for lighter eyes and vice versa. You can also play with eyeliner by choosing for the upper lid and the lighter one for.
Don't miss to read DIY makeup ideas that every woman should know….
Tutorial for Smokey Eye Makeup for Brown Eyes
Who wouldn't love the brown eyes? If you also do, you can experiment with smoky eye makeup. Eye makeup for brown eyes brightens up your eyes to make them the most alluring feature of your beauty. Here is given a simple makeup tutorial for brown eyes:
Things you need for brown eyes makeup-
Light brown eye shadow
Dark brown shadow
Shadow
Matte shadow
Black shadow and liner
Mascara
Let's see how to apply mascara perfectly…
This eye makeup tutorial will solve your queries and you will get to know how to apply makeup for brown eyes.
Apply primer on and cover it completely with light brown shadow
Apply darker shade crease, taking it to outer. On outer eyelid, apply shimmery shadow.
On the lower lash line, apply the dark brown shadow and give to and forth strokes of brush for looks.
Apply gold eyeshadow to inner corners and inner part of the eyelid. Use highlighting for the brow.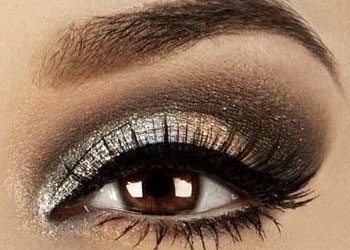 Use a black liner for upper lash line and smudge it for dramatic looks.
Use matte shadow to deepen outer corners extending it outwards.
Apply liner to the lower lash line and again smudge.
Deepen the upper lash line with one more layer of the liner.
Use mascara on the lashes
Apply some on the waterline for completing the looks.
Follow this eye makeup tricks for brown eyes to get those beautiful and dramatically gorgeous brown eyes and yes … don't forget to share your experiences with us!
If you like this post, please share it on Google+, Twitter, and Facebook!
Related Posts