Eye makeup forms the core of the quintessential beautiful face. Basic eye makeup tutorial will help you in best possible way to get the beautiful eyes. Eyeshadows create a colourful and perky look on your face. Eyeshadows form the colours on the canvas of your eyes. Open your eyes to a whole world of new possibilities, when your eye makeup is concerned. From demure daytime looks to a full on night out Dramatic or Smokey eye look.
If you wish to work your charm, and then let your eyes do all the talking and flow with the current flood of eye makeup products ranging from eye palettes, and eye shadows to glitter shadows to highlighters, a step by step eye makeup tutorial proves to be a boon for basic beginners. You have classic colours too intense to long lasting ones.
You must go with the DIY makeup ideas that every woman should know.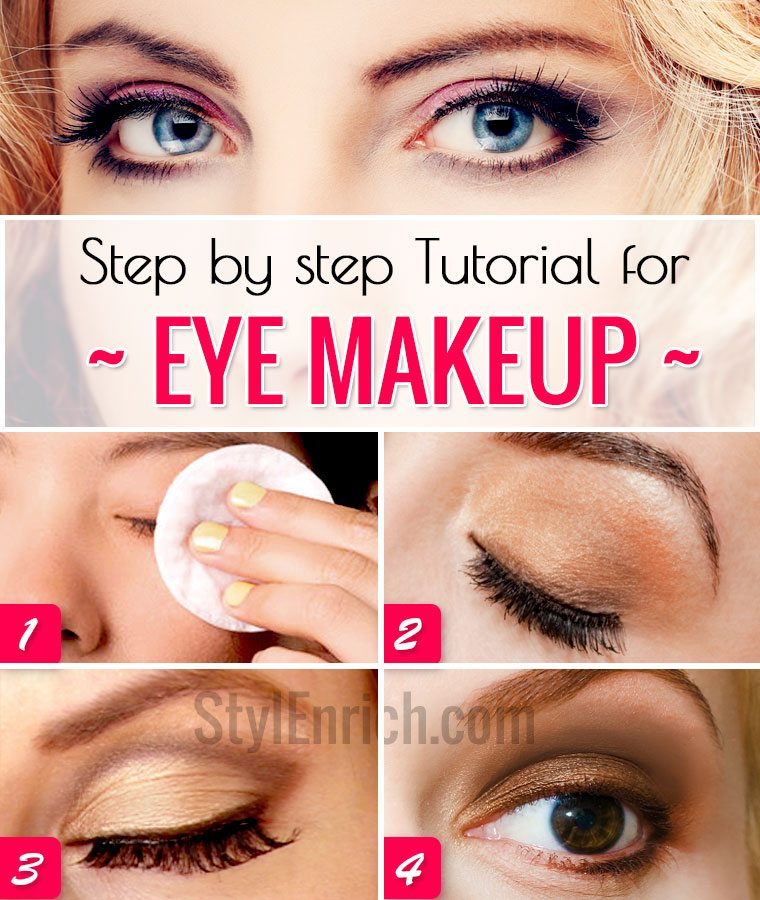 We bring for you a few basic makeup tutorial to applying eye shadow.
Basic Eye Makeup Tutorial for Applying Eye Shadow
Step 1 –
Before applying anything on your eyelids clean them well with a face cleanser. A good skin forms the canvas for eyeshadow applications.
Step 2 –
Prepare the area with a concealer and primer. Priming the lids helps the eye shadow in lasting long whereas concealer helps to get rid of dark circles.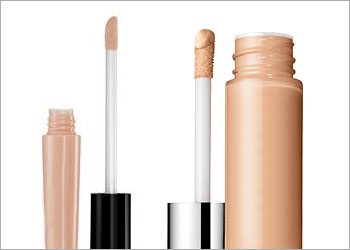 Step 3 –
Now, take the lightest shade available in your palette in your paddle brush and apply this colour all over your eyelids. Spread this colour well of your eyelids as this is the base. Shades like peach, browns, nude shades or beige, skin work well with most skin tones.
Step 4 –
Now take a darker shade of the eye shadow with a crease brush or any makeup brush and use it on the crease of your eyes. Start from the inner corner and apply the shade until the outer corner. Using darker shades on the crease defines the eye shape. Use bolder colours for a vibrant look. Blend the crease well using a fluffy blending brush.
The makeup tutorial to look like a diva on your special day, please click here for detail tutorial…
Step 5 –
Now line your waterline and lower lash line with kohl and liquid eyeliner and curl your lashes and add volume with the help of mascara.
Step 6 –
Apply a highlighter just under your brow bone. This is where it catches the maximum light and gives your face a structured definition.
If you are blessed with a pair of beautiful brown eyes Indian skin tones tend to be more on the light brown side and if this golden skin is blessed with a pair of brown eyes then seductive bronze make up enhance the beauty of your peepers even more.
Brown eyes can be light brown, amber coloured, honey coloured, and chocolate coloured or hazel. Knowing the colour of your eyes is the first step to finding the right kind of eye makeup shades for your face.
Eye Makeup Shades
1. Metallic Tones
Add a touch of glittery, shimmery undertones. Shades of shimmer like gold, bronze, copper look beautiful with a pair of brown peepers. These look great for a night out with friends or a high-end dinner you have on your diary this weekend.
2. Neutrals or Nudes
If you are a lover of natural makeup and more on the subtle makeup side you can pick up an eye makeup palette that consists of neutral shades and natural hues that do not shout attention but do make an understated statement. Light browns can be used all over the lids while a shade one tone darker can be used on the crease.
Follow these steps To do your eyebrows at home…
3. White Liner
We are yet to unravel the power of the white liner that works wonders with brown eyes. Highlight the inner corners of your eyes near the tear ducts with white eyeliners and see your brown eyes instantly pop.
4. Under-eye Concealer
You do not want to mar the beauty of your well coloured brown eyes with the puffy and dark skin under your eyes. Use a concealer under your eyes and cover it up with a foundation and set it with a loose powder.
5. Colour Options for Brown Eye Makeup
When it comes to colours that you can use to flaunt brown peepers, let me spill the beans. Shades of Blues, peaches, taupes, greys, greens, deep browns, gold, purple, vanilla, nutmeg and teal are some of the shades which look excellent with brown eyes.
Tone Down the Other Makeup on Your Face
Keeping the rest of the makeup mundane or mute will surely highlight the eyes like you want to. Keep the lip colour and the blush minimal. You can opt for peach blushes or subtle shades like a gold or nude pink. For instance, if you are wearing a brown eye shadow you can opt for a peach blush and nude pink lipstick whereas if you are opting for a bolder shade like the blue or purple use a rose or berry shade blush and lip colour.
Another trend that is making waves in today's makeup world is the increasing demand of Asian makeup. Keeping in mind a few basics tricks and making a few changes in the routine eye makeup can bring a clear picture of Asian Makeup.
We give you Top 8 Tricks for achieving an Asian Makeup look.
Extend the outer flick of your eyeliner towards the inner crease of your eye and blend it for a softer look.
Line your eyes with black eyeliner and then add another dimension by double lining your eyes with striking coloured eyeliner.
For a party-ready Smokey eye look adds come glitter to the inner corner of your eyes. It will give you an instant glam look.
A white eyeliner on your lower lash line totally makes you a trend setter.
Draw a hashtag on the outer corner of your eyelid and smudge and blend it for a smooth and finished look.
Layer bright blue and silver eyeshadow over black cream shadow for a dramatic look with depth.
If you love different colours play with a different colour on your upper lash line and a different one on your lower lash line.
Apply a single bright coloured eye shadow say lime green, turquoise blue, mauve or pink on the lids and finish off with a thick line of liquid liner on the upper lash line and volumizing mascara.
Proper tools i.e your brushes and a little practice after understanding what all we have gathered for you can very well master the art of intensifying the look of your eyes. So get your hands on the latest available palettes of perky and Smokey and nude shades and put you first step forward in getting the town talking about you!
Related Posts