The dark side of moon is now the latest buzzword everywhere. World is no more eluded from the beauty of dark skinned women. If you are also on dark side of skin tone, here's something worthy awaiting you in this post i.e makeup for dark skin tones.
For any dark skinned woman, it is quite important to understand how to apply makeup for dark skin tones. It is mostly experienced that wrong makeup can ruin your beauty by highlighting its flaws instead of hiding them. But here is a catch! You can learn some handy and simple makeup tips for dark black skin tone.
How to Apply Makeup for Dark Skin Tones?
1. Let's Start With Foundation
If you want flawless beauty, foundation is the first step in that direction. Always rely upon the shade that goes down well with your tone. It shouldn't make you look pale or darker than your actual complexion. Muted colors with lighter texture are your safest bet. Spend some time to find out the best foundation that blends with your skin. Test it on the forehead and area above the jaw line.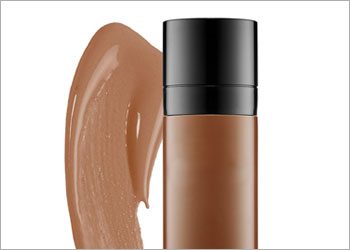 It is also advisable to go for the liquid foundation for even skin tone. In case you don't find one at the store near you, apply moisturizer after the shower but before applying foundation for glowing appearance instantly.
2. Conceal With a Proper Concealer
This is one step you should necessarily remember out of these makeup tips for dark women. Dark skinned women tend to have uneven tone which is dark at forehead and light in the center. To hide such discoloration or any other blemishes on your skin, it is better to use a red or orange based concealer.
3. Blush it Right
Makeup tips for dark black skin tone include choosing the right type of blush as well. Contrary to common belief, a dark mineral blush looks stunning on such ladies. To accentuate the beauty of your cheekbones, apply its multiple coats till the color is evident on your face. Remember, burgundy, coral, burnt pink, and deep red shade of blush looks best on you! However, brownish shades are strictly not meant for you.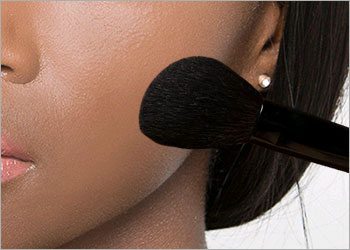 4. Get Your Lipstick Right
If you generally spend hours finding the suitable color for your lips, these makeup tips will certainly help you out. There are some do's and don'ts that you should know about lipstick color. Always avoid nude and pale shades in lipstick. At the same time, keep away from frosty and glossy ones too. These lipsticks never complement dark skin tone.
Moving on to the do's, choose the shades like red, burgundy, wine, plum, beige, and coffee brown in lipstick. You can also apply lip gloss over lipstick to enhance your smile manifold. Prefer the gloss in shades like red, pink, and coral for perfect look.
5. Eye Makeup Tips for Dark Women
You can spruce up your gaze with hazel eyes. They work like wonder to create that special effect you will vouch for. Avoid eye shadow in very light or extremely bright shade. Shades recommended for you are burgundy, purple, copper, green, and brown. Well, to add a dash of innovation, you can use gold and bronze shade also. If you still want some more, you can mix two shades in eyeshadow. But remember to pick the similar ones. Curl the lashes a little bit and use a brown liner on the lash line. Here, you are ready to shine and rise!
Apart from these, there are some other areas of concern that you must understand. You may use an appropriate face powder matching with your skin tone to avoid looking oily. Also, always use sunscreen to bare the heat of sun on your skin.
With these makeup for dark skin tones, you will be ever ready to outshine the fairest of them all. So, what are you waiting for?
Related Posts