Got a night out with friends? Looking for a stunning Brown Smokey eye tutorial? We bring you an awesome step-by-step Smokey Eye tutorial that highlights those beautiful Brown eyes and give them an effortlessly sexy look. An easy brown smokey eye tutorial for beginners gives them just the right and needed guidelines that make easy smokey eye makeup easy to the literal sense of the term.
A brown smokey eye tutorial is one makeup trick that is fool proof, complements most of the looks that you carry, and becomes the highlight of your face in an instant. The best part about easy smokey eye makeup is that you can play with colors, switch and experiment with application tricks and the best time, it takes absolutely no time because with smokey eye makeup imperfection is perfection. If you are fortunate enough, to have been blessed with a pair of deep brown eyes then the easy smokey eye look goes up a notch on the sensational graph!
We bring for you, your very own brown smokey eye tutorial and how to achieve an easy smokey eye look. It works wonderfully well for a newbie to the makeup world, as achieving a smokey eye for beginners is a bit of a tough task and we are here to answer your question on how to do smokey makeup for brown eyes.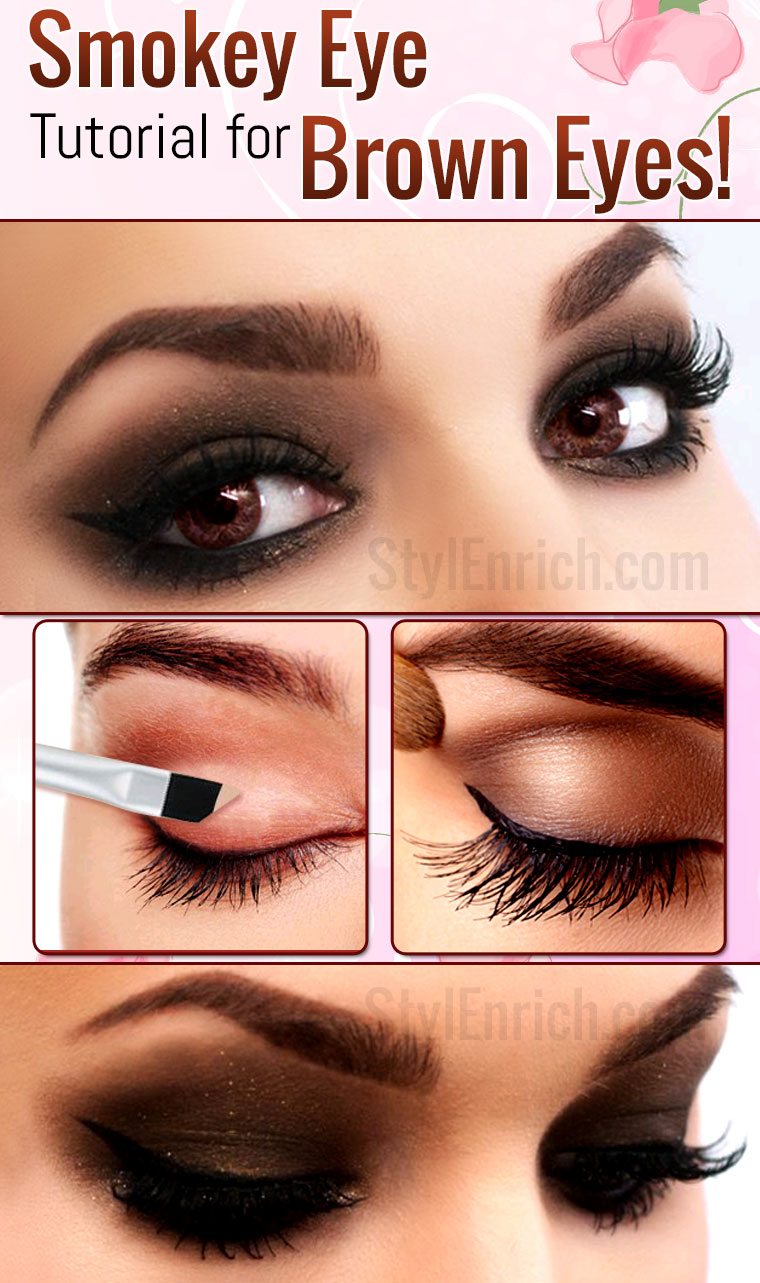 Things You Required To Do Brown Smokey Eye Makeup
For a Smokey eye tutorial for brown eyes, you will need:
Matte light brown eye shadow
Primer
Shimmery brown eye shadow
Light matte eye shadow for highlighting
Gold eye shadow
Black eye shadow
Black eyeliner pencil
Mascara
False eyelashes
Blending brush
All over shadow brush
Tapered blending brush
You must read an easy guide for How to Do Eye Makeup Flawlessly….
Let's begin creating the sensational looking Smokey Eye Tutorial for Brown Eyes that instantly glamorizes your entire look.
Step by Step Procedure To Do Smokey Eye Makeup for Brown Eyes
Step 1: Any makeup needs a clean canvas, and getting a Smokey eye makeup for brown eyes is no exception to this rule. Wipe your face clean and apply your base i.e. strategic and uniform application of moisturizer, concealer and foundation. Follow with a swipe of primer, all over your lid and its inner corners as well as under your brow bone. The primer will help your eye makeup to stay on for a long period of time, especially a great tip for beginners trying their hands on the easy smokey eye look.
Step 2: With the help of a tapered brush, properly apply the soft matte light brown eyeshadow through the crease. An effective eye makeup tip is to dab some loose powder below your eyes so that if any product falls on your face it makes it easier to clean it.
Step 3: Begin to build up the color with a slightly darker shade of eye shadow and focus on bringing the darker shade on the outer side of your eye. Do not let it go too higher towards the brow bone, but limit it to the center of the eye, on the lid. To get the correct easy smokey eye makeup for brown eyes, holding the color in the right position and space is very crucial.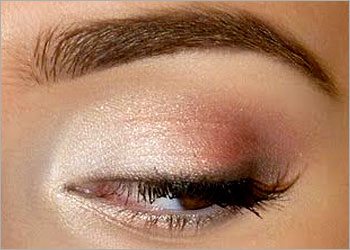 Step 4: Now apply a shiny chocolate brown on the upper half of your eyelid. Soften any lines and blur any harsh edges if you see. You will want to make your easy smokey eye makeup look seamless and merge it well with the transitional colors used earlier. The chocolate brown shade will complement and bring out the brown color of your brown eyes.
Step 5: Take a small amount of the darker brown color on the tip of your small tight-lipped eye shadow application brush and line your eyes below your lower lash line for a soft muted effect. In the process of easy Smokey eye make up the lower lash line cannot be forgotten. Follow with the application of the chocolate brown shiny eyeshadow under your lower lash line. This will open up your eyes and add even more depth and definition to your makeup.
Here we go with the DIY makeup ideas that every woman should know, Click to know more…
Step 6: The most important step in the brown smokey eye makeup step by step for brown eyes is the smoke effect. For that, take your eye shadow in a dark blue, dark gray or black shade, and press the eyeshadow on the outer corner of the eye and with a pencil liner, draw a line close to your lash line as much as possible. There is no need to worry if your line is shaky and blurred as later it has to be smudged anyway.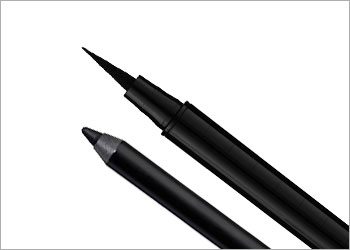 Step 7: Blend blend and blend! To achieve the easy smokey eye look, choose what you are comfortable with. Brush or your finger will do just fine. Smudge out the dark eye shadow and the line you drew close to your lash line and soften the smokey look. Just tap it with your finger, and blend well. Mesh the dark color properly and ensure no hard lines are evident.
Step 8: The key to having a flawless makeup for brown eyes is, to make sure your crease is having no significant lines and colors are merged well, and give an airbrushed effect.
How to make eyes look bigger than they actually are?
Step 9: Any easy smoking eye tutorial is incomplete until you do not use a highlighting palette. Choose a slight gold or ivory shade and apply it just under the arch of your eyebrow to highlight your brow bone. This will bring the focus straight to your eyes. Take a bit of the same product on the tip of your brush and give a slight touch of color to the inner corners of your eyes. This trick in a quick moment helps you to open up your eyes.
Step 10: The brown smokey eye tutorial is incomplete unless you do not curl those lashes and get those false eyelashes working with the help of glue. Add on 2-3 coats of mascara for getting a fuller look and giving your eyes the much-needed drama.
That's it! You are now ready to rock the town with that sensational Smokey eye makeup look. This step by step smokey eye tutorial for brown eyes will put all your doubts to rest that you had in mind regarding how to do smokey eye makeup for brown eyes.
To do your eyebrows at home, follow here steps and you will certainly shape them like a pro.
Brown smokey eye tutorial and makeup tips for brown eyes are available in plenty, but the easy smokey eye makeup makes eye makeup for beginners and experienced people extremely feasible. Now whenever there is an event coming up, be confident and with our step by step smokey eye tutorial for brown eyes, own the world with your charm.
Got some of your makeup ideas that we can use? What tricks do you use for creating easy smokey eyes makeup?
Loved our makeup tips? Why not share with your friends on social media. Also please leave your feedback in the comments section below.
Have a great day!
Related Posts