The blazing heat of summer sun is perturbing. It deters you from going out with makeup. Isn't it? When the weather goes against you, why not follow some amazing makeup tips to look beautiful in summer? So, keep away smudged eyeliners, sticky lipsticks, and makeup defrosting like your refrigerator this season. Jokes apart, you can keep your summer makeup light and let your skin breathe even under scorching heat.
For being summer ready, you need to stack up SPF 15 enriched products in your kitty. But apart from that, there are certain tips to help you choose the right cosmetics and apply them properly for complete summer skin care.
Makeup Ideas for Summer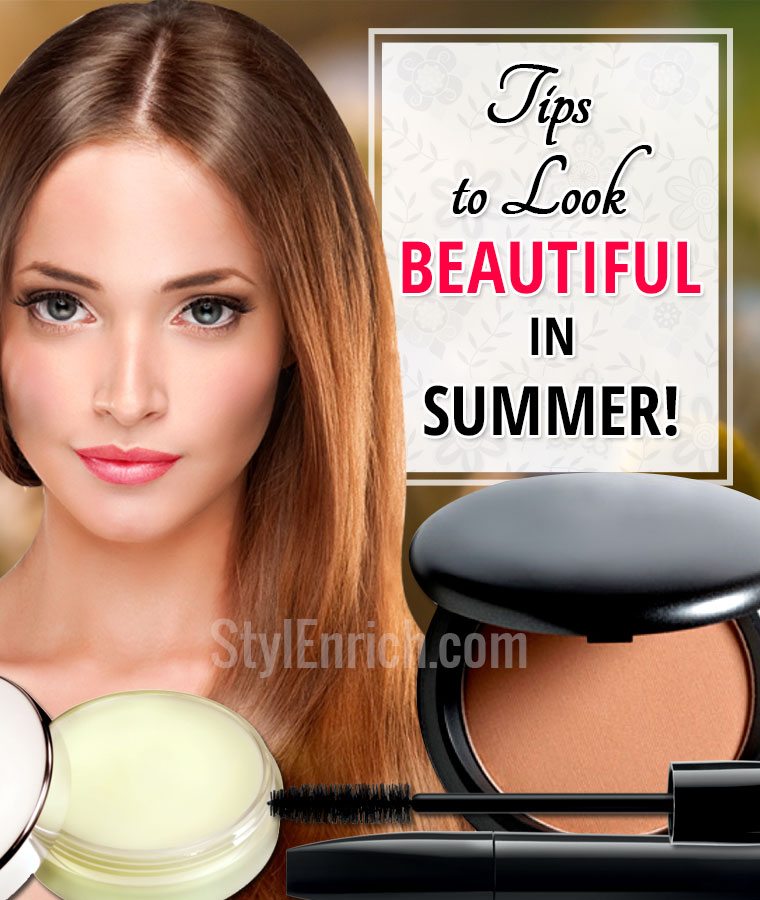 Summer Makeup often begin with choosing the right foundation and primer. So, we will also follow the suit –
How to Use Moisturiser in Summer?
Avoid using heavy liquid foundation in summer. Fret not, you have another option of using tinted moisturiser in summer for lightening face makeup. By making your skin tone even, moisturiser in summer is a breezy respite. Worried about better coverage? Apply powder foundation to cover up the blemishes or dark spots on your face.
Do you know how to find the perfect face moisturiser? Here we will help you choosing the right one…
Add the Bronze Powder
To accentuate your facial features, use some bronzer this summer.
This is how to use it –
Apply it on the areas that are directly exposed to sun, viz, forehead, chin, nose, and cheekbones. You will look fresher with these makeup ideas for summer season.
While using bronzer, omit your blush. Apply bronzer with a thin brush for an understated coverage to enhance your natural looks.
If you are sporting tied or short hair, don't forget to apply bronzer on your earlobes and neck as well.
Worried about  how to choose foundation shades according to skin? Read here some important tips…
How to do Eye Makeup In Summer?
From eyeliner to eye shadow, be particular about your eye makeup in summer. Never overdo it.
We all hate to see smeared eyeliner. You can avoid it completely. And if you can't, apply powder eye shadow with a very thin slanted brush for lash line. However, prefer wearing primer for eye makeup in summer.
If you aren't keen on eyeliner, use the shadow with the creamy consistency to keep your eyes glowing even when you are perspiring in heat.
Always prefer waterproof eyeliners only. Kohl pencils must be totally avoided even if they are waterproof because of their susceptibility to fade away quite soon.
In case of mascara as well, using waterproof is always a safer bet. Prefer brown black shade of mascara in single coat for your top lashes only.
If you want to know how to do eye makeup perfectly,follow this tutorial for some simple steps & amazing eye makeup tricks…
Lip Care in Summer
Lip care in summer does not primarily encompass choosing right lipstick color. While skipping lip makeup is never an appealing idea, you should keep your lips somewhat understated. No more fussing about lipstick color this season as you can avoid heavy lipsticks and go for tinted lip balms rather. Most of the lip balms have SPF content that makes them immaculate choice for sun protection. On the other hand, their soft shades accentuate your pouts.
Look at this simple guide on how to treat chapped lips fast which surely makes your lips soft and rosy…
Other Expert Tips for Summer Makeup
Start your summer skin care by keeping your skin hydrated.
Use only oil free primer for preparing perfect base for makeup.
Wear nude shades as much as you like. They also keep your makeup minimalist.
Keep stock of blotting papers to eliminate that unnecessary shine from your face.
After blotting, apply luminescent pressed powder for perfect glow. Follow this especially for T-zone to enhance your glow sans artificial looks.
To do away with visible flaws on your skin, use a creamy concealer and apply it evenly using your fingers.
Apply sun block every two hours for sustained protection.
These are some quick fix tips and suggestions for flawless and heat proof summer makeup. Follow them and get ready to look even brighter than the sunshine.
Liked our tips? How about sharing them on Social Media like Twitter, Facebook and Google+?
Related Posts