Makeup is a very important routine for every woman. Getting ready and dressed up right for every occasion is mandatory. Some women rush to expensive cosmetic parlors to get ready for an occasion whereas some would like to master the art of makeup at home. Although make-up requires the skill and art, with practice you can achieve the perfect makeup. Blush is a very integral part of your makeup regime that you can't do without. Applying blush can make a huge difference to your makeup and gives an instant flush color that makes your face look radiant. Wondering how to apply blush? Well, it is very simple; all you need to follow is a simple procedure and master this simple art.
Let's see how to choose perfect foundation shades according to your skin tone…
Reasons to Apply Blush
Applying blush is part of the makeup ritual that brings an instant flush of color to any part of the face that you apply on. It draws an instant attention and makes your face stand out in the crowd.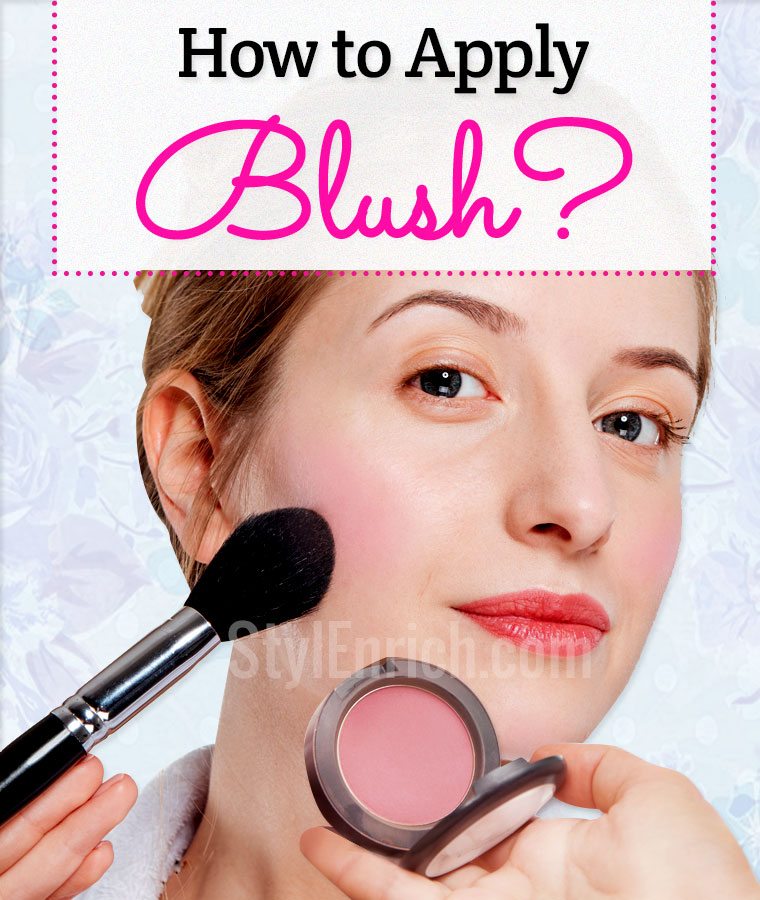 Few simple reasons to apply blush are –
To soften the look of a long face.
To slim down a round and chubby face.
To balance and even out a heart shaped or square shaped face.
Don't miss to read how to apply bronzer to face correctly…
Where to Apply Blush
Before we understand how to apply blush, it is essential to understand where to apply blush, so that your makeup has the perfect finish. Following are some of the most common places you can apply blush to give your face the flushed look.
Cheekbones: Apply blushes on cheeks and slowly move to extend the color to your temples.
Below the apples of the cheeks: Applying blush to beneath the apples of your cheeks and extending out to the hairline gives you the perfect flushed face look.
Step by Step Procedure on How to Apply Blush
Applying blush is a fairly straightforward procedure if followed in the correct manner. This blush tutorial will help you master the perfect skill to apply blush on your face.
Preparation Before Applying Blush
1. Choose the Blush Type
One of the most important points to remember during blush application tips is choosing the blushing type. While choosing the blush it is important to pick one that suits your skin tone, type, and complexion. Different color shades of blushes and types are available based on the skin texture, complexion, and shape of the face.  Gel and powder blushes are perfectly suited for oily skin whereas blush cream is ideal for dry skin. If you have a pale skin tone, a pink color blush is ideal whereas if you have a darker skin tone, then a much lighter color blush would be required.
2. Choosing the Right Type of Brush
For applying blush perfectly, choosing the appropriate blush is very important. At the cosmetic store, make sure you pick up a good quality fine bristles brush made specifically for applying blush. Avoid using powder puffs and cotton wool balls as these do not blend well with the blush color.
Application of Blush
After choosing the appropriate type, color and blush comes the main challenge on how to apply blush properly. Following is a simple step by step procedure on how to put blush on your face.
 Before applying blush, make sure you have applied all your other make-up and allowed it to settle.
Gently sweep the brush over the blush and tap it to remove any excess powder. If you are wondering how to apply cream blush, all you need to do is take some on your fingers.
Take a small quantity of blush to begin with. This will help you even out the excess blush applied later.
Suck in your cheeks and gently apply the blush on your cheeks and beneath the apple of your cheek. If it's a cream based blush, use a makeup sponge to blend after application.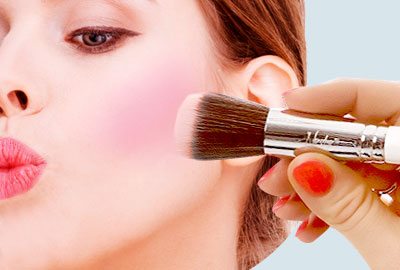 After application on the apple of the cheeks, apply blush starting from the cheekbone and extending to the hairline. Make a single stroke to avoid excess application.
Repeat on the other cheek after completing one side to ensure symmetry.
After applying blush, use a little translucent powder on your cheeks to give it a matte finish.
There you go! You are all set with your blush makeup.
If you have uneven skin tone, there are plenty of ways to fix an uneven skin tone…
With make-up being important for every woman, it is also essential that the blush is done perfectly. Try experimenting different blush types and colors and practice before you set out for the big day. Application of blush is a simple procedure and the skill can be mastered easily. Make sure you begin with one cheek, and then move on to the other one to ensure symmetry and perfection. So what are you waiting for ladies? Dawn on the perfect blush and stand out from the crowd!!
Related Posts