The  Indian Bridal Makeup look is world renowned to bring out the "Bride" in you. For an Indian woman, the day of her wedding holds a special significance, regardless of wealth or religion. The day marks her entry into a new phase of life and paves the way to conjugal journey. Every bride wants to look her best on a special day and prepares elaborately for that. From appearance, venue decoration to dress, the bride wants everything to be the best, and with good reason.
A lot of attention is given in selecting the bridal attire, but many overlooks planning the makeup, that can have disastrous results. If wedding is on the cards for you, remember the right makeup will go a long way in making you look like a diva on your special day.
If you want to clearly understand how to find out your skin tone for makeup, then click here to go through this article…
How to Do Indian Bridal Makeup?
Below listed are a few important steps in getting Indian Bridal Makeup right.
Start with cleansing your face before you moisturize it. Use a mild cleanser to wash away impurities and traces of dirt. Then pat your face dry with a soft face towel and apply a gentle moisturizer. Choose the moisturizer based on your skin type, making sure it is not too greasy. Greasy moisturizer will make your makeup run!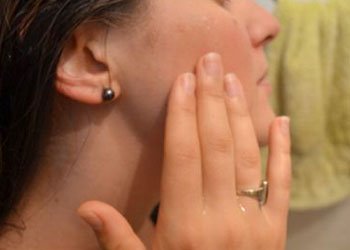 Next, you will need to cover up blemishes and other spots. Use a good concealer to achieve the best results. A good concealer can easily hide dark circles too!
Don't miss to explore what causes of dark circles and then how to remove dark circles…
Applying foundation is the next step in bridal makeup. Choose a matte foundation with a shade that matches closely to your skin complexion.
After the foundation is applied, turn your attention to bridal eye makeup. Needless to say, your eyes should look enticing, bright and lovely on your wedding day! Define your eyes with a Kohl pencil. Then highlight the eyes with a thin eyeliner. You may use either a pencil or gel eyeliner.
Next, use an eyelash curler to shape the eyelashes. Apply mascara, from the root of the lashes to tip so that they look a little voluminous and expressive.
For the bridal hair preparation, it is better to call a trained beautician or bridal makeup specialist. They can help you pick from various hair designs that gel with your makeup and bridal dress.
Click here to follow the DIY makeup ideas that every woman should know...
After the bridal hair and makeup is done, it is time to pamper your lips. How else will your smile look dazzling and appealing to all? Choosing the right shade of lipstick is quintessential. It should go well with your skin tone and attire too. We suggest a matte lipstick that can then be finished with some gloss for a glamorous look. Use a lip liner to accentuate the outlines of your lips.
Next, you need to apply the blush and highlight. The blush should be applied to the apple section of your cheeks. Smile and look at yourself in the mirror to understand where the blush should be applied. To contour the cheeks, apply a matte shade one shade darker than your skin tone. For highlighting, use a shimmer brush on higher plains such as your T-zone and cheekbones. This will ensure that you look angelic in the photos taken on the big day!
If you want flawless beauty,you can learn some handy and simple makeup tips for dark black skin tone…
Tips to Ensure Your Bridal Makeup Works as Desired
Use the following tips for Indian Bridal Makeup to ensure everything turns out as planned on the most significant night of your life!
Start early! Begin your beauty regimen at least 10 days before the wedding day. Take steps to eradicate skin spots, imperfections, and patches. Follow a cleansing, toning, and moisturizing routine. Use a scrub twice a week.
Do not opt, for dramatic makeup for the wedding night. Remember, it is not your prom night- it is your wedding! Indian bridal makeup tips experts suggest that you avoid the smoky eyes and scarlet lip combination on the big night.
Keep in mind, adding extra gloss or shine on face while doing makeup may be counterproductive for wedding photography. The flash and bright lights will result in lights bouncing off your skin and your skin tone will not appear as it should in captured photos.
Make sure you perform a few trials of the bridal makeup a week before the wedding. A pre-bridal makeup session will help you understand which areas need improvement and what looks good on you. It is way better than trying something new on the wedding night and getting jittery!
You may also look up the web, social media forums and leading fashion magazines to find suitable wedding makeup tips. If you have any beautician friend or colleague, approach her for makeup ideas.
With these Bridal Makeup tips, even you can look like a goddess on your big day. Spend some time in putting together Indian Bridal Makeup. Makeup can make or break the way you look. Choose simple makeup that accentuates your features and dazzle the crowd on the D-day!
Loved this article? Please share it on social media with your friends and help spread the love!
Related Posts