Are you a college going girl buried deep under the stress of studies, exams and performance? Or you are a fresh college pass out landed in a dream job and roaring with energy to give your best? Or you are a working woman struggling to strike a balance between your family and work? If you are living a sedentary lifestyle without any diet plan and not consuming Healthy Diet then issues like weight gain will arise for sure. Whichever case you fit in, as mentioned above, there is an urgent need of fit, healthy body and mind. As a woman you need to take care of your health at first place if you want to excel in your personal or professional life. So how do we achieve that? Is it impossible to look after your health amidst the hectic schedules, strict deadlines and family responsibilities? In this article, we will go through the diet chart for Indian women. Finally Indian women can now chart a healthy lifestyle.
Well, there is no secret formula to maintain good health for women. All you need to do is – be disciplined in your general life about diet, exercise and overall lifestyle. In this article we will share some useful insights about how you can do that.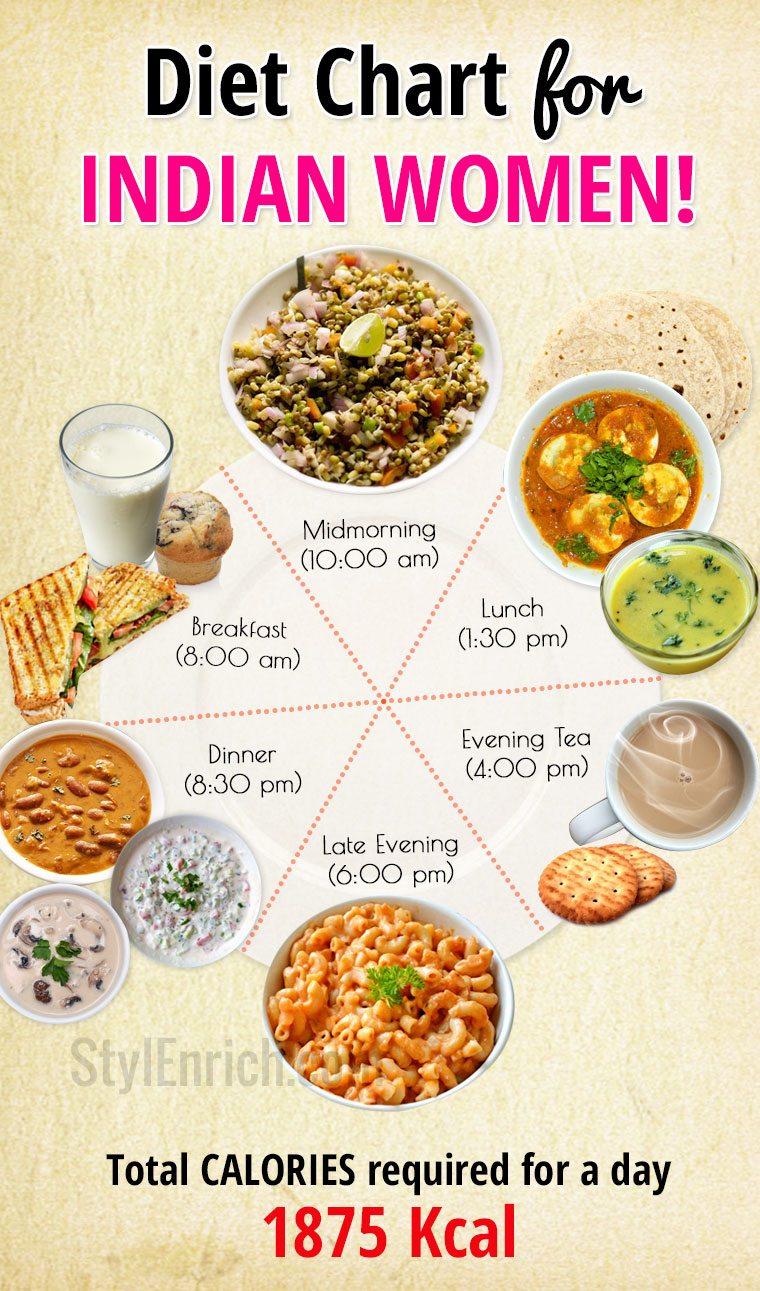 We will begin with a healthy diet chart for Indian women for everyday life.
A reference Indian adult woman is between 20 to 39 years of age and healthy and weighs 50 kg. She may be engaged in 8 hours in general household work, in light industry or in any other moderately active work. Apart from 8 hours in bed, she spends 4 to 6 hours sitting or moving around in light activity and 2 hours walking or active recreation or household chores.
A woman involved in sedentary work is recommended to have –
Total Calories required for a day – 1875 Kcal
Protein required for a Day – 50gms
Fat required for a Day – 20gms
Here, we have presented a graphical representation of Best Diet Chart for Indian Women for a Healthy Lifestyle.
Prescribed Diet Chart for Indian Women: (In Calories and Grams)
| | | | |
| --- | --- | --- | --- |
| | % | Weight (gms) | Kcal |
| Energy | | | |
| Carbohydrates | 70% | 328gms | 1313 kcal |
| Protein | 15% | 70 gms | 281 kcal |
| Fat | 15% | 31 gms | 281 kcal |
Division of Calories Into Meals
| | |
| --- | --- |
| Breakfast | 400 kcal |
| Midmorning | 150 kcal |
| Lunch | 600 kcal |
| Tea | 100 kcal |
| Late evening | 125 kcal |
| Dinner | 500 kcal |
| TOTAL CALORIES | 1875 kcal |
Diet Chart for Indian Women for Healthy Weight Loss- Indian women can now chart.
If you have put on few kilos and are seriously looking to shed the weight then you MUST follow the diet plan. Here's the ideal Diet Chart for Weight Loss for you.
1. Breakfast (8.00 am)- Indian women can now chart.
A small bowl of oats porridge with oats and skimmed milk, no sugar, topped with fresh fruits like apples, papayas or pomegranate
One boiled egg and a glass of green tea.
— OR —
2 ragi idlis with coriander and coconut chutney without tempering, a glass of skimmed milk.
— OR —
One Bread sandwich with smeared with coriander chutney with few cut vegetables like cucumber and tomatoes along with 1 date and walnut muffin, a glass of skimmed milk.
— OR —
A small bowl of vegetable upma with a Khakra and tea.
2. Midmorning (10.00 am)- Indian women can now chart.
A small bowl of sprouted salad with raw cucumber, onion or tomatoes with a dash of lemon juice.
— OR —
One fruit like orange or sweet lime or apple.
— OR —
2 digestive biscuits.
3. Lunch (1.30 pm)- Indian women can now chart.
2 chapattis or 2 methi theplas ( Gujrati healthy wheat rotis ) with a small bowl brinjal curry or potato and peas curry or curry prepared from bottle gourd and ridge gourd.
— OR —
A small bowl of brown rice with dal palak, yogurt and 1 roasted papad.
— OR —
2 chapattis with a small bowl egg curry or fish curry and salad
A small bowl of brown rice with kadhi.
— AND —
For Sweet: 2 dates or one besan ladoo or one slice of apple pie.
4. Evening Tea (4.00 pm)- Indian women can now chart.
A glass of skimmed milk or a cup of tea prepared with skimmed milk with 2 salted biscuits or 2 chickies.
5. Late Evening( 6.00 pm)- Indian women can now chart.
2 pieces of dhoklas with coriander chutney.
— OR —
2 pieces grilled and baked potato patties.
— OR —
A small bowl of baked tomato macaroni garnished with the little amount of cheese.
6. Dinner ( 8.30 pm)- Indian women can now chart.
For Soup: A bowl of onion and mushroom soup.
— AND —
A medium bowl of vegetable and soya chunks pulao with a small bowl rajma curry and mixed vegetable raita.
— OR —
2 chapattis with mixed vegetable curry, a small bowl khichadi and yogurt.
— OR —
3 chapattis with palak chicken along with fresh and raw carrot and cucumber sticks.
— AND —
For Sweet: A small Katori of custard with fresh fruits or unsweetened low-fat yogurt topped with fresh fruits.
Healthy Diet Tips: Bonus Mantra
In case you rise up early in the morning, you can have a mix of 2 almonds, few raisins and 2 walnuts every day first thing in the morning at about 6.30 am. This will calm down the hunger pangs, improve the haemoglobin levels and keep stress away. Have plenty of water every day about 1 to 1 and a1/2 liters a day.
This diet chart for Indian women do help in improving efficiency and quality of life. But apart from diet, it is also essential to maintain proper physical activity. Exercises like walking, jogging, swimming or squats are very much preferable.
Lets have a look at some quick exercises that you can do everyday to assist your diet plan.
Simple Everyday Exercises for Weight Loss, Fitness and Good Health
1. Push Ups- Indian women can now chart.
This is a very simple exercise. Kneel on all fours keeping your arms straight and hands slightly wider than shoulder-width apart. Keep the neck, back and upper legs in straight line and look downwards.
Slowly take a breath-in and bend your arms so that your body is moved downward towards the floor. Hold in this position for a second and then breathe out and at the same time push yourself up coming back in the starting position. Repeat this exercise 8 to 10 times. This exercise will make the muscles of your shoulder and arms stronger and at the same time will burn fat and you will lose calories.
2. Squats- Indian women can now chart.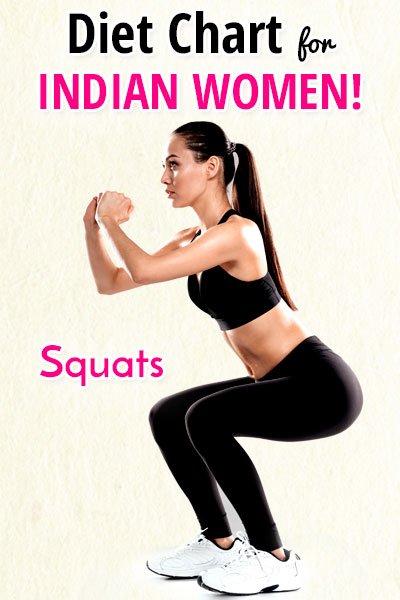 This is very common exercise. Stand straight keeping hands straight towards front aligned with your shoulder. Your feet should be shoulder-width apart.
Keep your chest up and your back naturally arched, take a breath-in. While you inhale, squat down until your thighs are parallel to the ground. Don't bend forward while you squat and keep the knees in line with your toes.
Breath-out slowly and come back in starting position. Repeat this exercise 8 to 10 times.
3. Rope Jumping Workout- Indian women can now chart.
This is probably the most easy and popular type of workout. All you need is a jumping rope and little space (so as not to collide with anything ?) Jump with the rope and do 15 to 20 repetitions.
Do's and Donts along with Healthy Diet Plans
Apart from the best diet plan and simple exercises, it is very important to follow a disciplined lifestyle that involves some do's and don'ts. Let's take a quick look at what to do and what to avoid.
1. Never Skip The Breakfast
Breakfast gives you energy that your body needs at the start of the day. Skipping breakfast may leave you with less energy, fatigue, low-blood sugar, weakness, headaches and mood swings.
2. Have Frequent Meals In Small Quantity- Indian women can now chart.
Never eat too much in one sitting. Divide your meals into multiple chunks and eat at different times – ideally 4 times a day. Meal should be small in quantity.
3. Avoid Eating Junk Food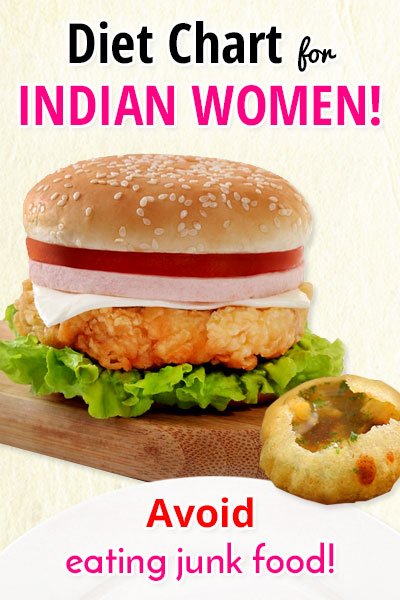 . However outside food is often cooked in palm oil. It is high calorie, fried junk food that adds zero nutrition to your body. So next time you cross that roadside food stall or cafeteria, just remember this advice and abstain from consuming outside food. This is very difficult to follow for many women out there.
4. Include Green And Fresh Vegetables In Your Diet- Indian women can now chart.
Ohh, it is not a secret! Green leafy vegetables are rich in nutrients and vitamins. Fresh vegetables make your meal complete and you feel fresh and energetic after eating vegan food.
5. Avoid Alcohol And Caffeine- Indian women can now chart.
Drinking alcohol does no good to your body. On the contrary, it will make you obese, dull and weak. Coffee may make you feel fresh for some time but if consumed in excess, its effects are not positive.
6. Avoid Excess Red Meat And Egg Yolk- Indian women can now chart.
Hormones added in red meat can increase the risk of breast cancer. Some red meats are high in saturated fat, which raises blood cholesterol which in turn increases the risk of heart disease. If you want to keep your cholesterol under control then do not eat too many egg yolks.
7. Stay Away From Refined Sugar, Transfats And Extra Salt-Keep the excesses away.
Refined sugar contains empty calories. It means they do not contain any nutritional value. Similarly eating extra salt is not good for those having high blood pressure.
8. Never Take Late Dinner-Be in time
Best time to take dinner is around 8.00 pm in the evening. Try to avoid eating full meal after that . Even if you happen to eat at late night, make sure that you don't eat full stomach.
9. Cold Drinks Are A Big NO-They are a big no-no for you.
Cold drinks contain high sugar, sodium, and caffeine. They may quench your thirst temporarily but in reality they dehydrate your body.
10. Daily Exercise is A MUST-Yes it is a must.
Exercise without fail every day. Spare at least 15-20 minutes for exercise and you will reap the benefits in long run.
11. Meditation-The best way to relaxation.
Just like physical health, mental health is equally important. Do a 10 minutes meditation everyday. It is very important relaxation technique that helps to calm down tired mind and body.
So that's all about healthy diet chart for Indian women to help them live a healthy and happy life. Indeed these small changes in our lifestyle can make you strong and healthy from inside.
If you loved our tips then please share this article with your friends and family. Also leave your feedback in the comments section below.
Related Posts