Do you feel that makeup is the only thing that can help you look gorgeous? Do you go mad when you don't have your makeup kit with you when you are out in some function? Are you tired of using many expensive beauty products that are not really working for you? Well, let me tell you, you are not the only one. There are a lot of people out there who wish that they could look fabulous even without applying heavy makeup. There are many people who literally crack their heads when they cannot find their blushes, foundations, mascaras, eyeliners, lip liners, concealers and so on. Well, there isn't any need to panic from now on! In this article, we will give you some amazing tips on how to look beautiful without makeup. So even though you don't have your makeup kit, you can relax and try out these amazing tips for how to look beautiful without makeup.
Also, there might be many occasions wherein you cannot wear heavy makeup. For instance, a sudden hangout plan with your friends, going to a beach, a small vacation with friends, the sudden arrival of guests at home and so on. In instances like these, you don't really have so much time to get ready with all your make up. At times like those these tips will definitely come in handy! No more Ado! Let's get started with how to look beautiful without makeup!
Let's See How To Look Beautiful Without Makeup!
1. Start Using Serums
You probably are familiar with serums but due to some reasons, you might not have given it a shot. Well, now you should be. We will tell you why. Using serums is a great idea through which you can transform your dull looking skin into a glowing one. What does serum do or how to look beautiful without makeup using serum? Serum infuses your skin with a lot of actives that boosts your skin and adds a glow. In other words, serum is more like those energy shots that regenerates your skin.
How Can Serums Help You?
You don't have to apply heavy layers of moisturizers when you are using serums as it adds moisture content to your skin.
Serum removes the dead skin cells from the epidermis (topmost layer of the skin) and helps regeneration of new cells.
Serums will protect you from sun tans and keeps you at bay from dryness.
How To Get Started?
Serums are easily available in almost all cosmetics shops. They are available in different flavors as well. Grab some of your favorite flavors and start applying them instead of moisturizers. You can apply this absolutely at all times and to all occasions. It will work wonders for you if you start using it regularly. You will totally forget moisturizers once your skin is well acquainted with serums. Worth a try!
A Quick Tip – For best results apply serum right after washing your face so that it can penetrate well and can show you some effective results.
2. Periodic Exfoliation Of Your Skin
Are you a regular user of foundations and barely give time for exfoliating your skin? If yes then let us tell you, there are high chances you will see the signs of aging very soon. Yes! That's true! If you do not exfoliate your skin and go on applying layers of foundation every day you will surely look older than your actual age. Using a facial scrub is thus very important. By exfoliating your skin once or twice a week, your skin looks younger and fresh naturally even without using any other makeup supplement.
What's The Math Behind It?
The facial scrubs are not called scrubs without a purpose. They actually rub your skin through the granule-like structures they have and removes the layer of dead skin cells.
Once the dead skin cells removed the fresh layer of skin below that is revealed which looks fresh.
It deeply exfoliates your skin, opening up the skin pores which helps them to respire and thus you will land up with a younger looking skin.
The scrubs can substitute a lot of heavy cosmetics like concealers, toners etc.
If you are not aware of the benefits of rosewater this article is just for you. Click here to read on!
How To Get Started?
There are quite a lot of options for how to look beautiful without makeup if you're looking for a facial scrub. There are many producers of facial scrubs and too many options available in flavors too. Aloe vera, Orange, peach, neem, strawberry etc are some flavors to name a few. Start using these products on an ongoing basis once or twice a week and you will see the results yourself.
3. Drink Lots and Lots of Water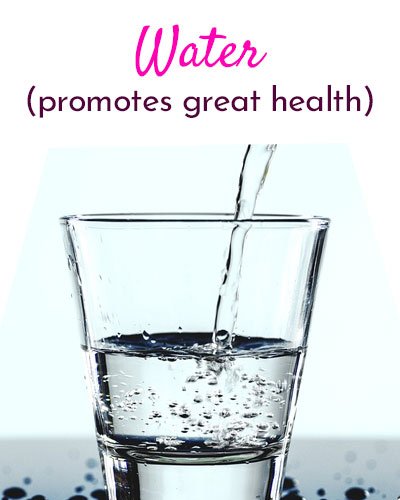 Have you ever thought about this little ingredient that is in most cases given a backseat? Well, let us tell you. It isn't really "little". Water does a lot to your skin if you want a solution on how to look beautiful without makeup. Drinking water might not make you look young all of a sudden and fight all the signs of aging! But, not drinking water in required quantities will surely leave your skin look drier and duller. That's how it works on how to look beautiful without makeup! Not drinking enough water will have serious consequences. No matter how many products you use to look beautiful, not drinking sufficient water is enough to nullify the effects of all of those. So it's high time you consider this frequently given tip seriously for how to look beautiful without makeup! We will tell you the consequences of not drinking water so that you will be convinced to drink lots of water henceforth.
Consequences Of Not Drinking Sufficient Water
There is no sufficient hydration in your body that gives you a drier looking skin. Let us tell you even a truckload of moisturizer would go in vain if the skin is dehydrated from the inside. And what makes it dehydrated? Insufficient water!
Less hydration leads to wrinkles and that is the first sign of aging. You will look older than what your actual age is! Who would want to look older? Everyone loves to look younger see!
Looking younger without drinking sufficient water is a far-fetched idea.
Water helps to smoothen all the biological activities of your body especially the digestion and excretion. Thus it helps in promoting a great health. A healthy inside is the genesis of a healthy outside see!
Water makes your skin look transparent. A natural bounce is added to your skin if you drink adequate water.
So, that's how important it is to drink lots and lots of water. This requires absolutely nothing to get started. All you require is a strong internal motivation that should drive to drink water every day. No matter how busy you are keep reminding yourself about water and keep drinking it regularly. At least 2 to3 liters of water is a must!
A Quick Tip: If you really are trying to drink water but somehow forget about it as you are involved in your work, you might try this! Keep a 1-liter bottle right next to your desk or anywhere possible at your workplace at your arm's length. This will remind you of water all the time! Simple as that!
4. The Magic Powder Turmeric
Turmeric is one of the most widely used beauty ingredients in Ayurveda. Turmeric has amazing healing powers that will help in lightening your acne scars. The toxins that might be causing you tiny skin breakouts too can be kept at bay with the use of turmeric. It adds a natural glow to your face and the best part being it does not come along with any side effects. It is a natural ingredient and your skin will never resist turmeric.
So What's Does Turmeric Do?
Turmeric is capable of helping you in parting ways with acne scars forever. The scars are lightened to a great extent by using turmeric and thus you can say bye to concealers or toners.
Turmeric deeply penetrates through the layers of your skin and gives a natural glow to your skin. When the facial peel off products is not available to you or you really want to resort to some natural ways of looking beautiful, you should be looking for turmeric.
A natural bounce is added to your skin gradually when you start using turmeric on your skin. This will give you a younger looking beautiful skin.
It acts as a natural cleansing agent and helps in getting rid of dead cells aiding the regeneration of new cells.
How To Get Started?
There are plenty of ways of using turmeric as a part of the beauty regime. Few of them are-
Add 3 tbsps of milk to 2 tbsps of turmeric and blend them together. Apply this mixture directly on your face. Let it stay for 10minutes before washing it off with clear water. This paste could act as a substitute to the face wash. And once you're done you will no longer feel like applying heavy coats of foundations on your face. Try it yourself!
Another alternative could be to add 2 to 3 drops of rosewater to 1tbsp of turmeric and applying this liquid on your face. Leave it overnight and wash it off in the morning. You will be amazed to see the glow on your face and you would definitely not go searching for your face pack, toners etc. That's how easy it is! You can look absolutely stunning with no makeup on!
Once in two weeks or once a month, you can apply turmeric to the whole of your body by adding honey and milk to it in desired quantities and take a bath. The natural bounce that you experience after doing this is not very temporary. It stays for a pretty long time!
5. Aloe Vera
Aloe vera is mostly used in almost all the skin care products that are available out there in the market. It has intense repairing properties that deeply nourishes your skin and repairs the skin problems from the roots. Nowadays the demand for aloe vera is increasing by leaps and bounds as many kinds of research are showing that this plant is capable of doing a lot of great things for your body. It is a "must be" ingredient in your beauty regime for its amazing effects on skin and hair care. Let's dig into more of how to look beautiful without makeup using aloe vera.
What Are The Benefits Of Using Aloe Vera?
Aloe vera can deeply repair many of the hair problems ranging from dandruff flakes to hair fall problems and fix the problem from the roots leaving you a beautiful looking hair.
Aloe vera can add a natural shine to your hair if used on a regular basis.
Aloe vera fights most of the signs of aging such as wrinkles and dry skin and helps you look younger and healthier.
A beautiful looking skin that looks young and bouncy is a must if you start using aloe vera.
Aloe vera helps in hydrating your skin all the time and dry skin is something you will totally forget if you start using aloe vera. Say bye to all cold creams that you use to prevent your skin from drying.
Aloe vera can also help in removing the blackheads from your face. The heavy scrubs that you might be using to remove blackheads can be avoided if you use aloe vera.
How To Get Started?
If you have an aloe vera plant at home, consider yourselves very lucky and start using this plant. Take the leaves to cut it into 2 halves. Extract all the gel from aloe vera and apply it on your hair for fighting hair fall. If you don't have an aloe vera at home, nothing to worry grab aloe vera gel that is available as an over the counter product and repeats the same procedure.
Massage the gel onto the scalp to get rid of dandruff.
Say bye to harsh chemical products that you use to remove blackheads, or say bye to heavy layers of foundations that you use to conceal the blackheads and rub aloe vera gel in the blackhead region once in a week to get rid of blackheads.
Applying it onto the skin can be a substitute to the heavy moisturizing products.
A Quick Tip
You can make it a habit of carrying aloe vera gel to wherever you go and use it as an instant face wash product. This gives you a younger fresher look instantly.
That was a list of some amazing tips that are really worth trying if you want to know how to look beautiful without makeup. Following all of those is definitely possible as it is only a small list of 5 tips. But what becomes more important is how consistent you are in following them. Follow them on an ongoing basis and I am sure that you will gradually stop buying those over the counter-heavy cosmetics. Try them out for yourself and be a judge for yourself. See what are the changes you are experiencing and explore if you can replace some or almost all of your makeup cosmetics! It all starts with the belief! A belief that you can look beautiful without makeup!
Read more – 30 Secret Eyeliner Hacks To Get That Perfect Eye Look!
Related Posts