Are you suffering from dark circles that make you look dull and worn out always? Those purplish looking circles that appear around your eyes are the nightmare for all the women. If you have been struggling with the dark circles, concealer can make them go them go away, but makeup is a short fix. Therefore the bigger question here is how to hide the dark circles without using makeup? Because not all the girls wear makeup and those who do may not want to wear makeup every day. There are few natural options and tips on how to hide the dark circles without using makeup and remove it naturally.
In this article, we will focus on simple lifestyle changes to reduce your dark circle looks so that you don't need to worry about wearing makeup to hide it.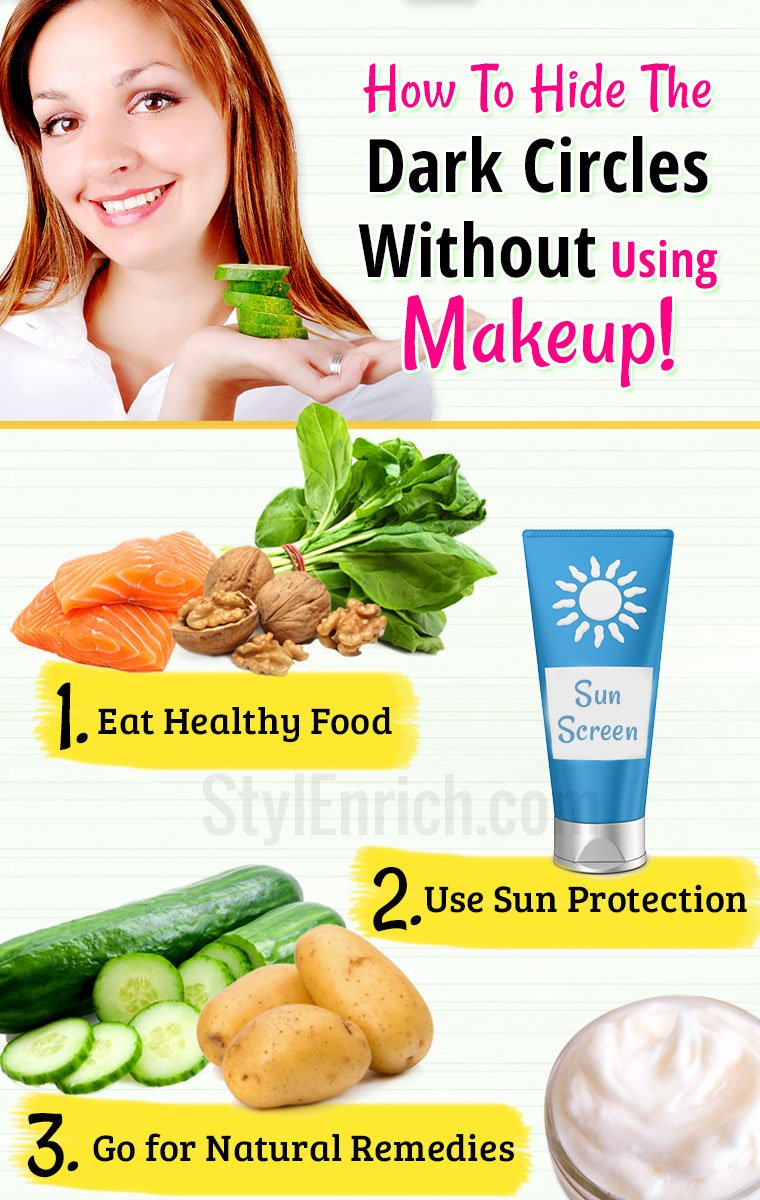 How To Hide The Dark Circles Without Using Makeup?
1. Sleep Well
The first and the most important method for how to hide the dark circles without using makeup is to sleep well. You should at least have eight hours of sleep on daily basis. The sleep is not just useful for eliminating the dark circles but also helps you stay and perform better throughout. This is one of the healthiest habits for your body as well. Your daily sleep will reflect through your work as well.
During the day time also if you can fetch a power nap of 30 minutes, it would make your annoying dark circle bags go away with time.You will realize that the nights you have not slept well are those when your dark circles look more prominent because the lack of sleep doesn't allow oxygen flow and leaves your skin more pale and dark.
Make an effort and bring little change to your lifestyle to accurate alert 7-8 hours of sleep on regular basis. You will surely see the difference.
Let's see how to deal with very basic issues of Sleeping Disorder.
2. Eat Healthy Food
Another important factor in removing your dark circles without the use of makeup is your diet and food habits. An ideal diet should contain proteins, fruits, vegetables, minerals and a good amount of carbohydrates.
Drinking 7 to 8 glasses of water will help you stay hydrated and will also affect your overall body health and skin condition. Waters helps to remove toxins from the body but make sure you do not end up drinking too much water before going to bed. Whenever you wake up, splash cold water on your face to allow blood circulation.
The habit of excessive drinking and smoking also contribute in the dehydration of the skin which makes it look too lifeless and also end up with the worse dark circles.
Avoid taking the food which can create puffiness. There are certain foods that lead to bloating and puffiness under your eyes. Stay away from carbonated drinks, salty foods and oily stuff which can lead to dehydration and further forming the dark circles.
Incorporate food containing omega fatty acids such as salmon, walnuts, spinach and soybeans.
3. Sun Protection
The skin around your eyes is quite delicate and that's why it is important to stay careful and protect them from the extreme sun exposure and hyper-pigmentation. Wear sunglasses, sunscreen on daily basis as a moisturizer. Don't forget the regular cleaning-toning and moisturizing routine because this will help in preventing the premature aging.
To protect your eyes, apply SPF (broad spectrum) 30 and above sunscreen. Make it as a part of your regular skin care routine but avoid getting the sunscreen inside your skin as it may cause irritation. There are few natural sunscreens which contain titanium oxide and zinc oxide which are less irritating to your eyes.
4. Natural Remedies
Another method to remove dark circles is by taking natural medicines. Nature has a variety of foods that can help you in treating the dark circles naturally. Fruits such as kiwi and strawberries are rich in anti-inflammatory properties. They provide the good amount of antioxidants and Vitamin C to help to stimulate the circulation of blood in that area and also bring vitality to your look.
There are potatoes, cucumbers and herbs such as marjoram, chamomile and mint know for their amazing properties in dealing with dark circles.
Try few drops of almond oils and massage around your eyes in circular motions to hydrate the under eyes deeply.
Home Remedies To Hide The Dark Circles
Apply almond oil using a cotton pad before the bedtime.
Try placing two thin slices of cucumber for 20 minutes and refresh by splashing cold water on your face. The same came be done by potato and kiwi.
Prepare a mix of mint, chamomile, and marjoram and dip the cotton ball in the tea and place it over your eyes for 15minutes.
Get some strawberries and mash them to make a puree. Let them cool off a bit and place it under your eye for 20-30 minutes. Wash the area with water. Consistent use of these methods will help you see the change on few days.
Additional Tips For Treating Dark Circles
There are many varieties of eye creams available in the market, use a caffeinated cream for your eyes. If you like to drink tea, a caffeinated eye cream will have almost the similar effect. It helps in constricting the blood vessels to remove the puffiness and also the discolouration. Every night dab a small amount of eye cream under your eyes and pat gently until absorbed. Store the cream in a refrigerator for more benefits. The cold temperature will help reduce the puffiness and swelling under your eyes.
In case you don't have tea bags or eye creams handy, use a cold spoon to gently press under your eyes. It helps in minimizing the dark circle look. Dip clean spoons in cold water and allow it to chill in the freezer for 10 minutes. Place the rounded side of the eyes for 5-10 minutes.
Retinol eye creams are also one of the best solutions for how to hide the dark circles without using makeup. Retinol is basically a Vitamin A derivative and helps in improving the condition of hyperpigmentation and clearing the fine lines. The ideal ingredient in this cream help in the reduction of eye discoloration and puffiness around the eyes. Make it as a part of your regular night time routine to apply a small amount of retinol eye cream around your eyes. Gently massage the area using your ring finger. Please remember that retinoids make your eyes more vulnerable because of the sensitivity to the sun. That's why the cream should be applied only during the night time and sunscreen should be used during the daytime. The potent ingredient can sometimes irritate your skin in the beginning. Therefore, in the beginning, to avoid patchy and dry looking eyes, apply your night cream every alternate day till your skin gets used to it.
While sleep, rest your head slightly higher. When you sleep fat, the fluids can start accumulating under the eyes and that could also lead to the darker looking under eyes. By slightly elevating your head, you can prevent the fluids from accumulating. Simply add a pillow to help raise up your head during the sleep.
Conclusions
Dark circles can occur due to many reasons sometimes lifestyle, sometimes genetic but in both the cases they can be taken care with little patience and few natural changes in your lifestyle. For genetic dark circled we recommend that you consult a dermatologist for a better and long lasting solution. However, for those who are suffering from dark circles due to their hectic schedules, remember to follow the above mentioned simple tips on how to hide the dark circles without using makeup.
Related Posts