Have you woken up in the morning and looked into the mirror only to see yourself looking tired and haggard? Despite a good night's sleep, you can look dull and tired if you have bags under your eyes! How to get rid of eye bags? Well, with a few simple home remedies, even the most persistent puffy under eyes will be the story of the past!
Before we delve into the home remedies that can help you get rid of eye bags, let us first understand what are eye bags and what causes puffy eyes.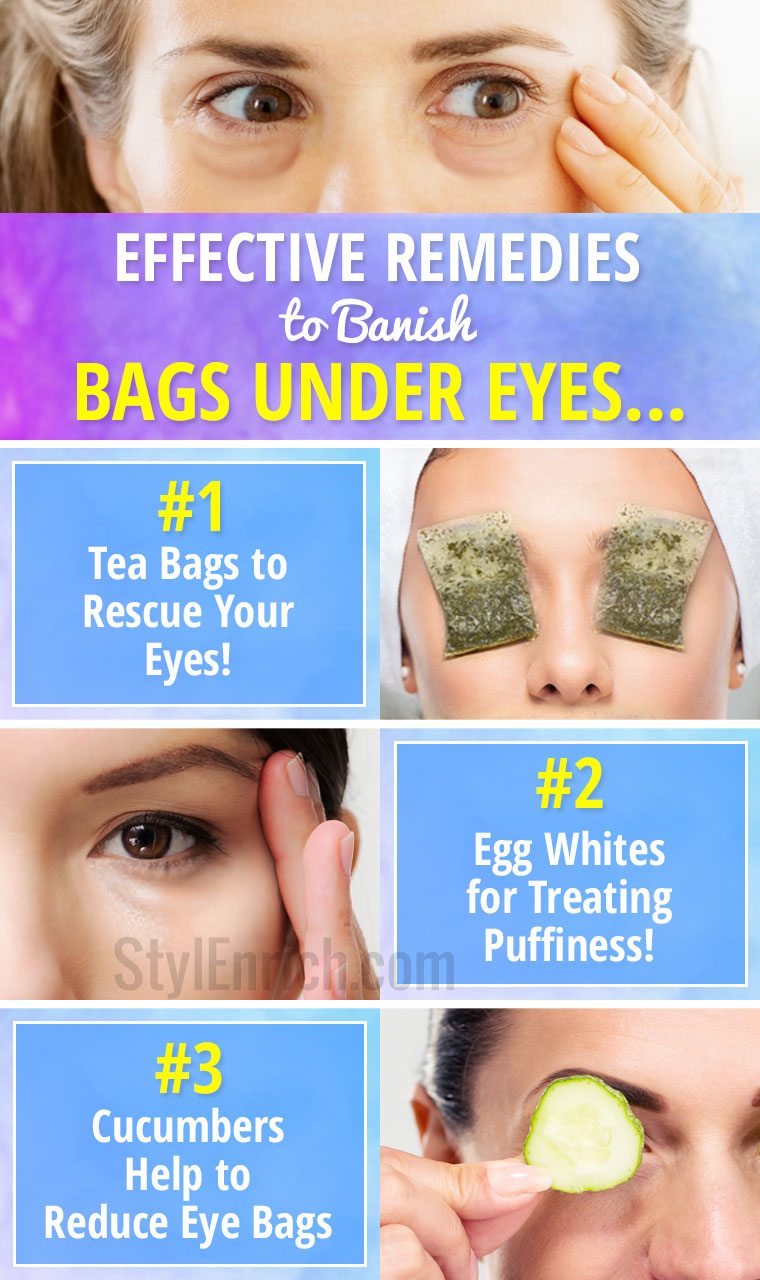 Puffy Eye Causes
In most cases, bags under the eyes are a sign of aging, however, eye bags can also be caused by factors like –
Allergies
Excessive crying
Lack of sleep
Water retention
Hormonal changes
Hangover
Change in weather
Bad diet
Dermatitis
Any one or combination of more than one of the above-mentioned factors can cause eye bags that leave you looking dull and ill. But there is no one ailment that cannot be remedied with some quick fixes from grandma's Pandora box! Yes, you got it right. Home remedies can fix just about any ailment, eye bags too!
Do you know how to get rid of dark circles naturally? Let's get to know the amazing home remedies for black circles…
How to Get Rid of Eye Bags or puffy eyes?
1. Chug Down Lots of Water For Puffy Eyes
If you are worried as to how to get rid of eye bags? one of the simplest ways to be rid of puffy eyes is to drink a lot of water. The more hydrated your body is, there will be less water retention in other parts of the body, including your eyes. Water retention, as mentioned earlier is one of the reasons your body begins to swell.
Simply drink a glass of water every hour, this will ensure there is no water retention in the body, to meet hydration needs. Also, reduce the intake of salts that can further aggravate water retention. Also, avoid drinking too much of carbonated drinks, which can drain fluids and nutrients from your body.
2. Tea Bags to The Rescue Your Eyes
Did you know that the tea bags you throw away after use, can help reduce puffiness of the eyes? If you want quick relief use fresh and unused tea bags to treat a bad case of eye bags. Tea has anti-irritant properties that will ease the swelling in no time at all.
Steep two tea bags in hot water and allow to cool. Place these tea bags like you would place cucumbers on your eyes. Let them stay for about 15 minutes, and repeat until the eye bags are gone.
3. Egg whites for Treating Puffiness
You may have used eggs to condition your hair in the past, the same may be used to get rid of bags under your eyes. The whites of an egg are said, to have skin tightening properties. Hence, they don't just help in treating puffiness, but also diminishes wrinkles!
Break two eggs into a bowl. Next, gently separate the yolk and keep aside. Whip the whites well with a few drops of witch hazel. Apply this mixture to your eyes with a soft brush, and allow to dry. Wash off after 20 minutes. Repeat daily for best results.
You must read the article on How to Get Glowing Skin with 10 Amazing Home Remedies…
4. Cucumbers Help to Reduce Eye Bags
Chilled cucumbers have found its use in beauty care. At most salons, cold cucumber slices are placed on your eyes to relieve stress and reduce any inflammation. Cucumbers are natural astringents and help in tightening the skin without any side effects. Dark circles and wrinkles can be treated using cucumbers too!
Cut a fresh cucumber into nice thick slices and stash them into the refrigerator for about 15 minutes. Lie down and place the cold slices on your eyes, and let them stay till they grow warm. This can be repeated until the bags begin to disappear.
5. Use of Saline Water to Get Rid of Under Eye Bags
If you have a party to attend and are worried how to get rid of eye bags overnight, salt may do the trick! Salt in some hot water can do wonders if you have persistent eye bags. The salt in the water will  help you get rid of the fluid retention under your eye like in osmosis.
Mix about half to one teaspoon of salt in a bowl of warm water. Soak medium sized cotton balls in this water and place them over your eyes. You will see results in a week's time.
6. How to Get Rid of Eye Bags Using Aloe Vera
The gel of Aloe vera has potent properties. It is rich in antioxidants and Vitamin E. Applying aloe vera gel will help treat the eye bags, and also improve blood circulation in the region. Water retention under your eyes is flushed out on the application of aloe, and the swelling will come down dramatically.
Gently apply pure aloe gel making sure it does not get into your eyes. Wash and pat dry after 20 minutes.
7. Strawberry for Quick Relief From Eye Bagshow do I use aloe vera plant on my face?
Is how to get rid of eye bags, giving you sleepless nights? We have just the remedy for you! Strawberries! This bright coloured fruit, first bred in France way back in the 1750s, is now cultivated worldwide, and is used in more than one application ranging from perfumes to candies. This fruit is rich in a compound called alpha hydroxy acid, that is proven to improve texture and elasticity of skin.
Cut up strawberries into slices and put them into a zip lock cover. Chill the slices in a refrigerator. Place these slices on your eyes for quick relief from eye bags. Remember to take the tops off before slicing and chilling the berries.
8. Use of Cold Spoons to Reduce The Puffy Look
Getting rid of bags under eyes, has never been this easy! Use chilled spoon. Yes, you heard that right. There is no ache that a cold compress can not handle! Using cold teaspoons will help in tightening the skin in and around your eyes on contact. It will also relax the blood vessels and reduce the puffy look.
Chill half a dozen spoons in your freezer for ten minutes. Next, hold the rounded part to your eyes and replace with another spoon, once it begins to warm up. This remedy will do you wonders.
9. Pillows to Bring You Relief from Eye Bags
If you have tried topical ointments with no relief and are not sure how to get rid of eye bags, then use an extra pillow at bedtime. Often eye bags are due to water retention and doing this will drain out the fluids and bring you relief.
Do you know how to use aloe vera plant on your face? Let's see the aloe vera benefits for skin…
10. How to Get Rid of Eye Bags Using Potatoes
If you have tried most remedies without much respite, this is a remedy that will surely work. The starch that is present in this veggie helps in bringing down inflammation, caused by under eye bags. It has anti-inflammatory properties, that will bring the swelling under control in no time at all. What's more? The juice of this vegetable will also help in reducing dark circles and spots around your eyes.
Wash, peel and grate a large potato. Now, gather and tie up the shavings, in a clean white cloth and place this bag on your eyelids. Do this until the puffiness comes down.
These simple home remedies have been passed over from one generation to another, and they all work. Be patient and try a combination of them, for best results. Share with us your experiences in using these remedies, and let us know which one worked for you!
Related Posts