Winter is round the corner and everyone is ready to pack their summer clothes and get set go for winter shopping.  The pinch in the atmosphere has already announced the winter arrival and if you are dreading the upcoming cold. If you cannot figure out the ways to look stylish without getting to freeze yourself off- then we are here to share 10 Amazing Dresses for Winter and Outfit Styles to Stay Stylish And Warm This Winter.
No need to worry about the bulky layers of sweaters and inners. Getting dressed in winters is as exciting and fun as in summers because after all we want to look good in every season. The market is flooded with winter accessories such as scarves, gloves and hats. So, instead of forfeiting your comfort, simply mix and match your warm clothes with winter accessories to cover all the areas and add definition. Let's learn about 10 Amazing Dresses for Winter & Outfit Styles to Stay Stylish And Warm This Winter to sum up your style and comfort this winters.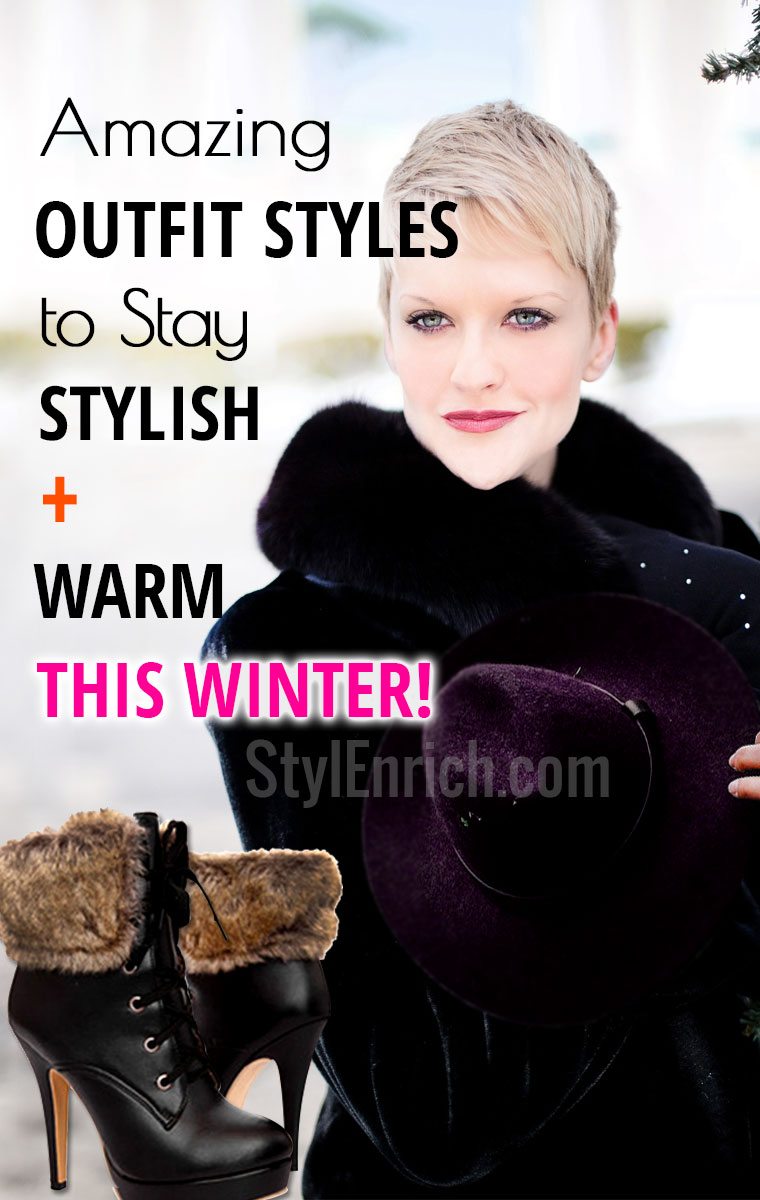 10 Amazing Dresses for Winter and Outfit Styles to Stay Stylish
1. Be The Bomber Chic
If you have been following fashion trends for quite sometime, you would have already sensed the return of Bomber jackets. These jackets are chic and at the same time totally fuss free and keeps your warm. For an effortless look, pair your bomber jacket with dark colored skinny jean, a cardigan underneath and casual sneakers this winter to complete your cool, comfortable and warm look.
13 different styles of denim jeans for girls that you will love to know…
2. Try The Tunics
Even though the weather looks all dull and boring, it calls for colourful dresses for winter. In case you like bold prints and sudden pop of different colours then tunics are the way to go. These dresses for winter compliments all the body types and all you need is to wear warm leggings, a coat and a muffler to dress the right way. This also helps in keeping warm and still look elegant and stylish.
3. Glam Model
Have you ever watched Keeping Up With Kardashians because they have made entire world drool over the suede skirts. Everyone wants to borrow their clothes and feel like supermodels. But since we cannot do that, we can at least recreate the entire look and have our very own model moments. For winters, suede works very well as a fabric choice and keeps you toasty and warm. Pair our suede skirts with knee length boots and satin tops and cover the entire look with a big jacket to nail the winter look.
4. Don't Forget The High Necks
High necks are one of the must, must and must have during winter. They not only protect us from cold but also highlight our necks and shoulder areas. Buy strong colours like grey, black, brown, mustard and maroon to compliment the weather and pair these high neck cardigans or sweaters with stripped pants or palazzos and tie up sandals for the final look.
5. Layer Up
If you feel layering is messy and can make you look bulky, think again. Layering is an art that one needs to ace and especially in the winters. Varying lengths and different colours can change the way you look. Simply pair your black leggings with the plain cardigan and throw a big jacket over along with a muffler and complete the oomph look with nude stilettos.
6. Dress Up
You cannot compromise with comfort specially during winters. Therefore, woolen dresses are the perfect way to keep warm and look hot even during the extreme cold weather. Warm woolen midi dresses, skater dresses and body-con dresses with pair of leather boots or black heels can give you total diva feel.
We bring here the fantastic way to decide on how to dress for a cocktail party.
7. Classic Coats
The best way to add the instant style to your closet is a long coat. They are extremely easy to go with skirts, dresses, and jeans. You can attain casual, classy and feminine look with coats without putting many efforts. No matter what style you want to go for, adding knee length or ankle length boots add a classy touch to the entire look.
8. For the Office Goers
Going to the office during winters can be heart clenching and chasing what to wear is a concern in itself. The outfit should be appropriate and still be stylish. Try woolen collar jumpers with checked chinos and brown sandals to walk right into your cabin with confidence.
9. Invest into Cashmere
If you do not mind spending little extra for the sake of your comfort, cashmere sweaters, shawls or any garment would be one of the best investment for this winter; it's super stylish and simply warm.
10. Leather to Steal The Show
Every girl desperately waits for winters to take out their boots and why not, after all leather is the best fabric to stay warm. So, take out your leather boots and pair them up with dresses for winter, leggings, coats or just anything to add the oomph without compromising your comfort. You can also wear leather jackets to seal the warmth inside and enjoy the chic look.
So, these were some useful and stylish outfit ideas for the winter clothing. You can always play with the colours and layers as per your requirement and taste. However, it's not over yet because our dresses for winter are incomplete without accessories. Here are few tips to use accessories to go with your 10 Amazing Outfit Styles to Stay Stylish And Warm This Winter
Accessories to Stay Stylish and Warm
1. Hats
We know you want to splurge on a coat or a pair of leather boots, but we want you to hunt for a winter hat first. Winters are going to grip tight for next two months and from here onwards hat will be the very first thing people would notice about you. So, don't you think it should be something that you love? Put your hands on a beanie, beret, big hats to protect your head from sharp cold winds and completely take away the winter look to wherever you go.
2. Embrace Fur
Yes, we are talking about faux fur of course. Have loads of fun with it as it gives your outfit an amazing upgrade instantly. You can go for fur stole, fur hat, or vest to add new life.
3. Belts
You may not consider belts as a useful accessory for the winters, but its time to change that thought. Your closet is full of old boring coats and you are in no mood to wear them back again. Simply add life to your old coats by belting up. The look of your coat with clinched waist will almost look like you are wearing a new coat.
4. Shawls/Ponchos
Those days are gone when shawls were only used by our mothers or grandmothers. If you look at the fashion trends across the world, stoles have been taken over by shawls with time. Simply drape a printed or a bold coloured shawl to the side of any outfit and you will be walking gracefully. Its handy and can be draped completely on a windy day. You can also use ponchos as an alternate if you are looking for more comfortable versions.
You will love to read 11 steps to building a wardrobe in a way you never did!
5. Handy Gloves
Trust us, you cannot do without gloves in winters because if you do not wear them your hands would freeze and won't be able to do anything. So, buy a pair of cashmere, woolen or cotton gloves to keep yourself warm and be ready to play with snow all these winters.
6. Warm Socks
Remember to wear long heavy woolen socks to leave no single room for cold to enter in. You can play with colours or prints as per your matching dresses for winter.
7. Scarf Mania
Mufflers or woolen scarves not only protect you against the cold winds but also keep your neck and face really warm. These days oversized scarves are in the trend for both warmth and style. They cover your shoulders, neck and face for that cozy feeling. They can be easily worn as a part of any outfit. It is a favorite cold accessory. It is practical, versatile, and stylish.
8. Boots
No-one wants frozen toes when the temperature dips. Leather boots are not just the winter accessories, it is an essential necessity in the winters. You must own pair of ankle length boots and knee length boots for the cold weather because if there is any savior for your legs and feet, it leathers my friend.
So, you know what all you need to rock your dresses for winter without compromising with your comfort level. While we spoke about the dresses for winters and accessories there is one more thing that most of the girls are not sure about and that is how to wear summer dresses in winters and still stay warm. Just because it is cold doesn't mean that you need to pack all the dresses away.
You can easily wear dresses in winters and all that you need is the basic information of layering. In fact, to look adorable and super stylish we suggest you wear dresses for winter. Just follow the basics; tights, leggings cardigans, thick socks, scarves and boots. If you are in confusion of how to work out with summer dresses for next two months, here are style tips to help you get through.
Style Tips
For lacy summer dresses, pair your leather jacket, tights and booties.
On a little sunny day, simply add scarf and knee length boots to a long dress.
Always layer up, a jacket, a hat, a coat, a cardigan, high socks and a scarf and stay cozy.
Long cardigans, chunky scarf and combat boots with a floral dress is a perfect combination
Add belt over cardigan to clinch your waist
If you don't wish to wear tights or leggings, wear socks till thighs under your boots
Wear a fitted sweater and pop out the collar of your dress for a Peter-pan look
For professional look, add a blazer on top of your dress with warm legging and boots
Wear a sweater on top of the dress to give it a skirt look
Pattern tights look very pretty with cardigan and dress. Add a little heel for the more dressed up look.
Add a fur (faux) vest to keep yourself extra warm on top of a dress.
Let's see how to steal the off shoulder dress style for the season from celebrities?
Conclusion
Always Remember-
Always wear clothes with sleeves in winters.
Don't wear pencil skirts with kitten heels.
Always start with thin layer of clothing.
Buy flat boots to avoid slipping in snow.
Don't confuse with anorak and wear proper coat.
Simply ignore capes and avoid military look
Understand your lifestyle and dress accordingly
Warmers help you keep warm from inside
Keep your hands and legs warm with simple warm up exercises
Invest in some good thermal underwear for the areas that are hard to layer
If you live in mountains, ensure you layer up and keep yourself well covered
Keeping warm is one of the most important things during winters. You can always make excuses for looking little unstylish but you cannot avoid shivering. When the weather outside looks like it's going to snow, the struggle to look good while keeping warm can be a real challenge. Cold weather simply means choosing from various keep me warm options like ponchos, coats, scarves and more. With all the necessary information required for this winters, we look forward to you trying these 10 Amazing Dresses for Winter and Outfit Styles to Stay Stylish. Don't forget to use accessories to complete your winter look.
Lastly, dressing up can also vary as per the demographic location.
If you live in a city, the weather is not as harsh as it is in the mountains so you have a leverage to play with the dresses for winter and on the days when it's little sunny. However, for the ones living up in the mountains, keeping warm should be the first priority to avoid falling sick. Cover yourself well and the best thing to do that is by wearing layers of clothes than one thick woolen piece. Now if you are ready; let winters know that you are coming for it. Happy Winters!
Related Posts